Slick fielding helps Dodgers' Dee Gordon make most of second chance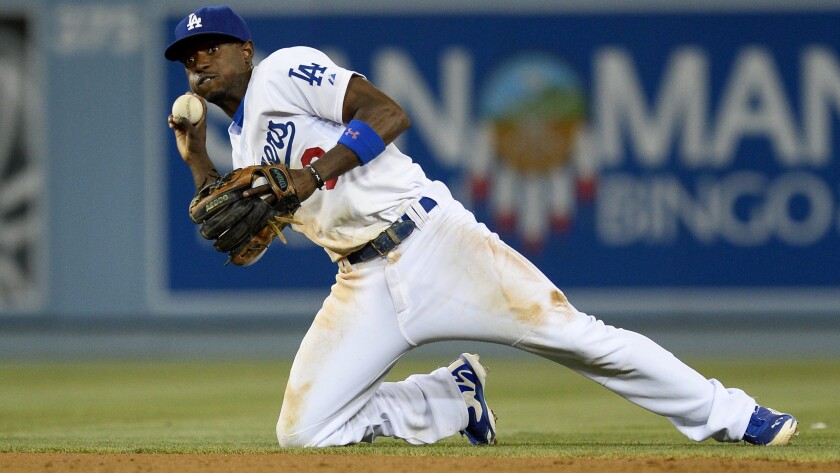 Dee Gordon has quick hands at the plate, fast reflexes in the field and speed on the basepaths — there's no time for slow.
The word doesn't seem like it should even be in the vocabulary of baseball's stolen-base leader, but slowing the game down has been a key to his defensive success after a move to second base from shortstop.
The ground balls and baserunners don't actually move slower, of course, but it seems that way.
"The higher you go, the quicker the game is, and I think he needed to learn how to just slow the game down," said Logan White, the Dodgers' vice president of amateur scouting. "And I'm talking mentally, just to slow it down and not rush and get excited because he's such a quick accelerator, fast-twitch-muscle guy, everything else."
As a major league shortstop, Gordon had a subpar .947 fielding percentage, far below the major league average of about .970 this season. At second this year, Gordon owns a .982 mark, and he hasn't committed an error in his last 18 games on the way to becoming an All-Star.
"Just moving to second in general made me feel more comfortable, so that's helped me a lot," Gordon said.
The athletic Gordon always had great range, but not always great aim. Seventeen of his 35 errors at short with the Dodgers were attributed to bad throws. At second base, Gordon has committed just one throwing error.
"This goes back to Dee's makeup and his competitiveness," White said. ". . . People doubted he could play short, and then he had the opportunity to move over to second, he was on a mission. He was not going to fail."
Gordon's move to second base was anything but linear. He struggled defensively and hit .228 in 2012, when he was the Dodgers' starting shortstop before injuring his thumb. Then the team traded for Hanley Ramirez and Gordon became an afterthought.
Gordon didn't make last season's opening-day roster and appeared in only 38 games, so when the season was over he headed to winter ball where he worked to learn center field and second base, making himself more of a utility player.
"We had Hanley here, and at that time Hanley had another year or two left on his contract," said Lorenzo Bundy, the Dodgers' third base coach. ". . . So do you want to play now or do you want to play later?"
Nudging Gordon even more toward a utility role, the Dodgers during the off-season signed Alex Guerrero, a Cuban defector, to a $28-million deal and planned to play him at second base.
But Gordon outplayed Guerrero during spring training, batting .271, stealing nine bases and committing only two errors to win the starting job, and the pieces started falling into place.
"After we made the change [to second base], I think it's relaxed him so much defensively that it's allowed his offensive game to return also," said Bundy, who coached Gordon at triple-A Albuquerque before his own promotion to the big leagues.
Gordon is batting .302 and he leads the majors with 42 steals.
Those around him says there is no secret to his success. "Nobody's ever going to outwork Dee Gordon," Bundy said.
Gordon's primary sport growing up wasn't even baseball — even though his father, Tom Gordon, pitched in the big leagues for 21 years, racking up 158 saves and 138 wins from 1988-2009.
Dee Gordon dedicated himself to basketball and didn't pick up baseball until high school.
"Dee Gordon's a great athlete," Bundy said. "He was a really good basketball player, and baseball came second to him until he really signed professionally, so you always saw the athleticism, even when he was struggling at shortstop."
White said it was only a matter of time before Gordon was able to combine his athleticism with good mechanics.
"Everything he did in the game he relied on pure athleticism, so I think he needed to work with our instructors and people to refine . . . the way he takes the ball out of his glove, the way he throws, things like that," White said.
If you ask Gordon what helped him lock in defensively, he identifies one more factor in addition to athleticism and practice.
"Trying to help my pitchers," he said. "Trying to not give [opponents] extra outs and just try to do everything I can to help them get in the dugout quickly."
His pitchers have taken notice.
"He's turning into a helluva second baseman," Josh Beckett said. "He does his work."
So what's next for Gordon now that he's been selected to the National League All-Star team as a reserve?
The Dodgers don't expect him to rest on his laurels.
"He wants to be great," White said. "He wants to be as good as he can be and help the team win. . . . That's what I love about him. I think that's why he's got a chance to be really good for a long time."
---
Get our Dodgers Dugout newsletter for insights, news and much more.
You may occasionally receive promotional content from the Los Angeles Times.