Dodgers Dugout: Who is responsible for the bullpen problems?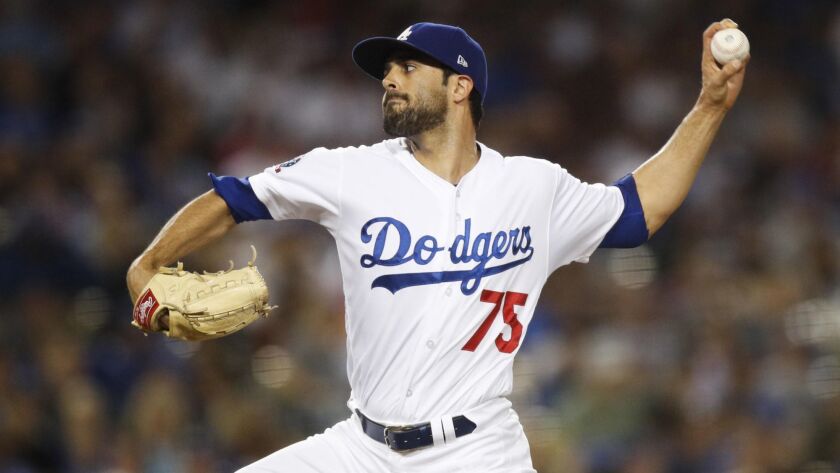 Hi, and welcome to another edition of Dodgers Dugout. My name is Houston Mitchell. Who would have guessed that Pedro Baez would end the bullpen slide?
As a season goes on, I frequently get asked the same questions via email from readers. So, instead of answering dozens of people individually, I am taking the lazy way out and answering them here.
Who's to blame for the poor bullpen performance the last week or so?
I've always found that there's seldom one big reason for something happening, there's lots of little reasons. For the bullpen, I blame the following:
1. The heart problems of Kenley Jansen. This is 100% not Jansen's fault, and I hope he is back soon after his next checkup on Aug. 20, but him being out has thrown the bullpen into disarray.
2. Dave Roberts' strange pitching moves. One game he takes Scott Alexander out because a right-hander is coming up. The next day he brings him in to face all right-handers. I have a sneaking suspicion that notebook he is always looking at in the dugout is actually an iPad connected to Andrew Friedman, who is busily working a computer to figure out who should come in next.
3. Friedman and Farhan Zaidi. Each year they roll the dice by bringing in castoffs and guys coming off injury, figuring one or two of them will pitch well enough to be the setup man for Jansen. It worked two years ago with Joe Blanton. It worked last year with Brandon Morrow. This year it hasn't worked at all. Every reliever they have has had periods of pitching well, but no one has had the consistency to fill the role permanently.
4. Injuries. It's hard to think of a Dodgers reliever who hasn't spent time on the DL this season.
What's wrong with Manny Machado?
He went from the worst team in baseball to a team that has won five division titles in a row and is vying for a sixth. I think he was pressing a bit and chasing pitches he normally wouldn't chase. But he has hit the ball hard the last two games, so I think his slump is over. I actually had a much longer item prepared about Machado, but have tabled it because I think he's going to be OK from now on.
Why don't the Dodgers send Cody Bellinger to the minors to work out his slump?
Well, it's really hard to send the reigning Rookie of the Year down. Plus, even at his worst, because of his walks and power, his OPS+ was never too far below league average. Right now, his OPS+ for the season is 117, compared to his career number of 130. Bellinger played over his head last season. No one projected him to be a .270 hitter with a near .600 slugging percentage. What he has done this season is just a little below what we can expect from him: A streaky hitter who hits around .250-.260 with a good on-base percentage and a .500 slugging percentage. Add to that his great defense at first and in center, and you have a valuable player. We'll just have to live with his streaks. Here's his numbers by month this season:
April: .280/.339/.458
May: .180/.265/.390
June: .259/.370/.624
July: .228/.324/.359
August: .409/.490/.568
Even last season he had fluctuations each month. It's just no one had figured out he can't lay off the low, inside breaking ball until the World Series. If he ever figures that out, some of the streakiness will disappear.
Why does Dave Roberts continue to bat Kiké Hernandez fourth against left-handers?
Habit? It made sense to bat him fourth last season, when he hit .270/.367/.579 against left-handers. In the off-season, Hernandez said he was going to work to hit just as well against righties as lefties. Well, he succeeded, except instead of raising his numbers against right-handers, he lowered his numbers against lefties. He is hitting .218/.293/.401 against lefties, worse than his numbers against righties (.222/.301/.464). His numbers batting fourth this season are horrific (.143/.250/.265). So, it's past time to drop him from the fourth spot. Oftentimes the No. 4 hitter will lead off the second inning, so you have the player with the worst OB percentage hitting leadoff in inning two.
Also, though Hernandez is one of my favorite players, if he loses the ability to hit anyone, his value to the team drops. His versatility is his strength, but at some point the lack of offense will overwhelm the strong defense.
It's obvious the Home Run Derby ruined Max Muncy.
It's only obvious if you don't look deeper into the numbers. Muncy hit .222 and slugged .417 in the 11 games before the All-Star break, so his slump began before the Home Run Derby. Since the All-Star break, he has hit .208 and slugged .468.
Why is Pedro Baez still on the roster?
Hey, he got the win Wednesday night! Here's the problem with Baez in a nutshell: In the sixth inning of games, he holds opponents to a .180 average and has a 1.96 ERA in his career. In the ninth inning of games, it's .248 and 3.67.
More fun Baez numbers: Since Baez joined the team in 2014, he is one of 36 pitchers to relieve in at least 10 games. He has 10 blown saves in that time, second to Jansen, who has 17. He is the only Dodgers reliever since 2014 with at least 100 innings pitched and no saves. Even Chris Hatcher, probably the most maligned Dodgers reliever of the last five seasons, had four saves. Zero for 10 in saves is not good. Baez has allowed 31.7% of runners he has inherited to score. Hatcher was at 30.4%.
I have no idea why he is on the Dodgers roster other than he comes cheap and throws hard. Perhaps 100 years ago a member of Baez's family once saved a member of Friedman's family and he is repaying a long-held personal debt.
Dave Roberts needs to be fired because of the bullpen problems.
While I agree that Roberts makes some strange decisions, he can only use the guys who are available to him. He doesn't deserve the full blame for the bullpen implosion.
Stop picking on Pedro Baez! He is great!
Just kidding. No one has ever said this to me.
This season is over. I give up. They should just forfeit the rest of the games.
Great! Sell your tickets to actual Dodgers fans who don't give up at the first sign of adversity.
You are too hard on the Dodgers and should not criticize them.
I have a lot of new subscribers this season who may not be aware of the mission of this newsletter. You veteran subscribers can skip to the next question. OK, new subscribers, I have been a Dodgers fan since 1974. My first favorite player was Jim Wynn. What I try to do with this newsletter is act like I am sitting and talking with a friend about the Dodgers. I don't believe blind loyalty does anyone any good. If there are weaknesses or flaws on the team, I am going to talk about them because I am hoping the Dodgers will improve in those areas. Most of my newsletters are very positive. I think almost every newsletter last season was positive, because they won so many games.
But it's not my job to be a cheerleader for them. We can actually discuss weak points without it meaning we don't support the team or want them to win.
The stadium music is too loud. Can you tell someone at the Dodgers to turn it down?
I have tried, but they can never hear me over the music.
What's Frank McCourt up to these days? I miss him.
Gotcha again. No one has ever said this in the history of mankind.
Please stop sending me your stupid newsletter.
Mom, I've told you a million times that there is an unsubscribe button at the bottom of each newsletter.
Ask Ross Porter
Hi, fans! It's good to be back with you to answer your questions during this baseball season. Please send your questions to Houston, and he will pass them on to me. List the city in which you live.
Max Schwartz of Beverly Hills asks: How did the Dodgers' rule of only retiring numbers worn by players inducted into the Hall of Fame start? Who do you think the next player to be inducted as a Dodger will be?
Ross: Former Dodger general manager Fred Claire tells me the decision was made with the planning for the old-timers game of 1972, and it was decided to retire the numbers of Sandy, Campy and Jackie — all Hall of Famers and the first numbers ever retired by the Dodgers. It set the guideline for retiring Dodgers in the Hall of Fame. With the passing of Jim Gilliam one day after the team won the 1978 pennant, it was felt it was appropriate to retire his number prior to Game 1 of that World Series.
Max, it's a shame Gil Hodges and Maury Wills are not in the Hall of Fame, but the Golden Era committee votes in 2020.
Adrian Beltre will be inducted eventually but probably as a Texas Ranger. Clayton Kershaw could be the next Dodger honored at Cooperstown.
George Christy of Pasadena asks: Can you please propose a statistic, Ross, that best addresses a hitter's importance to his team?
Ross: I think one of the best is OBP (on-base percentage). That tells you how often a batter reaches base safely by only three ways, hit, walk or hit batsman. It is the ratio of the batter's times on base to his number of plate appearances. You divide the sum of hits, walks and hit by pitches by the sum of at-bats, walks, hit by pitches, and sacrifice flies.
Ted Williams had the all-time best OBP for a career at .482 (that's on base 48% of his plate appearances) in 19 years followed by Babe Ruth at .474 in 22 seasons. Just 58 players in history have a .400 career OBP. A .370 is good. Two men — Mike Trout and Joey Votto — have led their leagues in on-base percentage in each of the last three seasons. Votto is the active leader and 12th all-time at .428.
Brian Bergstein asks: What is the record for most plate appearances by one batter against one pitcher in their careers?
Ross: The consensus among baseball historians is that Stan Musial facing Warren Spahn and Ty Cobb battling Walter Johnson were tops, somewhere between 330 and 350 at-bats. More recently, Pete Rose had 266 plate appearances against Phil Niekro.
Katherine Hansen of Port Townsend, Wash., asks: Ross, how many men have played in the major leagues?
Ross: 19,367.
More KTLA games
For those of you who live in the Los Angeles area and are unable to see Dodgers games on TV, there will be three more games televised on KTLA (Channel 5). Those games are:
Monday vs. St. Louis, 7 p.m.
Friday, Aug. 31, vs. Arizona, 7 p.m.
Tuesday, Sept. 4, vs. New York Mets, 7 p.m.
Meanwhile, there is no agreement between DirecTV and Spectrum SportsNet coming in the near future.
Up next
Friday, 7 p.m.: Dodgers (Walker Buehler, 5-4, 3.32 ERA) at Seattle (Wade LeBlanc, 7-2, 3.80 ERA)
Saturday, 7 p.m.: Dodgers (Rich Hill, 5-4, 3.57 ERA) at Seattle (Erasmo Ramirez, 0-2, 6.75 ERA)
Sunday, 1 p.m.: Dodgers (Clayton Kershaw, 5-5, 2.47 ERA) at Seattle (Marco Gonzales, 12-8, 3.91 ERA)
And finally
Bill Plaschke says Yasiel Puig's antics are detrimental to the team. Read all about it here.
Have a comment or something you'd like to see in a future Dodgers newsletter? Email me and follow me on Twitter: @latimeshouston.
---
Get our Dodgers Dugout newsletter for insights, news and much more.
You may occasionally receive promotional content from the Los Angeles Times.