Dodgers' frustrations boil over as Cody Bellinger benched in loss
Reporting from SAN FRANCISCO —
The closer is no longer inevitable. The ace walked the park in his last start. The lineup lacks continuity and consistency. The bullpen behaves like butane.
And on Sunday, in a 4-2 loss to the San Francisco Giants, the reigning National League rookie of the year was benched for what his manager perceived as a lack of hustle.
Through 27 games, the 2018 edition of the Dodgers has offered more headaches than postgame handshakes, more defeats than victories. They are closer to the basement of the NL West than the summit.
Their play has wearied manager Dave Roberts. He has seen pitchers combust and hitters fail without protest. He lost a game this weekend when a reliever fell off the mound. He understands reinforcements may not be coming.
The tension flared on Sunday afternoon when Roberts punished Cody Bellinger. The incident occurred when Bellinger launched a fifth-inning drive into the right-center gap, where the fence resides 421 feet away. The locals call it "triples alley."
Bellinger settled for a double. To Roberts' eyes, Bellinger "cruised into second base." Bellinger said he did not want to make the first out of an inning at third while trailing by four runs. To compound the damage, Bellinger was doubled off second soon after.
"There's certain expectations in the way we have to play the game," Roberts said. "When you don't abide by that, then we'll get somebody in there who will."
When the inning ended, Roberts told Bellinger his day was over. The manager did not ask his 22-year-old first baseman for an explanation. Bellinger did not protest. He slipped on a hoodie and watched from the dugout railing.
After the game, Bellinger was polite but defiant. He described himself as "always hustling" on the diamond, and indicated he was made into an example for the rest of this sluggish team.
"It just didn't make sense to me, but I get it, as well," Bellinger said. "He's trying to prove a point. For me not hustling, being the young guy, I've got to hustle."
Roberts suggested he already had spoken with Bellinger about a similar situation earlier in the season. There would not be further punishment, Roberts said. Bellinger did not expect this issue to linger.
"I'm going to keep playing the way I do," Bellinger said. "I don't think anyone can tell me how to play. I've always played hard."
The afternoon blunted the veneer of confidence Roberts projected in the morning, as he predicted another division title for his team. Perhaps he was posturing for the cameras of his team's television network. Perhaps he was reminding himself of his team's pedigree. Or perhaps he genuinely believes his team's April is an aberration.
"When it's all said and done, the Dodgers will be at the top of the division," Roberts said. "I believe that. We believe that. That's why you play 162 games — and not 30, 35, whatever — however many games. I don't even look at the standings anymore."
Roberts should keep his eyes averted. The Dodgers (12-15) lost a series last week to the 9-18 Miami Marlins and they just dropped three of four to a threadbare Giants team. On Sunday, he saw "panic" in his offense's at-bats against San Francisco starter Ty Blach.
The row with Bellinger only heightened the game's ugliness. "I wouldn't be doing the team, or him, any service by not acting," Roberts said.
The schedule offers no relief. On Monday, the Dodgers will bring their mangled starting rotation and pop-gun lineup to Arizona for a four-game series against the division-leading Diamondbacks. The team planned to activate Rich Hill for the series opener, but Hill was diagnosed with an infection in his left middle finger Sunday morning.
In Hill's place, Ross Stripling will make his first start of 2018. The team hopes to recall rookie pitcher Walker Buehler to start this weekend in Monterrey, Mexico, against the Padres. Buehler was optioned to class-A Rancho Cucamonga after appearing as the 26th man in Saturday's doubleheader and winning the opener.
At this juncture, it is unclear what the Dodgers do well. They profile as a mediocre team.
They entered Sunday with an offense ranked 14th in on-base-plus-slugging percentage and a pitching staff ranked 11th in earned-run average. Kenley Jansen has blown more saves (two) than he did during all of last season. Clayton Kershaw owns a 1-4 record and walked six Marlins in his last loss.
The most troublesome area might be the bullpen. Under the leadership of president of baseball operations Andrew Friedman and general manager Farhan Zaidi, the Dodgers have excelled at assembling inexpensive assets around Jansen. That strategy has not paid dividends yet this season.
Tom Koehler has not thrown a pitch since injuring his shoulder in spring training. J.T. Chargois has intrigued team officials but has yet to earn the trust of Roberts. Daniel Hudson surrendered five runs in his first three appearances. Scott Alexander walked more batters than he struck out during an unsteady 11-game stint; the team demoted him to triple-A Oklahoma City on Saturday.
The holdovers from 2017 also have had hiccups. Tony Cingrani is dealing with fatigue in his left arm. Pedro Baez experienced a wretched weekend. He tripped on the mound to balk in the go-ahead run Friday. A day later he failed to complete an inning despite the Dodgers holding a 10-run lead.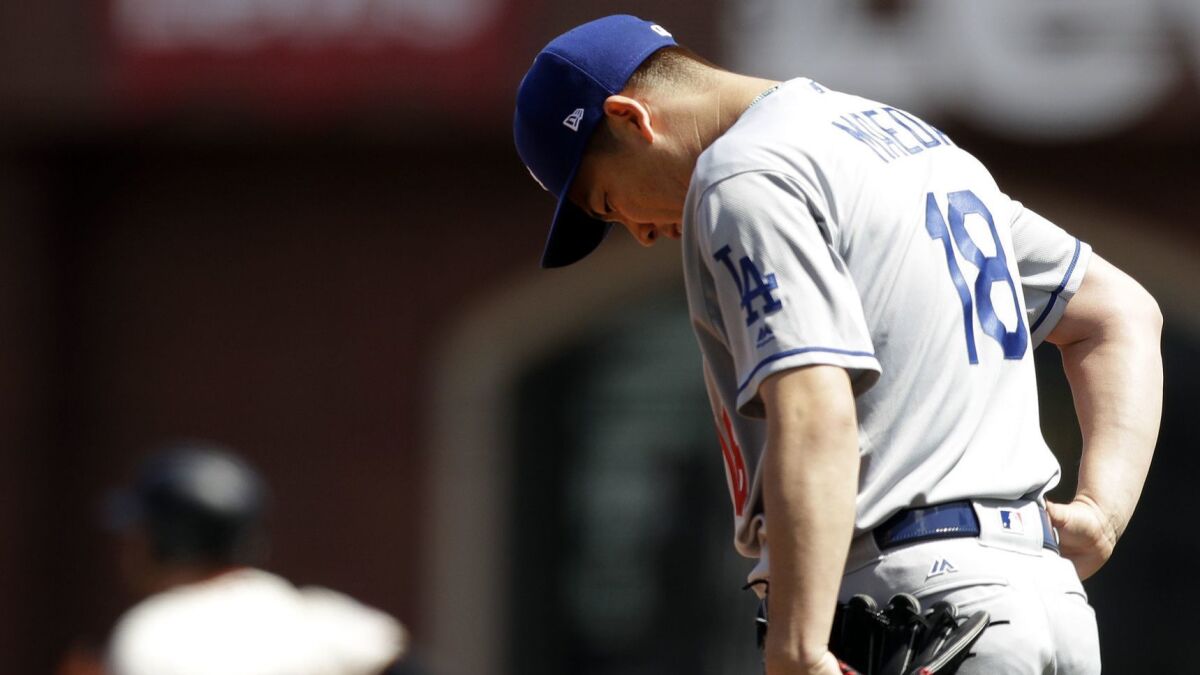 Zaidi shot down the suggestion of moving Kenta Maeda to the bullpen, where he starred last October. Maeda's contract is heavily incentivized for him to remain a starting pitcher. "That's not a real consideration," Zaidi said.
The only solutions will be internal ones. This is the team. They already promoted their top two prospects, Buehler and outfielder Alex Verdugo. The team is not expected to add much salary before the trade deadline this summer. If the Dodgers intend to win a sixth consecutive division title, they will rely upon the players they've assembled.
On Sunday morning, Roberts sounded like a man trying to will that outcome into existence. A few hours later, his players made their manager look delusional — and his star first baseman made him irritated.
"If our guys aren't playing hard — and that's not just showing up and posting," Roberts said. "That's not playing hard. Playing hard is effort when you're out there. If our guys don't do that, then that's on me."
Twitter: @McCulloughTimes
---
Get our Dodgers Dugout newsletter for insights, news and much more.
You may occasionally receive promotional content from the Los Angeles Times.