Dodgers clinch playoff spot with 10-6 victory over Giants
Reporting from SAN FRANCISCO —
Dave Roberts sat inside his office at AT&T Park drenched in a blend of Prioux champagne and Budweiser. On his desk sat a half-empty bottle of Bud Light. He wore a sopping wet, commemorative T-shirt with a message as vague as the Dodgers' schedule for next week: DEFEND SO CAL.
Will they even play again in Los Angeles in 2018? Who knows? The Dodgers did not care. Outside the room, the players popped bottles and soaked themselves in booze. They were celebrating a 10-6 victory over San Francisco, a berth in the postseason and the potential of a glorious end to a perplexing regular season.
"I think we're the best team," Roberts said. "And I've said it. Most importantly, we have to go out there and play like it. We can be as dangerous as anyone. But it's up to us to go out there and play like it. One part of that equation is to get into the postseason, and get an invite. We have that."
The Dodgers are going to the playoffs.
They did not know on Saturday afternoon if they will begin the postseason in Chicago or Milwaukee or Atlanta or Dodger Stadium. They did not know if they will qualify as an entrant into the wild-card game or snatch a sixth-consecutive National League West title from Colorado. They did not know if their regular season ends Sunday or Monday. They did not know so much about what next week holds, but they knew they will play postseason baseball.
With their win Saturday, the Dodgers (90-71) officially eliminated St. Louis from the wild-card race. At the very least, the Dodgers will travel to Chicago or Milwaukee for a one-game playoff Tuesday. The division is not out of reach, with the team tied with the Rockiest.
On Saturday, the Dodgers overcame a frightful outing from Clayton Kershaw and their maddening offensive approach to trounce their downtrodden rivals. Kershaw gave up five runs and eight hits in five innings, blowing a pair of leads in the process. Manny Machado delivered the go-ahead hit in the eighth with an RBI triple off the wall in right. In the ninth, the hitters piled on four runs of insurance.
When Kenley Jansen collected the final out, the Dodgers displayed the awkwardness of their situation. They had clinched a playoff spot, but not the division title they felt belonged to them only a few days ago. The players did not pile up on the mound, but lined up for the standard postgame handshakes.
Inside the clubhouse, standing in the center of the room with his players gathered around him, Roberts aimed to contextualize the achievement.
"We're going to celebrate this victory, understanding we've got a lot of important baseball ahead," he told the group. "But right now, in this moment, everybody celebrate each other."
The manager disappeared inside a torrent of champagne. He escaped to his office while his players cavorted. They felt they had earned this party: The team had its worst 40-game start to a season since leaving Brooklyn and resided 10 games under .500 on May 16. They rallied to capture the lead in the West, only to fumble it away this week.
There was little disappointment apparent Saturday afternoon. The Dodgers engaged in the ancient baseball ritual of dumping beer upon on another's heads. Kershaw posed shirtless with rookie Tim Locastro. Yasiel Puig attempted to launch booze at long distances. Hyun-Jin Ryu doused Kemp with a Bud.
"I don't think people understand how to make it to the playoffs," Kemp said. "This is a chance to do something big."
Kershaw waded into the mess, forsaking ski goggles as he always does. He commended his teammates for bailing him out, and spoke of his desire to pitch again next week.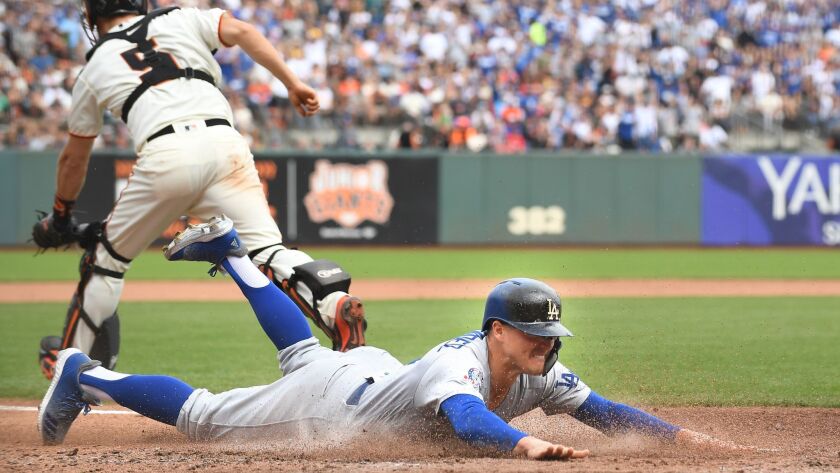 "For these guys to pick me up like they did today, it's really special to be a part of," Kershaw said.
His performance Saturday still raised concerns. The San Francisco lineup is remarkable in its mediocrity. Evan Longoria leads the group with 16 home runs (the Dodgers employ seven hitters with at least 20). Their starting nine Saturday featured zero hitters with an on-base-plus-slugging percentage above .750, save for Aramis Garcia, a rookie appearing in his 18th big league game.
The weakness of the opponent made no difference against Kershaw. During the second and third innings, he permitted five hits in an eight-batter stretch to allow three runs. Two innings later, after Kershaw himself stroked a two-run single, he gave up a pair of runs to let San Francisco draw even.
The Dodgers offered a miniaturized version of their season in the sixth and the seventh, stranding two runners in one inning and then leaving the bases loaded in the next. It was a familiar display to the fans who have supported this team in 2018. Which made what followed such a welcome sight.
With two outs in the eighth inning and a runner at second base, Machado stared down San Francisco reliever Mark Melancon. Melancon fired a 92-mph fastball. Machado smashed it off the right-field bricks to put the Dodgers ahead. The four-run deluge in the ninth only reminded of this team's capability.
"We're not going to stop," Machado said. "We're going to enjoy today, enjoy clinching a playoff spot. And then come back tomorrow and take care of business, because it ain't over."
A few feet away, as Machado wrapped up an interview, Cody Bellinger made a decision.
"I'm taking these goggles off," he decided, and on cue, Brian Dozier blasted him in the face with bubbly. Bellinger wiped his eyes and bumped into Machado. He threw an arm around the teammate who arrived in July, expected to catalyze an already explosive offensive. Machado may have performed below expectations as a Dodger, but his talent is undeniable.
"Welcome back to the postseason," Bellinger said.
"I've made it more than you," Machado said, cackling, using a pair of expletives for emphasis.
They traipsed to their lockers as the party wound down. At 5:14 p.m., a mere 35 minutes after the final out was recorded, the soundtrack petered out and the players filtered out the room.
"All right," Kemp said. "I'm over it. Y'all ready to go home? What time's the bus?"
The clubhouse attendants stripped the protective plastic covering the lockers. Alcohol seeped across the carpet, a swamp of empty beer bottles and champagne corks. A group of players gathered inside the food room to watch Colorado play Washington. The food room erupted when Nationals outfielder Juan Soto hit a two-run double.
Back inside the clubhouse, a lone voice hollered across the room.
"Let's do it again tomorrow."
Twitter: @McCulloughTimes
---
Get our Dodgers Dugout newsletter for insights, news and much more.
You may occasionally receive promotional content from the Los Angeles Times.