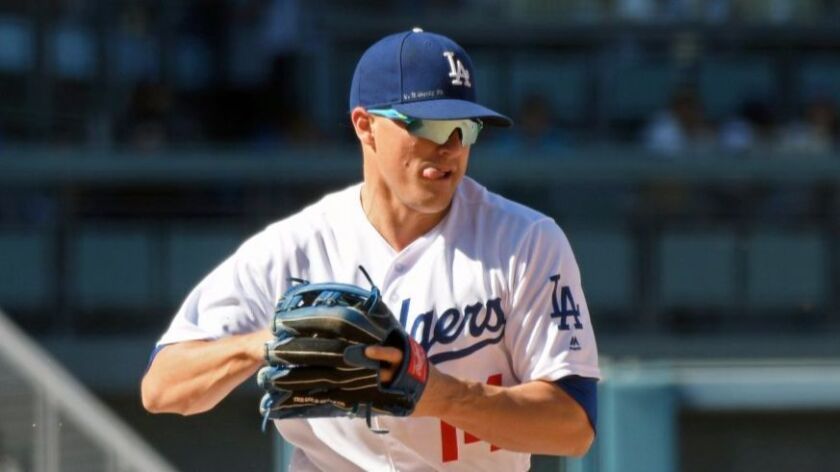 For weeks, Dodgers outfielder Enrique Hernandez has used his Twitter account to raise awareness and funds to benefit his hurricane-ravaged home in Puerto Rico. On Tuesday evening, after he saw a video of President Trump throwing paper towels to victims of the storms like a basketball player shooting free throws, he offered a critique.
I've tried not getting too political but PR is going through something very serious and this guy is trying to make this [expletive] funny?!" he wrote. "SMH!!!!"
Hernandez stuck by his opinion in a series of conversations with others on Twitter later in the evening. He expanded his comments in talking with The Times on Wednesday. He felt Trump downplayed the severity of the situation and insulted the inhabitants of the island.
"This is a serious thing," Hernandez said. "This is not a joke. And to see him throw paper towels out there. … It's like going to Vegas right now and starting to throw Band-Aids to the public. You know?
"It's not about politics. It's not about anything else, other than [being] moral. It's not a time to be joking. Be respectful to the people who are suffering and are in need. Show some sympathy. Show some [humanity]. Show some heart. That's what pissed me off. It's not anything else than that."
Hernandez was also upset to read Trump criticize Puerto Rico for the island's financial crisis.
"I'm not a Trump supporter, I'm not a Trump hater," Hernandez said. "There are a lot of things where I disagree with what he's said and what he's done. I'm one of those people that I'm willing to give the guy a chance to do something good for the country.
"I'm all for him helping. I want him to help. If he helps, it's great, I appreciate it, and I'm going to probably say something good about him.
"But when he's making this sound less serious than he is, and taking advantage of this opportunity to bash Puerto Rico because of their economic issues and financial issues and everything else, things start boiling."
Hernandez, 26, was born in San Juan and attended high school at the American Military Academy in Toa Baja. He will start against left-handed pitchers in the playoffs.
Twitter: @McCulloughTimes
---