Dodgers mailbag: Is it time to panic?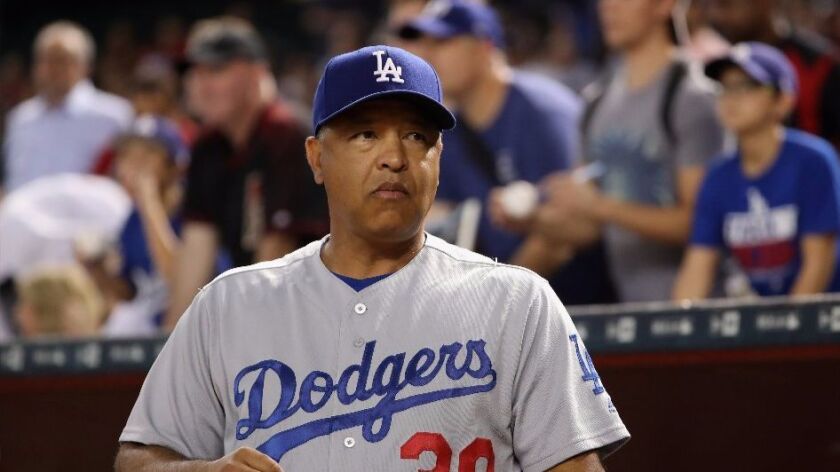 The Dodgers are 92-45. That translates to a 109-win pace. They lead the National League West by 12.5 games with 25 to play. They have a nine-game advantage on Washington for home-field advantage in the National League pennant race, and an eight-game lead on Houston in terms of home-field throughout the playoffs.
You should stare at those numbers for just a moment. Take a breath. Think of a baseball image that pleases you — the arc of a Cody Bellinger home run, the downward tumble of Clayton Kershaw's curveball, the way Rich Hill skips off the mound, the way Yasiel Puig plants a kiss on the grizzled cheek of Turner Ward.
OK. Do you feel any better?
No?
Alright, let's freak out.
As always, you can send me questions on Twitter at @McCulloughTimes. Let's do this.
It is time to panic about the Dodgers.
Well, not really, but it is time to discuss the concept of panicking about the Dodgers.
The team has lost nine of its last 10 games. They got swept by Arizona last week at Chase Field. and they got thumped by Arizona again on Monday night at Dodger Stadium. In between, the Dodgers managed to lose three of four to the Padres. It is a bad time.
Fans are starting to freak out. I've been getting emails comparing this team to the 1951 Dodgers, the 1964 Phillies, the 2007 Mets. If you've been watching baseball for a while, and you once saw a team lose a big lead late in the season, you have likely sent me an email telling me about it.
I understand the frustration. The Dodgers have been awful for the past two weeks. The offense is quiet. The starting pitchers have been wretched. Even the bullpen, the underrated backbone of the team, has been vulnerable. It has been ugly to watch.
Even so, I do not believe that the last two weeks offset the first five months of the season. Barring a monumental collapse, the Dodgers will win the West, maintain home field advantage throughout the playoffs and enter October with a chance to snap the 28-season championship drought. They should still be considered the favorites to win the World Series.
A bad September does not mean a team cannot win in October. I saw it firsthand when I covered the Royals in 2015. On Sept. 3, they had a 13-game lead in the American League Central. Then they got swept by the White Sox and went 5-11 for the next couple weeks. Let me tell you: Fans went bonkers. I was getting flooded with tweets and emails about how manager Ned Yost took his foot off the gas, how the team was falling apart, how you can't just turn it back on in October, how the group should be ashamed of itself for wasting this opportunity.
You will not believe what happened next.
The Royals won the World Series.
Thinking back on that month, I became curious. How often does the World Series winner stumble into the playoffs? Here are the September records for the last 20 champions.
2016 Chicago Cubs: 17-10
2015 Kansas City Royals: 11-17
2014 San Francisco Giants: 13-12
2013 Boston Red Sox: 16-9
2012 San Francisco Giants: 19-8
2011 St. Louis Cardinals: 18-8
2010 San Francisco Giants: 18-8
2009 New York Yankees: 19-9
2008 Philadelphia Phillies: 17-8
2007 Boston Red Sox: 16-11
2006 St. Louis Cardinals: 12-16
2005 Chicago White Sox: 17-12
2004 Boston Red Sox: 18-10
2003 Florida Marlins: 18-8
2002 Anaheim Angels: 18-9
2001 Arizona Diamondbacks: 10-11
2000 New York Yankees: 13-17
1999 New York Yankees: 15-13
1998 New York Yankees: 16-11
1997 Florida Marlins: 12-15
I count five teams that played sub-.500 baseball in September. The 2001 Diamondbacks aren't a perfect example, because the Sept. 11 attacks put the regular season on hold for eight days, and the team went 4-2 in October regular-season games. So let's call it four, which means 20% of the most recent World Series champions limped into the playoffs. It is not ideal, of course, but losing in September does not ban you from the tournament.
Winning a title won't be easy. When the playoffs start, the Dodgers will not see their opponents capitulate to them. They will need Yu Darvish to figure out his delivery. They will need the bridge to Kenley Jansen — a rickety structure which features Josh Fields, Brandon Morrow and Pedro Baez — to hold firm. They will need contributions from the bottom third of the lineup*, which features Logan Forsythe, who has not produced much power or batting average this season.
*I would like to see a Venn diagram of "fans who tweeted at Andy complaining about Joc Pederson's performance in the second half" and "fans who tweeted at Andy blaming Joc Pederson's demotion for disrupting the team's chemistry."
The Dodgers are not perfect. They weren't perfect when they were on pace to win 116 games. They won't be perfect even if they win a title. All championship teams have flaws. They win because the strengths offset the weaknesses. This stretch of losing should be considered a reality check: It won't be easy. But I still view the Dodgers as the favorites.
Yes, Alex Verdugo can hit his way onto the playoff roster. He will need to produce in the next few weeks. Joc Pederson is also rejoining the team later this week, so he'll get a chance to make his case too.
There is no reason to put Corey Seager, or any player whom the team expects to play in October, on the disabled list once the rosters expand in September. If this injury happened in June, the team would have shut down Seager and put him on the DL. At this point, it doesn't matter.
I'm not a huge sabermetrics guy, so bear with me, but I believe a team can lose a doubleheader if they allow the other team to score more runs in each of the two separate games.
The Dodgers have used the 10-day disabled list generously since April. No one seemed to care before Rich Hill, Hyun-Jin Ryu and Kenta Maeda got crushed in Arizona.
The Dodgers have rotated lineups on a daily basis since April. No one seemed to care until they played a doubleheader on Saturday and started a bunch of rookies in the day game.
The Dodgers literally won the day after Rich Hill's near-no-hitter, so, no, I do not think that game had a significant effect on the clubhouse.
They pitched poorly against the Diamondbacks, who are a good baseball team, especially when they play at home.
If you're an Angels fan, I suppose it would be hilarious.
Franklin Gutierrez is on the disabled list because of a rare condition known as ankylosing spondylitis. I do not expect him to contribute much for the Dodgers down the stretch.
The overwhelming majority of my interactions with Dodgers fans are pleasant, charming encounters. There is nothing pleasant about watching Randy Orton sleepwalk through PPV matches for the past 15 years.
My favorite San Diego beer is a small-batch micro-brew called Coors Light. It's crisp, refreshing and goes down smooth. I wish they sold it in other cities around the country.
Twitter: @McCulloughTimes
---
Get our high school sports newsletter
Prep Rally is devoted to the SoCal high school sports experience, bringing you scores, stories and a behind-the-scenes look at what makes prep sports so popular.
You may occasionally receive promotional content from the Los Angeles Times.