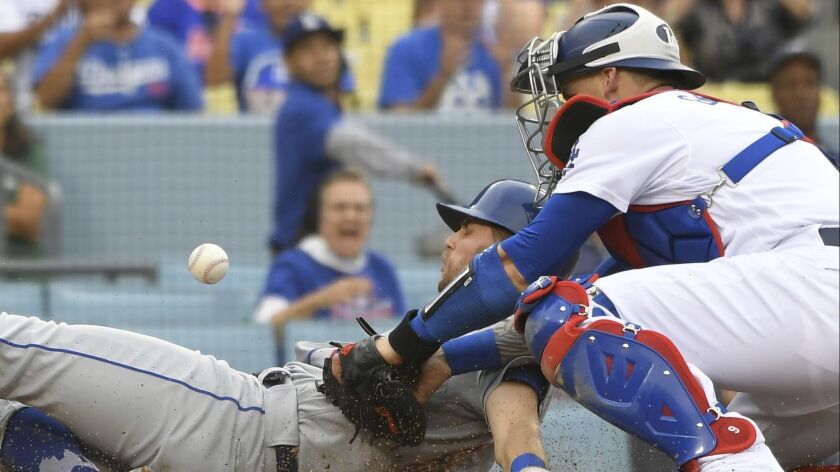 Some of the hits were well-struck. Some were well-placed. Some were well-suited to land in the glove of a Dodger — except they did not. In all, there were 14 hits yielded by the Dodgers in a 7-3 loss to the Mets on Wednesday. What should have been a triumphant homestand ended with one of the sloppiest games of the season.
After taking three of four from Arizona over the weekend, the Dodgers dropped two of three to the Mets. The team lost its grip on first place in the National League West and ceded control to Colorado.
The Dodgers will travel to Coors Field for a three-game series there starting Friday. The club can ill afford a reprise of this output against the Mets.
"At this point in time, we've got to play better baseball," manager Dave Roberts said. "And we have. We really have. This was one of those games that we just didn't execute defensively."
The timing was far from ideal. In May or June or July, a baseball team can shrug off an effort like the one the Dodgers (76-64) put forth Wednesday. The margin for mediocrity is far thinner with for a second-place team with only 22 games left on their schedule.
The ebbs and flows of the season allow a team moments to dawdle. The Dodgers are suffered through those stretches, sleepwalking into May and watching the bullpen implode as Kenley Jansen dealt with heart issues in August. The team will be without Jansen this weekend in Denver, as his cardiologist recommended he skip the trip to avoid the altitude triggering his irregular heartbeat.
Granted four days off, Jansen pitched the ninth inning Wednesday. He arrived to throw a meaningless inning in a half-empty stadium.
By that point, Hyun-Jin Ryu surrendered five runs and 11 hits in six innings, falling victim to a flurry of soft contact after retiring the first nine batters he faced. His immediate replacement, Ryan Madson, yielded two runs in the seventh on three hits and a wild pitch. The Dodgers were charged only one error, but their miscues still proved costly.
The hitters launched two home runs against Mets starter Zack Wheeler but did little else. Max Muncy hit a two-run shot in the fourth inning. Cody Bellinger added a solo shot in the seventh. Wheeler cruised otherwise, striking out nine.
"When you're facing a guy like Wheeler, you've got to play clean baseball to give yourself a chance to win, and keep it close" Roberts said. "We just didn't really give ourselves a chance today."
Wheeler does not classify as a slouch. From June to August he posted a 2.45 ERA in 17 starts. He permitted five earned runs last month. As Ryu zipped through the Mets lineup, Wheeler did the same. He struck out five Dodgers through three.
The joyride for Ryu ended in the fourth. He yielded a leadoff single to shortstop Amed Rosario and a double to second baseman Jeff McNeil. The Mets collected a run when a grounder struck by first baseman WIlmer Flores bounced off Ryu's leg for a single. McNeil went to third on the hit.
When Mets outfielder Michael Conforto lofted a fly into foul territory along the left-field line, McNeil elected to test the arm of Joc Pederson. Pederson aced his half of the exam, unleashing a strong throw that beat McNeil to the plate. Yasmani Grandal scooped the baseball, only to fumble it as he tried to make a tag. Grandal smashed his glove in the dirt after McNeil was deemed safe.
"You can look around the diamond, and there were some plays that we typically make, that we didn't make," Roberts said. "Whether it's added pitches or a run that was scored that wasn't, or whatever it was."
Ryu yielded a third run on a single by outfielder Austin Jackson. Jackson handed Ryu an out by trying to leg out a double. Alex Verdugo cut short that dream.
The Dodgers countered with a two-out blast against Wheeler. Justin Turner notched his team's first hit by sizzling a line drive off Wheeler's torso. Wheeler remained in the game. Three pitches later, Muncy demolished a 91-mph fastball. The homer landed deep in the right-center pavilion and cut the Mets' lead to one.
Ryu did not hold the line. His defense did not help. Ryu fed Mets catcher Kevin Plawecki a waist-high cutter for a double to start the fifth, and then gave up a single to outfielder Brandon Nimmo. With traffic on the bases, it was time for the defenders to disappoint.
Rosario sprayed a changeup into right field, where Verdugo sprinted toward it. Verdugo slid to get underneath the baseball, but could not coordinate with his glove. A single ticked off the leather and brought home a run.
"I was running fast to it, and thought i needed to slide," Verdugo said. "As I slid, the ball dropped straight down and missed the glove."
He added, "It probably had a little bit of topspin. But at the end of the day, I catch that ball probably nine times out of 10. But it's got to be caught."
The Mets produced their fifth run when a liner from Flores deflected off Enrique Hernandez's glove at shortstop. "Unfortunately, they were able to find a little green grass out there," Muncy said.
The Dodgers could not do the same. Bellinger clobbered a slider from Wheeler for his 22nd homer of the season in the bottom of the seventh. Wheeler did not wobble. He walked Hernandez with two outs but got Brian Dozier to pop up for the third out of the inning.
"We looked forward to winning the series today," Roberts said. "But Zack threw a pretty good ball game today. It's still in our hands. We've got to go to Colorado and play good baseball."
Twitter: @McCulloughTimes
---