Yasiel Puig is benched again by Dave Roberts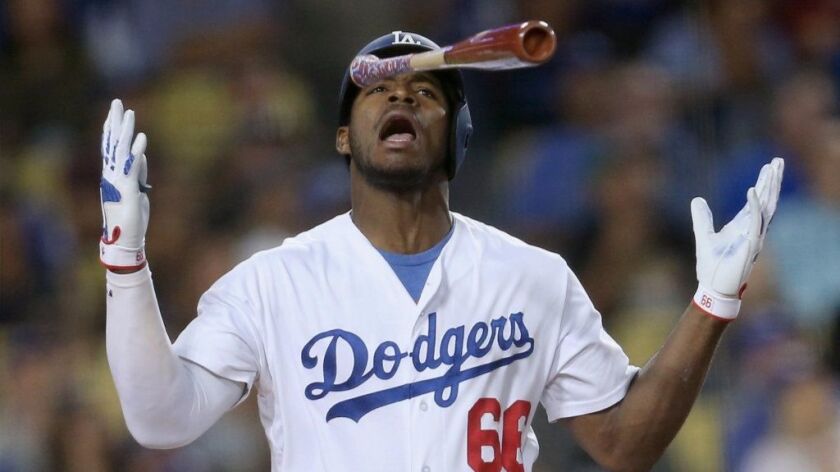 The rift between Dodgers manager Dave Roberts and outfielder Yasiel Puig widened Monday as Roberts benched Puig for the second game in a row, this time after Puig showed up late for a pregame activity.
"No one player can be bigger than the team," Roberts said before the Dodgers' 9-3 victory over San Diego in front of 49,419 at Dodger Stadium. "The priority has got to be for all of us. For me, that was a decision that he made, not me."
In the aftermath of the victory, Roberts suggested the two men had reached detente, and pulled themselves "on the same the page," he said. The incident still recalled a bygone era of dysfunction for the Dodgers, when each transgression by Puig became magnified. Roberts suggested his frustration with Puig has built up in recent weeks, despite decent production from Puig at the plate combined with excellent defense in right field. On Monday, the man who coined the hashtag #PuigNotLate could not live up to its billing.
Roberts' irritation first emerged in public view Saturday night, when Puig got himself thrown out to end the Dodgers' loss to San Francisco. "Bad baseball," Roberts called the play, and he kept Puig on the bench for Sunday's game. Roberts said he needed to trust the players he put into the lineup.
Roberts hoped to offer Puig a fresh slate Monday. Instead, he described himself as "very disappointed" in Puig's tardiness.
"At this point in time, the last thing we all need to be concerning ourselves with is somebody whose sole focus isn't on the ballclub," Roberts said. "This is the decision that I made that I felt was in the best interest of our ballclub."
With Puig on the bench, the Dodgers (100-57) had little trouble dispatching the Padres. They reached 100 victories for the first time since 1974. The Dodgers will need five victories in the final five games of the season to match the 1953 Brooklyn Dodgers for the most victories in franchise history.
"It's pretty special," infielder Logan Forsythe said. "It's wild to think that a team gets to 100 wins. To do it tonight and to contribute a little bit, it's a lot of fun."
Forsythe powered the offense with a three-run double in the first inning and a solo homer in the third. Austin Barnes thumped a three-run shot in the fifth.
Yu Darvish (10-12) did not permit a runner on base until the fifth inning. He struck out nine batters across seven innings of one-run baseball. Darvish has given up two runs in his last three starts. "I think I'm in a really good position, physically and mentally," Darvish said.
Two runs scored in the eighth inning as the defense wilted around Kenta Maeda.
For the Dodgers, the timing of the kerfuffle with Puig is far from ideal. With the postseason less than two weeks away, the lineup is already ailing. Corey Seager has been sidetracked because of an injured elbow. Justin Turner sat out again Monday because of an injured thumb.
Puig's contributions in 2017 include a career-high 26 home runs and an .814 on-base-plus-slugging percentage.
His production does not permit misbehavior, Roberts insisted. On Sunday evening, a Dodgers official explained, Puig was sent a message telling him to be at the ballpark by 3 p.m. Monday for a session of early batting practice. Puig did not arrive on time. He was at his locker when the clubhouse opened to reporters at 3:20 p.m.
Puig declined to offer his side of the story. "I don't want to talk about that," he said before walking away from his locker.
Roberts met with Adam Katz, Puig's agent, before the Dodgers took batting practice. Katz declined to comment.
When Roberts met with reporters for his pregame news conference, he indicated he had not spoken to Puig. He did not have an explanation for Puig showing up late. Roberts spent batting practice in a meeting with Puig, according to people familiar with the situation. A Dodgers official said Roberts planned to start Puig on Tuesday.
Roberts looked pained as he discussed Puig's benching Monday. He tried to leaven his criticism with praise for Puig's performance on the field.
"He's made tremendous strides," Roberts said. "He's been great. He's had a fantastic year. But I hold everyone, and we hold everyone, to the same standard. And that's the way it should be. It's pretty simple."
Puig, 26, has been a magnet for controversy throughout his career as a Dodger. The organization hoped Puig had moved past those days. After being demoted to the minors last summer, Puig returned to the team chastened by the experience, and insistent on his maturation.
He appeared to be following that path in 2017. Puig resided under the radar for much of this season, emerging into the spotlight only to smooch hitting coach Turner Ward after his home runs. But with October approaching, Puig's transgressions take on greater weight in the eyes of his manager.
"No one player is bigger than the whole, and the sum," Roberts said. "The onus is on him. I wanted him in there. I expected him in there. But when you show up late for work, there's got to be consequences. That's just the way life works. And the way life should work."
Twitter: @McCulloughTimes
---
Get our Dodgers Dugout newsletter for insights, news and much more.
You may occasionally receive promotional content from the Los Angeles Times.