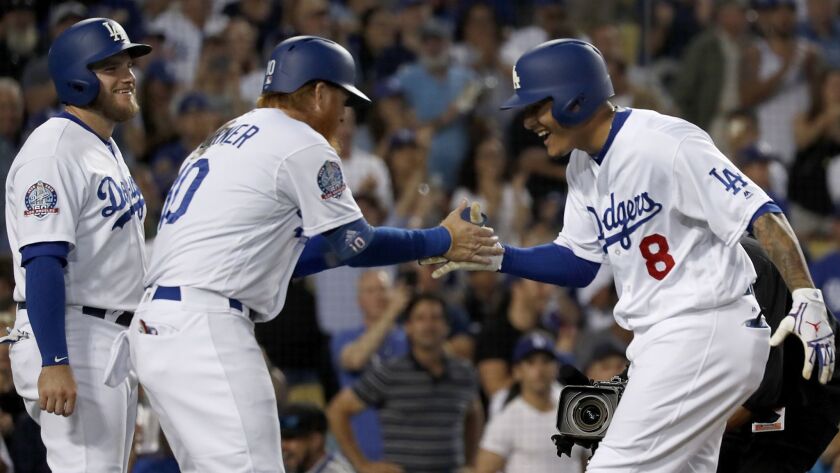 In the short time Dodgers manager Dave Roberts has worked with Manny Machado, he has witnessed the flashes. Machado is an elite talent capable of propelling a club to victories. But his production at the plate hasn't met expectations since the Dodgers acquired him from the Baltimore Orioles in mid-July to serve as their lineup's anchor.
He's been prone to chasing pitches, particularly in high-leverage spots, and his numbers as a Dodger illustrated a steep dropoff from his All-Star-level production before the trade. On Saturday afternoon, before the Dodgers defeated the San Diego Padres 7-2 at Dodger Stadium, Roberts offered his opinion on his shortstop.
"He's been around long enough to know what he needs to do," Roberts said. "But I think there is a human element to being the guy when the situation presents itself. You want to be the guy. That's hard to force and you can see that teams are pitching to him carefully until he shows that he can adjust."
Machado found himself in one of those high-leverage situations again on his bobblehead night Saturday, which began with his wife, Yainee, throwing out the first pitch to him. The spot developed in the third inning. The Dodgers had runners on first and second with one out. Rookie right-hander Jacob Nix was on the mound. The Dodgers already had a 3-0 lead and Nix was teetering. An early knockout was feasible. It was another chance to be the guy as his new team pushes for a sixth straight division crown.
Nix commenced the clash with a 93-mph fastball up in the strike zone. Machado, who entered the day with a .263 batting average and .795 on-base-plus-slugging percentage as a Dodger, clubbed it over the wall in right-center field. It was his 12th home run with Los Angeles and 36th overall, and it spawned what looked like a rout.
"I guess it took the bobblehead night," Roberts joked. "He's trying like heck, and wants a signature moment, that big hit for us. Tonight, hopefully, alleviated some of the anxiety or pressure on him."
Nix lasted one more batter, forcing the Padres to use four relievers to complete the drubbing. Joc Pederson and Yasmani Grandal also hit solo home runs for the Dodgers (86-69) as they set a franchise record with 222 this season, eclipsing the record established last season.
"It's fun to be a part of teams who are hitting homers," Pederson said. "[We] put up runs quick. Hopefully we can keep it going."
The victory kept the Dodgers 11/2 games ahead of the Colorado Rockies for first place in the National League West with seven games remaining and one game behind the Atlanta Braves for home-field advantage in a potential National League Division Series. The Dodgers will host the Padres on Sunday in their final regular-season home game before embarking on a six-game trip to close the campaign.
The Dodgers avoided a second straight loss to the last-place club with an unusual lineup. Rather than going lefty-heavy against the right-handed Nix, the team disregarded the club's recent affinity for platoons and went lefty-right-lefty through the batting order. Pederson was atop the order and he supplied the Dodgers an instant lead with a leadoff homer on Nix's second pitch. It was Pederson's 10th career leadoff home run and seventh this season.
Pederson also helped power the Dodgers' next surge. Chris Taylor sparked it with a leadoff single before Pederson hit a line drive to the left-center gap for a one-out ground-rule double. Justin Turner doubled down the left-field line and the Dodgers had a 3-0 lead.
Two batters later, Machado doubled the margin. Cody Bellinger's double then knocked Nix out of the game, leaving San Diego's bullpen to record 17 outs.
The offensive effort seemed moot with Rich Hill shutting the Padres down over seven innings. Pitching on an extra day of rest, the 38-year-old left-hander limited San Diego to one run on four hits. He compiled seven strikeouts and didn't walk a batter as he recorded his longest outing since July 26 and became the Dodgers' first 10-game winner. The lone run came on Hunter Renfroe's home run in the sixth inning. He departed after 93 pitches.
"Just the fastball-curveball mix, I think getting back to what I do best," Hill said. "Executing curveballs, making sure I'm throwing them for strikes and just getting ahead too. That helps a lot."
The Padres didn't threaten again until the ninth inning, when Roberts, playing the matchups in a blowout, used Yimi Garcia and Tony Cingrani. That didn't work, so Kenley Jansen was inserted in a save situation with the bases loaded and a five-run lead. He promptly struck out Cory Spangenberg and Travis Jankowski to end the game and seal his 37th save on a night when the Dodgers' star midseason acquisition provided the offensive firepower in a big spot.
"I'm confident in the craft I got, what I can do out there and provide for the ballclub," Machado said. "No pressure on that point. You only put pressure on yourself whenever you don't do things right. Go out there, have fun, and play baseball. That's all that matters."
Twitter: @McCulloughTimes
---