Dodgers have an eventful 6-4 win over the Pirates
Inside the Dodgers dugout, as Rich Hill attempted to traverse the final 90 feet of an adventurous trip around the bases in the fourth inning of a 6-4 victory over the Pittsburgh Pirates, the reaction segued from amusement to horror.
The humor came from watching the 38-year-old pitcher high-step from station to station. The apprehension arose when Hill elected to barrel headfirst into the plate.
"That freaked me out," fellow pitcher Ross Stripling said Wednesday. "It was so good, until the very end."
"I'm just glad he didn't get hurt, honestly," shortstop Chris Taylor said. "I don't know if he needs sliding practice or something. But sliding headfirst into home plate for pitchers is a no-no."
"Besides the slide at home, I thought everything else was OK," Hill said. "I've just got to learn how to slide feet first."
Hill emerged without major damage, but he was not unscathed. He was tagged out, for the record. He also developed stiffness in his neck, which shortened his outing. Hill spun five innings of two-run baseball as the Dodgers completed a three-game demolition of Pittsburgh. The Dodgers outscored their guests 31-8 in this sweep at Dodger Stadium.
Even more improbable than Hill's jaunt on the bases? The Dodgers (47-39) won without hitting a home run. Taylor and Yasmani Grandal led the offense with three RBIs each. After Daniel Hudson was ejected in the sixth inning and Edward Paredes gave up a two-run shot to Gregory Polanco in the eighth, Kenley Jansen arrived for a five-out save. He protected the lead to keep his team moving forward heading into the first leg of the Freeway Series this weekend in Anaheim.
"Our approach, up and down the lineup, was consistent all series," manager Dave Roberts said.
The Dodgers feasted on Pittsburgh pitchers to finish this homestand with a 6-4 record. The Pirates reached into their farm system to find a starter for Wednesday when Joe Musgrove landed on the disabled list with a finger infection. The organization turned to Clay Holmes, a 25-year-old with two big league appearances.
Holmes dealt with immediate stress. Joc Pederson and Max Muncy started the first inning with walks. It was less explosive than the night before, when they hit back-to-back home runs, though it still set the table for some scoring. Grandal dunked an RBI single into left field, but the team squandered a chance for more when Enrique Hernandez struck out with the bases loaded.
Hill retired the first six hitters he faced. He stumbled in the third. A leadoff double by Pirates shortstop Jordy Mercer and a subsequent walk by second baseman Max Moroff put the lead in jeopardy. Pittsburgh moved ahead when outfielder Starling Marte cracked a two-run double down the third base line.
The Dodgers did not trail for long. Holmes had zipped through the second inning but recorded only one out in the third. Muncy led off with a single. Cody Bellinger doubled on a 92-mph sinker. Grandal pulled a go-ahead, two-run double into right field on a 97-mph fastball. Taylor stroked an RBI single to end Holmes' outing.
"That's what we did all series," Roberts said. "Had those guys on their heels."
Hill went on his baserunning adventure in the fourth. The journey taxed his legs, but it started with his hands. He dropped a bunt that trickled past reliever Richard Rodriguez for Hill's first hit of the season and only his sixth since 2009. When Rodriguez uncorked a pair of wild pitches, Hill hustled from first to second to third.
Muncy's fly ball to center traveled deep enough for third base coach Chris Woodward to tell Hill to tag up. He did not slide so much as dive. The throw beat him, and catcher Elias Diaz applied the tag. Hill rolled into the dirt and flopped on his back. Then he picked himself up to go pitch.
"Sliding headfirst has always been something that I'm accustomed to," Hill said. "It feels like it's pretty natural. I like to do it. It makes sense to me. But to be honest with you, it's just been so long."
As he pitched the fifth, he waved off a visit from Roberts and one of the trainers. Hill gave up a pair of singles before recovering to keep Pittsburgh off the board. His neck hastened his exit afterward.
"There was a lot of running for Rich," Roberts said. "We've got to work on the feet-first slide. I wasn't surprised with the tag. We all expected him to slide feet first, and not headfirst. And obviously he comes out of the game with some sort of neck tightness. I'm sure it was a byproduct of the slide."
The Dodgers experienced another scare in the bottom of the fifth. A 99-mph fastball by Pirates reliever Tyler Glasnow hit Justin Turner in the left shoulder and clipped his helmet, inches away from striking his head. Turner fell to the ground as Roberts and a trainer sprinted to check on him. Turner got up and trotted to first base. "I'm good," he said.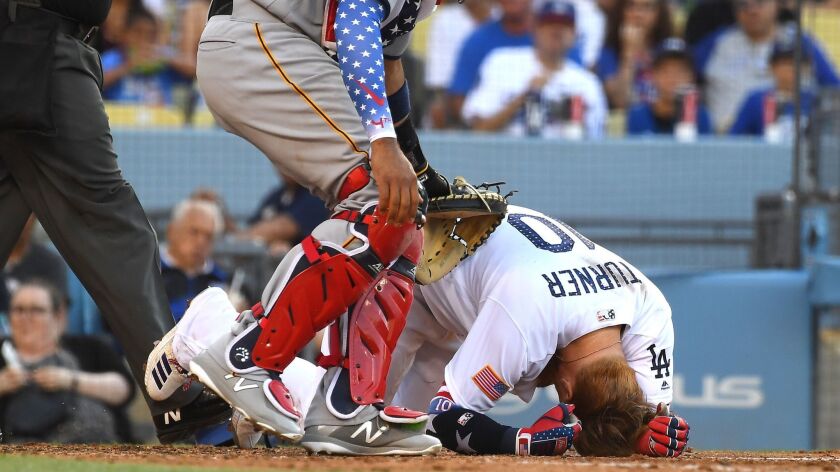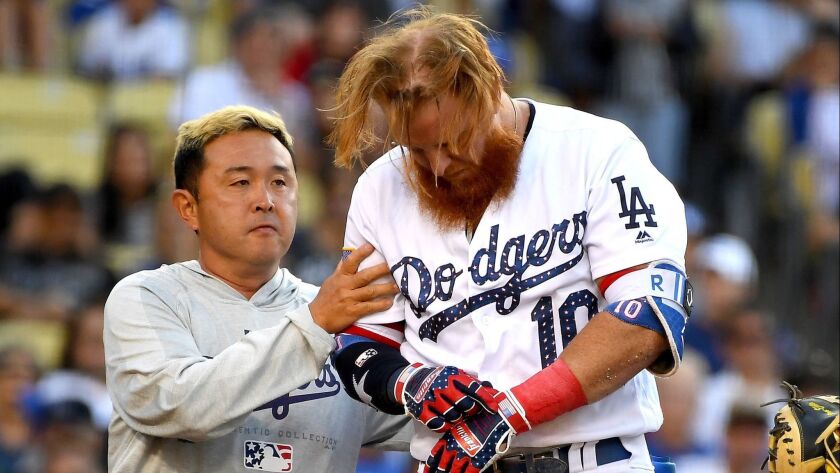 Glasnow did not get much better. Bellinger and Grandal walked to load the bases. Taylor grounded a two-run single to make it 6-2.
"It's good energy in there," Taylor said. "I'm happy for all the guys who are having success. That kind of energy is contagious. Hopefully we can keep it going."
Twitter: @McCulloughTimes
---
Get our Dodgers Dugout newsletter for insights, news and much more.
You may occasionally receive promotional content from the Los Angeles Times.