Talented but troubled Andrew Toles gets a second chance with Dodgers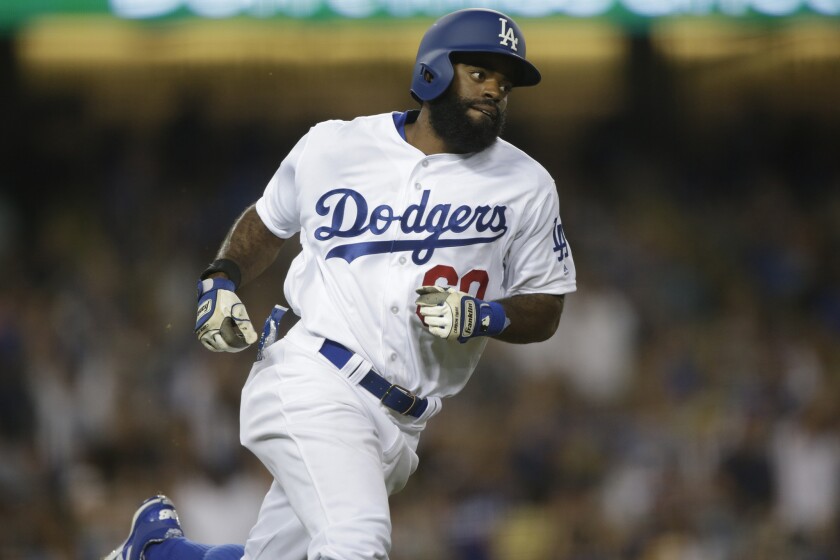 Andrew Toles reached the big leagues for the first time Friday, his promotion from triple-A Oklahoma City, early wake-up call and long travel day culminating with his starting in center field and batting eighth for the Dodgers on Friday night.
His reputation preceded him.
Toles, 24, was dismissed from the University of Tennessee baseball team as a sophomore in 2011 for failing to live up to what Coach Dave Serrano called "a certain standard of accountability to which every member of the team must he held."
A third-round pick of Tampa Bay out of Chipola (Fla.) College in 2012, Toles was named the Rays' minor league player of the year after hitting .326 with 62 stolen bases at Class-A Bowling Green (Ky.) in 2013.
Toles was released in March 2015 after missing two months of 2014 because of "personal issues," and he sat out all of last season, spending two weeks working at a grocery story in his native Georgia.
"It was a situation where a lot of things didn't go my way," Toles said of his divorce with the Rays. "Me and my agent came to an agreement with the Rays that it wasn't a good situation for me."
What wasn't good?
"It just didn't fit for both of us," Toles said.
Toles spent last season "pretty much sitting at home, waiting on phone calls." Andrew Friedman, the Dodgers' president of baseball operations who was the Tampa Bay general manager when the Rays drafted Toles, kept in touch and signed him to a minor league deal last September.
Toles began this season at Class-A Rancho Cucamonga and matriculated to double-A Tulsa and Oklahoma City, combining to hit .330 with six home runs, 25 doubles, five triples, 37 runs batted in, 52 runs and 23 stolen bases in 73 games.
With the Dodgers down to three bench players Thursday, they summoned Toles and optioned reliever Carlos Frias, who threw four scoreless innings Thursday night, to triple A.
"I don't know the whole story, but I know Andrew is fond of him as a person and player," Manager Dave Roberts said of Toles. "With what he went through in the past, it's a great story to see him in the big leagues. We're excited to have him. He's dynamic. He can run, defend and hit."
Toles is grateful for another chance.
"I've matured a lot," he said. "I don't talk as much now, I try to be on time, a lot of small stuff. . . . There's a little more pressure on me not to mess it up."
Toles lined the first big league pitch he saw, a 92-mph fastball from Andrew Cashner, to the gap in left-center field for a double in the second inning.
Short hops
Clayton Kershaw (herniated disk in lower back) continues to play catch and strengthen his core, but Roberts said the left-hander will not be ready to pitch immediately after the All-Star break. "Clayton will need some time after the break," Roberts said. "Every day he seems to feel better, and his activity continues to increase . . . but we're still reluctant to put a timetable on it." . . .
It appears doubtful that center fielder Joc Pederson (sprained AC joint in right shoulder) will be ready right after the break, as well. Pederson is working out in Arizona but has not yet swung a bat. "His soreness has dissipated," Roberts said, "but when he comes back is uncertain." . . .
Roberts said Hyun-Jin Ryu, whose velocity dipped in the final inning of his 4 2/3-inning effort in his return from shoulder surgery Thursday, had "normal soreness" Friday. . . .
Brett Anderson (lower-back surgery) threw 50 pitches off a mound Friday but needs to face hitters in a live batting-practice session before starting a minor league rehab stint. . . .
The Dodgers completed the Bud Norris trade by acquiring rookie league right-hander Alec Grosser as the player to be named from Atlanta.
mike.digiovanna@latimes.com
Twitter: @MikeDiGiovanna
---
Get our Dodgers Dugout newsletter for insights, news and much more.
You may occasionally receive promotional content from the Los Angeles Times.