Dodgers' Muncy says he'll practice restraint at home run derby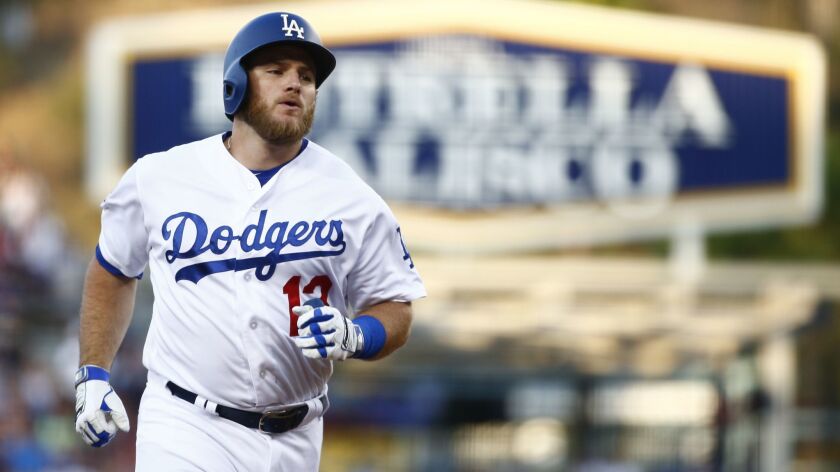 Max Muncy is known for his patience as well as his power. In addition to his team-leading 22 homers, the Dodgers infielder has a team-high .409 on-base percentage and 52 walks, which will make his approach during Monday night's home run derby in Washington seem a little foreign.
"He's gonna be like Nomar Garciaparra," manager Dave Roberts said, referring to the ultra-aggressive former Red Sox star and current team broadcaster, "and swing at every first pitch."
Muncy's goal is to not be like Giancarlo Stanton and try to hit every ball 500 feet, like Stanton did with his dazzling display of power in last season's derby.
"I'm not gonna try to hit home runs," Muncy said. "I'm going to try to get underneath the ball with a regular swing. If I do that, I'll have a good chance of hitting some home runs. If I try to hit them, I'm gonna be on top of the ball."
Muncy knows that some players — Bobby Abreu, David Wright and Dodgers outfielder Joc Pederson come to mind — have slumped badly after performing well in the derby. Angels manager Mike Scioscia believes the high volume of maximum-effort swings can lead to bad habits and even injury.
"Some people think it can be bad for guys because they completely change their swing," Muncy said. "But for me, the swings are going to stay the same."
Roberts, the National League All-Star manager, is not concerned about any possible negative effects.
"Some guys have gone south after the derby, but plenty of guys haven't," Roberts said. "For me, it's defaulting to the fact that it's a great experience for Max, it's potentially a once-in-a-lifetime chance, and I want him to enjoy every bit of it."
Muncy has received similar advice from Pederson and Cody Bellinger, both past derby participants.
"The biggest thing is don't take it too seriously," Muncy said. "Have fun with it. Don't try to do anything out of the ordinary. Don't try to pull the ball too much. Don't try to lift the ball too much. Just stay with your regular swing and stay nice and easy about it."
Have glove, will travel
Super utility player Enrique Hernandez started Sunday's game at second base and made a Gold Glove-caliber play in the second inning, racing into shallow right field to make a sliding catch — on both knees — of Martin Maldonado's popup while avoiding a collision with right fielder Matt Kemp.
Hernandez, who has also started games in center field, left field, shortstop, third base and first base this season, moved to right field in the ninth. With one out, he raced in and toward the line to make a diving catch of David Fletcher's flare.
"He gives us flexibility on the defensive side and is a plus-defender everywhere," Roberts said. "It seems like every time he's in there something good happens."
On second thought
Roberts' initially thought that Andrew Toles erred in his decision to stop at second base on a 10th-inning drive that left fielder Justin Upton failed to catch while stumbling and falling in front of the wall on Saturday. "We expected him to be on third off the bat," Roberts said after the game.
Roberts had a change of heart after discussing the play with several coaches.
"It was more confusion," Roberts said. "Andrew has never been a guy who doesn't play hard. He obviously lost sight of the baseball. … I don't think that was a mental or physical mistake or a lack of effort. To keep running and run into an out when you don't know where the ball is, that's not a good decision either."
Short hops
Sunday's game featured some lumber liquidation. Angels first baseman Jefry Marte broke his bat over his knee in frustration after a first-inning strikeout, and Kemp did the same after a fifth-inning strikeout. … Dodgers pitcher Clayton Kershaw capped a three-run second inning with an RBI single to right field. … Left-hander Scott Alexander struck out two of three in a scoreless eighth inning … Third baseman Justin Turner (minor groin injury) missed his third straight game but is confident he'll return Friday in Milwaukee.
---
Get our Dodgers Dugout newsletter for insights, news and much more.
You may occasionally receive promotional content from the Los Angeles Times.