Trayce Thompson hits walk-off in Julio Urias' Dodger Stadium debut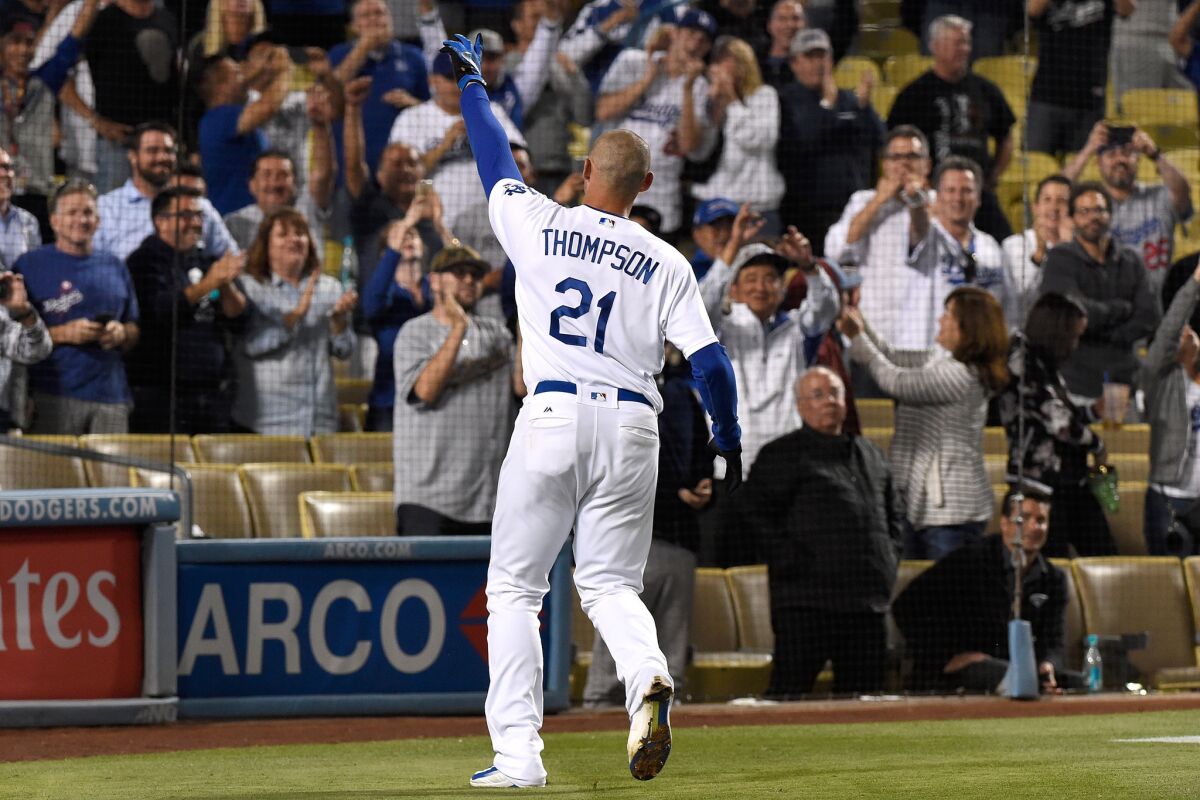 The touted left-handed prospect had barely turned 20 when the Dodgers called him up. In his first three starts, he could not average even five innings, because he needed 20 pitches to get through each one.
Let us not get carried away and call Julio Urias the second coming of Clayton Kershaw. But those first three starts of Kershaw's career remind us that even the very best of pitchers can require an adjustment period to the major leagues.
Urias made his Dodger Stadium debut Tuesday, with his parents in the house. The Dodgers staked him to a three-run lead in the first inning. For the first time in his brief major league career, he would pitch with a lead.
All he had to do was complete four more innings, and he would have been in line for his first major league victory.
Urias, 19, made it through the fourth inning, with five the minimum required for a victory. In his first three starts, he could not average even four innings, because he needed 21 pitches to get through each one.
His first win will come. It would not have come Tuesday even had he completed five innings, for the Colorado Rockies tied the score in the eighth inning.
But Trayce Thompson won the game for the Dodgers, with a walk-off home run with two out in the ninth inning. The home run gave the Dodgers a 4-3 victory and pulled them within three games of the first-place San Francisco Giants in the National League West.
The Dodgers have two walk-off hits this year. Thompson has both, each of them home runs, even if he wasn't sure this one was going out.
"I never really slowed down," he said. "All of a sudden, I was at home."
The Dodgers won despite getting five hits. They got one hit Monday.
Thompson said fans have to remember Urias is 19. Then he realized that is the first thing fans know about him.
"I know everyone knows he's 19 years old," Thompson said. "It's pretty special for him just to be here."
Even in his inefficient outing, Urias wrote a page in the Dodgers' history book. He struck out seven, the first teenager to do so for the Dodgers since they moved to Los Angeles. Don Drysdale struck out nine for Brooklyn at 19, in a 1956 game in which Jackie Robinson batted sixth — behind Jim Gilliam, Pee Wee Reese, Duke Snider, Roy Campanella and Gil Hodges.
The stands appeared little more than half-full at first pitch, but Urias got a lively cheer as he walked toward the bullpen for pregame warmups, and there was anticipatory applause as he prepared to make his first pitch.
"I felt very happy," Urias said through a translator. "I felt like another dream was completed."
The first inning was labored. Five pitches for a line out. Four pitches for a double. Six pitches for a walk. Five pitches for a strikeout. Four pitches for another strikeout. That was good for a modest fist pump.
In the second inning, he threw one pitch to the backstop, on the fly. In the third, Nolan Arenado doubled home the only run the Rockies scored off Urias.
The Dodgers had targeted 80 to 90 pitches for Urias. He was done after four innings, at 86 pitches, despite recording four of his last five outs on strikeouts.
Of the 16 batters he faced, he went to a two-ball count on 10 — not, he said, because he was trying to work the corners rather than challenge the hitters.
"With every pitch, you have to be aggressive," he said. "I missed with some of my pitches."
His final line, other than the four innings, was fine: three hits, one run, one walk, seven strikeouts. His projected next opponent: Zack Greinke.
---
Get our Dodgers Dugout newsletter for insights, news and much more.
You may occasionally receive promotional content from the Los Angeles Times.