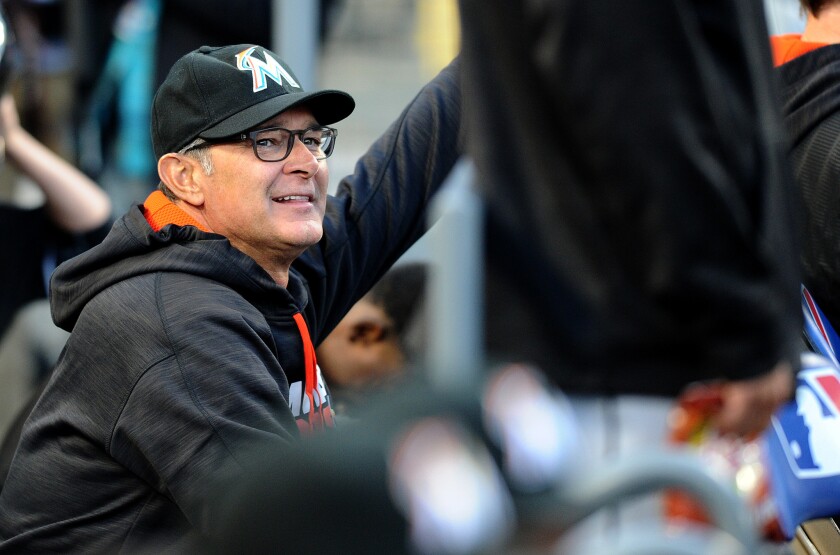 When Don Mattingly started to appear on television in a Miami Marlins cap over the winter, something about him was noticeably different.
His smile didn't feel as if it was forced, as it often did over the five seasons he managed the Dodgers. His body language was more relaxed. He looked genuinely content.
Fleeing the clutches of Dodgers President Stan Kasten will do that to a person, evidently.
When Mattingly returned to Dodger Stadium as a visiting manager Monday, he was still that strangely radiant version of himself, the Marlins' 6-11 record entering the game doing little to erode whatever peace he has found in Miami.
This wasn't some mirage, said batting champion Dee Gordon, who made the case that a change in scenery has resulted in a change in the man. Gordon would know. Before he was traded to the Marlins, he played under Mattingly with the Dodgers.
"He gets to be himself, gets to make his own decisions," Gordon said. "Good, bad or indifferent, it's his decision."
The level of input Mattingly receives from the front office when constructing the lineup is minimal compared to when he was with the Dodgers. The coaching staff has the autonomy to decide when to employ defensive shifts, which could be why the Marlins shift less than any team in baseball, according to Stats LLC.
"We have a position we take, regardless of who's batting," infielder Miguel Rojas said in Spanish. "From there, we might take a step to the left or a step to the right, depending on who's hitting, who's pitching and where we think the ball will go."
The Marlins' notoriously meddlesome owner, Jeffrey Loria, hasn't presented any problems so far.
Mattingly is in a place where he was wanted enough to where he landed a four-year contract, no longer working under a front office that inherited him.
"I know he feels very good about where he's at right now," said bench coach Tim Wallach, who followed Mattingly from Los Angeles to Miami.
However flawed the Dodgers team Mattingly managed last season, it had a record $300-million payroll and won a third consecutive division championship. He left that for a club that often ranks near the bottom of the league in victories and dollars spent. Did the move really make sense?
"For him? Yeah, it makes sense," Wallach said. "I'm not going to go into the reasons. It makes total sense and I understand. He's very happy right now."
Mattingly was as diplomatic as the day he left the Dodgers in what he and the club described as a mutual decision. He remained complimentary of Andrew Friedman, the Dodgers president of baseball operations, and Farhan Zaidi, the general manager.
"I enjoyed Andrew and Farhan and those guys a lot. I feel I learned a lot," Mattingly said. "They think a little differently, but that doesn't make it bad thinking in my mind."
As for how much influence Friedman and Zaidi had on lineup decisions, Mattingly said, "I think it got overplayed a little bit. I really do. There was collaboration back and forth, talking about different things. That's just part of this job."
It was no secret Mattingly and Dodgers outfielder Yasiel Puig didn't see eye-to-eye, but Mattingly said reports of that were also overblown.
"There were different meetings and different things and I know different stuff's been written, but there's not one thing that happened from my standpoint that wasn't about him being a better player, him growing, him being a better teammate," Mattingly said. "It was nothing personal in that relationship at all, for me. It was all about helping him grow. That's what I tried to do. Maybe it didn't succeed in certain areas. Hopefully there was some impact. I know from my heart, the intent was always to help him, never to hurt him."
So Mattingly wouldn't instruct his pitchers to throw at Puig?
Mattingly smiled.
"No, we're not going to throw at him," he said.
Maybe the Marlins should have. Puig belted a home run in the fourth inning.
If the Dodgers' budget placed Mattingly in a no-win situation, his task with the Marlins provides him with plenty of upside.
"This is such a challenge, what we're doing here in Miami," he said. "Good, young, talented group, having to develop this and build this. Looking forward to making Miami a place where players want to come. Right now, L.A.'s the place you want to go. If you're a player, you want to be on that team. You want to build Miami to a point where we're competitive every year, we're having a shot in the playoffs or getting in the playoffs."
---