Dodgers sign Travis d'Arnaud to make up for right-handed bat imbalance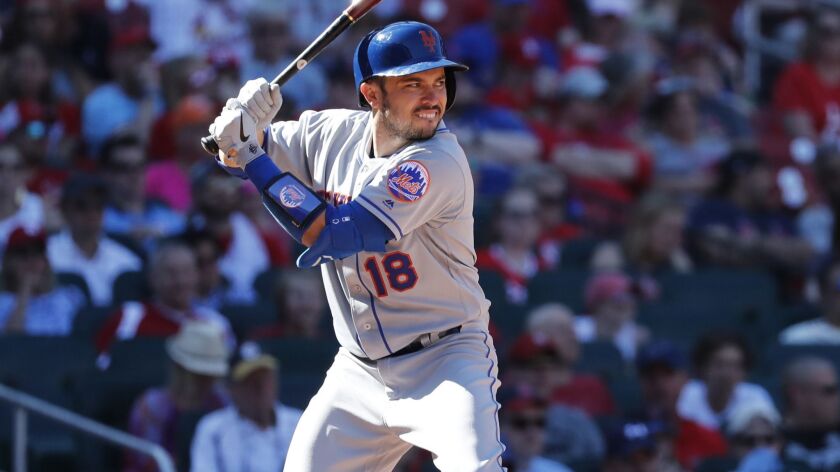 Reporting from SAN DIEGO —
Travis d'Arnaud, the Dodgers' newest catcher, walked into in the visitors' clubhouse at Petco Park five minutes before 11 a.m. Sunday. He was fitted for a cap and a batting helmet. He introduced himself to unfamiliar people and greeted a few familiar ones.
Austin Barnes, the Dodgers' starting catcher, had just finished a meeting with starting pitcher Kenta Maeda in preparation for the game against the San Diego Padres. Russell Martin, the Dodgers' backup catcher, was playing cards with a few teammates. Neither seemed bothered. Neither had reason to be. The Dodgers will employ an unorthodox roster, at least for the time being, and carry three catchers after signing D'Arnaud to a one-year contract Sunday. They optioned rookie infielder Matt Beaty to triple-A Oklahoma City to make room on the roster.
Manager Dave Roberts explained the move was made to add another right-handed bat to a roster that recently lost A.J. Pollock for a considerable amount of time, leaving an uncomfortable imbalance. He added that D'Arnaud, whose brother Chase is a triple-A infielder in the Texas Rangers organization, could play in the infield and outfield in addition to catcher.
D'Arnaud, however, has only played a position besides catcher in a major league game once — on Aug. 16, 2017, when he made an emergency start at third base and was flipped between third and second throughout the game, sometimes from batter to batter, to limit the chances of having a ball hit to him.
"We'll see a run of left-handers," Roberts said. "So to have that right-handed bat, we potentially could use one of those catchers to hit, and it just makes sense right now."
D'Arnaud, 30, was available after the New York Mets designated him for assignment last week and released him Friday, ending an injury-riddled career in Queens. He started the season on the injured list after undergoing Tommy John surgery last year. He returned to go 2 for 23 at the plate before the Mets let him go.
He was a highly touted prospect who was one of the centerpieces in separate trades for Roy Halladay and R.A. Dickey, but injuries have marred D'Arnaud's career. He's appeared in 100 games in a season twice. He's spent time on the injured list with a concussion, a fractured finger, a hyperextended elbow, a strained rotator cuff, a bone bruise in his right wrist and, last season, a torn ulnar collateral ligament.
"We've always liked him behind the plate, the way he received and the quality of at-bat," Roberts said. "He's been a victim of injuries over the last few years. Great clubhouse guy and I just think [great for] adding the versatility and freeing up our other right-handers off the bench."
Sign up for our Dodgers newsletter »
D'Arnaud said he grew up a Dodgers fan in Long Beach and attended Lakewood High School. His favorite player was Mike Piazza. He has a close relationship with Dodgers bench coach Bob Geren, who was the Mets' bench coach during D'Arnaud's first three seasons in New York and officiated D'Arnaud's wedding. The two are reunited as D'Arnaud seeks to start a new chapter back home.
"It definitely makes it easier to see a familiar face, especially Bob," D'Arnaud said. "We had a lot of great times together with the Mets, and I'm really looking forward to working with him again."
Bellinger not in lineup again
Cody Bellinger wasn't in the Dodgers' lineup for the second straight day Sunday after having his right shoulder pop out and in when he dove for a ball Friday. The outfielder said he's had the shoulder separate at least three times before and maintained he isn't concerned.
"Once you push it back in, it feels pretty good," Bellinger said.
In those previous instances, however, Bellinger didn't miss any games. This time, he said the team wants him to strengthen the shoulder because the more often the shoulder pops out, the looser it gets.
He said the pain has subsided and believed he would have played Sunday if it was a night game. He took swings in the batting cage Sunday morning was encouraged. Roberts said he was available to pinch-hit Sunday.
"When you hear the trainer and the player says it feels pretty good," Roberts said, "I think for me that calls for one extra day."
Cingrani debuts with rehab outing
Left-hander Tony Cingrani logged a scoreless inning in his first rehab appearance for single-A Rancho Cucamonga on Saturday. Cingrani is on the injured list with a shoulder impingement.
Twitter: @jorgecastillo
---
Get our Dodgers Dugout newsletter for insights, news and much more.
You may occasionally receive promotional content from the Los Angeles Times.