Ducks hope youthful exuberance can overcome loss of retired veterans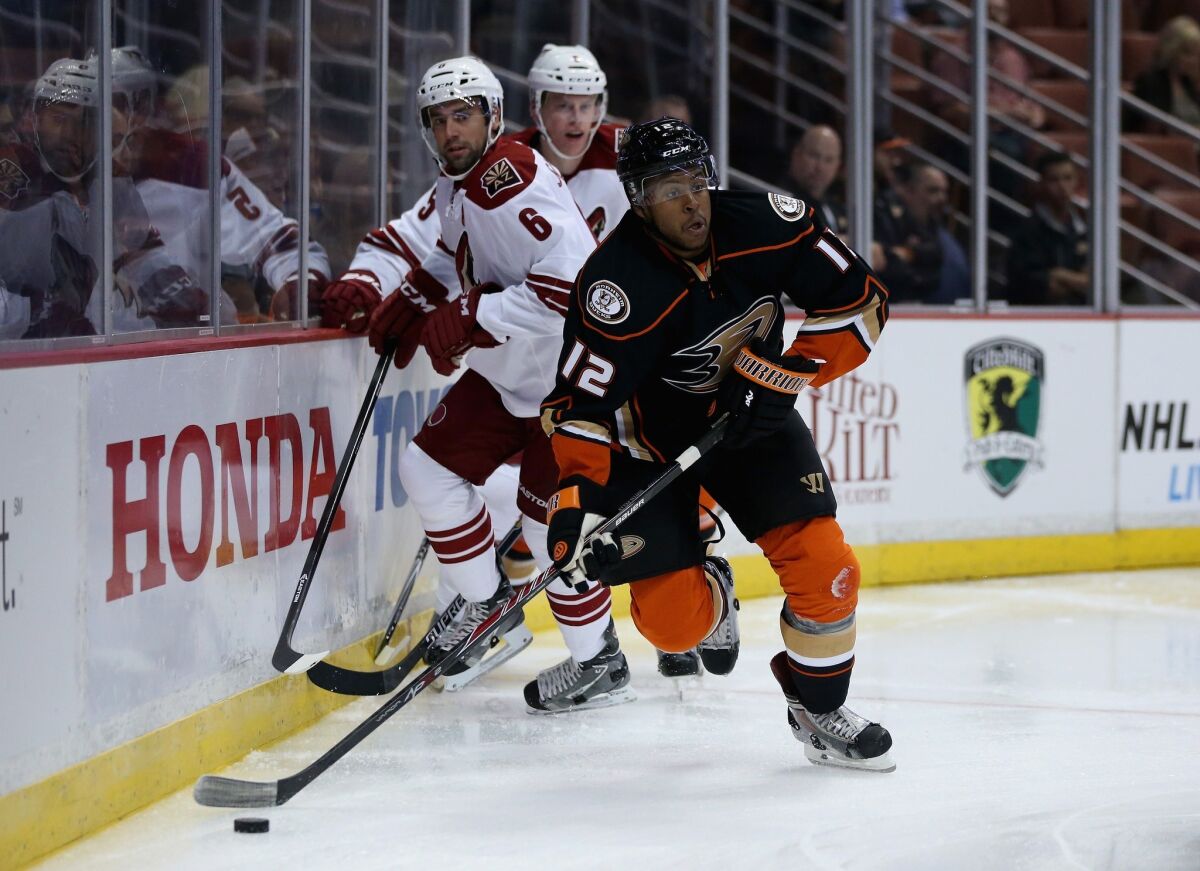 So much wisdom, desire and leadership skated out of Honda Center the night the Ducks were eliminated from the playoffs in May.
The retirements of forward Teemu Selanne, 43, and Saku Koivu, 39, lessened Anaheim of more than 40 years of NHL experience.
"Losing veteran guys like that — their charisma, their passion — it's something you can't mimic," Ducks forward Kyle Palmieri said.
But the Ducks have to answer somehow, some way, and as they continued their training-camp team building in Tuesday night's preseason game against the Arizona Coyotes, the thought is that youthful vigor and aspiring leaders will compensate for the loss of the two alternate captains.
"Usually, when you have youth, it brings exuberance and excitement," Ducks Coach Bruce Boudreau said in reference to such players as second-year goalie John Gibson, 21, forward Devante Smith-Pelly, 22, and center Rickard Rakell, 21.
"Veterans bring composure. We lose that with Teemu and Saku, but it gives opportunity to guys, the middle-of-the-road ages — 26, 27, who've never been leaders — to step up and see if they can do the job."
Boudreau expects captain Ryan Getzlaf to elevate his authority, with returning team goals leader Corey Perry and Koivu's former linemate Andrew Cogliano standing as strong candidates to gain the alternate captain tags by the end of preseason.
"Getzlaf is a great leader," Boudreau said. "We know Corey Perry is going to step up without "T" [Selanne] and be a leader. Ryan Kesler has been a leader his whole life. All of these guys will step up and do the job. Andrew Cogliano has been here awhile and is going to want to. He's learned from those great players. If you learn from them, you lead like them."
Meanwhile, the detriment of age — slower legs, inconsistent play — will be replaced by the increased speed and energy of their replacements.
As long as that enthusiasm is tempered by a plan. ...
In getting shut out, 4-0, by the Coyotes at Honda Center, youthful lines centered by Rakell and rookie William Karlsson played rushed and disjointed and couldn't score — even with 18 second-period shots on goal against Louis Domingue.
"We were sloppy with the puck, gripped our stick too hard," Rakell said. "Worked hard, but didn't connect, lot of lost pucks. You've got to get comfortable. Everybody wants to show what they can do. Sometimes, you do too much. Sometimes, you do too little, because you don't want to make mistakes."
A night after his competitor for playing time, Frederik Andersen, had a shutout with 27 saves, Gibson surrendered four goals on 29 shots, including one on the power play.
"Learning experience, a lot of young guys, there were some I wanted to have back," Gibson said. "You play preseason to make mistakes and learn from them."
The regular-season replacements do possess important experience.
Center Nate Thompson, 30, acquired from Tampa Bay in the off-season, is a strong penalty killer who'll step into Koivu's role on the third line, and a variety of players, like Jakob Silfverberg, 23, and Matt Beleskey, are expected to play in Selanne's former second-line right wing spot.
"I want to get better, play how I did when I was healthy last year," Silfverberg said after a 10-goal, 23-point, 52-game season.
Follow Lance Pugmire on Twitter @latimespugmire
Get the latest on L.A.'s teams in the daily Sports Report newsletter.
You may occasionally receive promotional content from the Los Angeles Times.