Ducks face a new kind of beast in the Oilers in next round of playoffs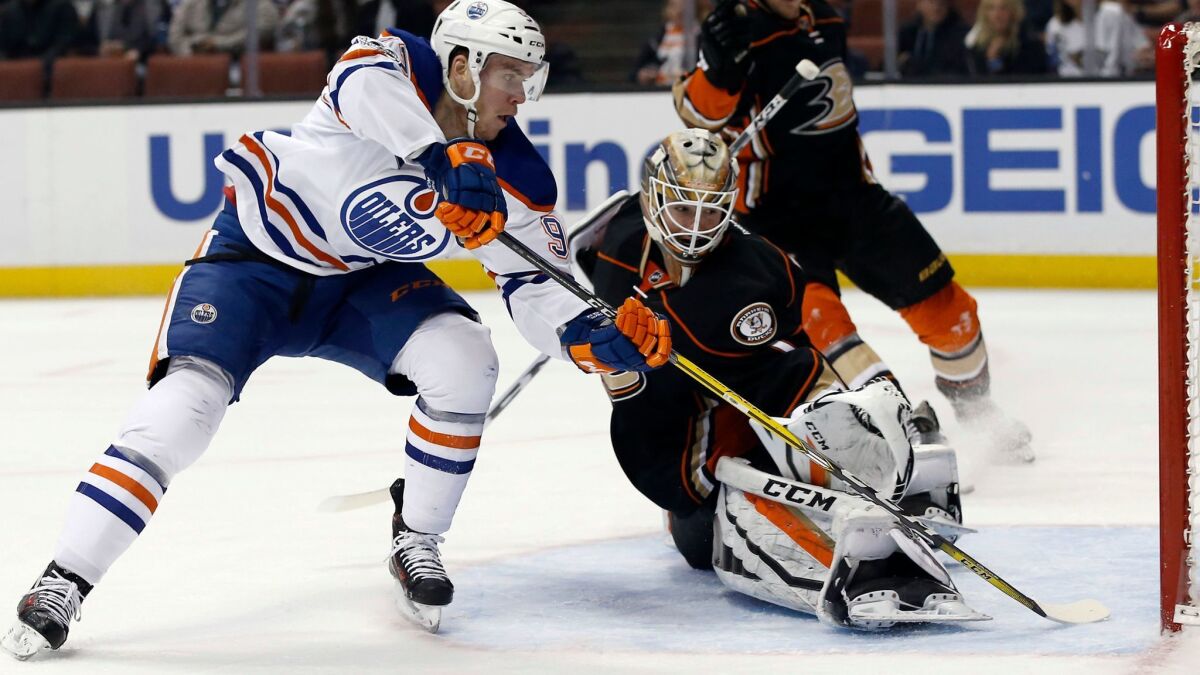 This is a different Alberta animal.
Having swept a first-round series against the Calgary Flames, the Ducks gathered Sunday with another Western Canada foe in their sights in the Edmonton Oilers. The Ducks know it only gets harder from here, and defenseman Kevin Bieksa spoke to that at this stage of the postseason.
"There's not going to be many more sweeps, I don't think," Bieksa said.
Edmonton is jazzed by its first playoff series win since 2006, an elimination of the defending Western Conference champion San Jose Sharks. That energy hovers over a series that begins this week at Honda Center, although the Ducks remain steadfast in their own quest.
"I think we expect them to be a good team," Bieksa said. "Other than that, we don't really care about too much more, how they're feeling. I knew that. They're a Canadian team, so they're going to come with a lot of hype and a lot of media coverage and we know that … As far as we're concerned, we kind of handle our own business. Do our thing."
The Ducks are still aware that Canada is watching intently, specifically Connor McDavid, perhaps the best player in the game.
Andrew Cogliano has a unique perspective. He spent the first four seasons of his career with the Oilers and never made the playoffs before he was traded to the Ducks.
"It's going to be wild in Edmonton," Cogliano said. "It's exciting. Their fans are ready for this moment. They've been ready for this for a long time, and I think they're going to embrace it. We should have fun with it.
"This is as good as a series and as good as a team as you're going to find in the playoffs in terms of the atmosphere of the building. They make you feel alive as hockey players."
Cogliano and linemates Ryan Kesler and Jakob Silfverberg will face endless questions about trying to stop McDavid and linemate Leon Draisaitl.
McDavid did not score a goal in his first six career games against the Ducks, but he scored in each of the past two matchups.
"We'll start looking at things and try to come up with some sort of plan," Cogliano said. "He's dynamic. I think with how good he is sometimes you look [past Draisaitl]. Not that he flies under the radar, but he's a player you have to keep an eye on, too."
Of course, Edmonton is much more than one player or one line. It recently employed an imposing line of former Ducks wing Patrick Maroon, Zack Kassian and Mark Letestu. Former Kings wing Milan Lucic has snarl and sharp elbows.
"This is as tough a matchup as you're going to find," Cogliano said.
The Ducks will have at least a week off between series. Will that be an advantage?
"Well, if we come out firing on all cylinders, it will be great," Ducks coach Randy Carlyle said. "And if we're slow and sluggish, it will be an excuse. And we're not looking for excuses."
Fowler update
Defenseman Cam Fowler said he's progressing with his right knee injury.
"I think everything's responding the way it should be and we'll just take our necessary steps to make sure that we're not rushing into anything," Fowler said. "But everything felt good. I didn't have any tweaks or anything like that."
There is no timetable for Fowler's return, but Carlyle left open the possibility of having all his defensemen available for Game 1. Kesler and Sami Vatanen were given maintenance days off. Hampus Lindholm did not practice.
Signing
Left wing Jack Kopacka signed a three-year entry-level contract with the Ducks. He was a fourth-round pick from 2016.
---
Get the latest on L.A.'s teams in the daily Sports Report newsletter.
You may occasionally receive promotional content from the Los Angeles Times.