Devante Smith-Pelly throwing his weight around, to Ducks' relief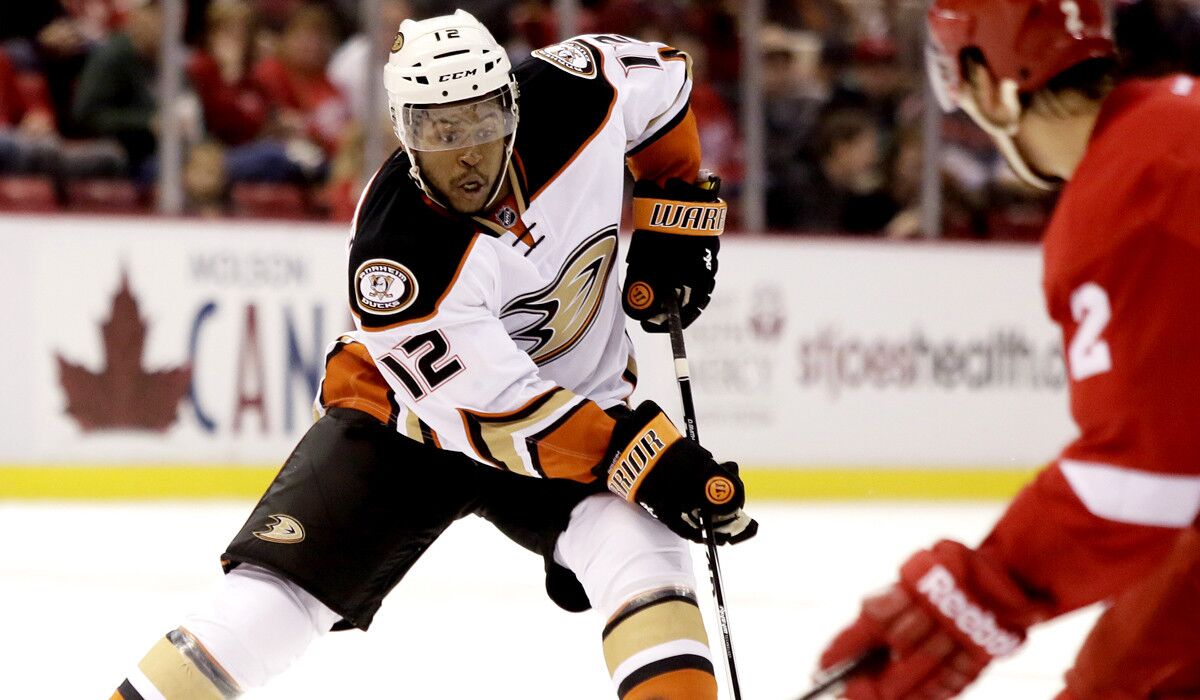 BUFFALO, N.Y. —
The Devante Smith-Pelly who created such effective havoc, throwing his weight around in an impressive rookie playoff debut, has returned.
The 22-year-old Ducks forward set the tone in Anaheim's 3-2 victory in Detroit on Saturday night by delivering five of his six hits in the first period — when the Red Wings managed only five shots — and helped silence the hosts on three power plays.
"That's the way I have to play. I don't think I did a good enough job in the first game — nerves or something, I had to be better — and that started last night," Smith-Pelly said upon the team's arrival in Buffalo, where the Ducks (1-1) will play the 0-2 Sabres on Monday at noon Pacific time.
In the Ducks' 6-4 season-opening loss in Pittsburgh on Thursday, Coach Bruce Boudreau thought using Smith-Pelly with center Rickard Rakell and Emerson Etem, a line that had success at minor league Norfolk last season, would translate to similar strength in the NHL.
Instead, the third line was a combined minus-five in goal differential, and Smith-Pelly was limited to 11 minutes, 31 seconds of ice time.
Boudreau, at assistant coach Brad Lauer's suggestion, immediately altered the plan, benching Rakell, putting Etem on the fourth penalty-killing line and attaching the 220-pound Smith-Pelly and physical Matt Beleskey with new addition Ryan Kesler, who already has three assists.
"Played much better last night, and we've told [Smith-Pelly] this is the game he has to play," Boudreau said. "I don't think it hurts [playing with Kesler] — an elite player, who talks a little more [than Rakell], more active offensively.
"We wanted to shield the young guys instead of throwing them all in. It gives you more balance, with experience on every line."
Smith-Pelly contributed five goals last postseason, with 53 hits in 12 games.
Smith-Pelly said following Kesler's lead to forecheck, getting to the corners, allows him and Beleskey to "complement [Kesler] him well. … The way he plays, how hard, it's contagious."
INJURY UPDATE: Boudreau said forward Dany Heatley (groin) is skating back in Anaheim; he will probably return Oct. 26 at Honda Center against one of his former teams, the San Jose Sharks.
Kyle Palmieri (ankle) is not skating yet. Defenseman Bryan Allen (lower body injury) accompanied the team on the trip, but with Sami Vatanen (two assists) playing so well and Mark Fistric a two-game healthy scratch, Allen has time to fully recover.
Thoughts on kids
Boudreau said 21-year-old center William Karlsson "didn't make any mistakes" in his NHL debut, in which he played 10 minutes, 42 seconds and hit a post on a shot.
"There's times when he was tentative, but it was his first game, he did a nice job," Boudreau said. "Maybe the posts are wider in Sweden."
After getting overwhelmed by 39 shots against Pittsburgh, 21-year-old goalie John Gibson seems to be a logical fit to start against Buffalo, which has been outscored 9-3 and gave up four third-period goals at Chicago on Saturday after finishing 21-51-10 last season.
"It might be … ," Boudreau coyly said. "This team scares me the most out of the whole trip because it's the team that people say, 'Tough trip, but they should beat Buffalo … they're coming off [that] loss and [Coach] Ted [Nolan] works off emotion. They're going to play as good a game as they can play."
TONIGHT
AT BUFFALO SABRES
When: Noon.
TV: Prime Ticket. Radio: 830.
ETC.: Not exactly an announcer's easiest pronunciation, Sabres center Zemgus Girgensons has scored two goals. On the other end, defenseman Andrej Meszaros is minus-five in goal differential.
Get the latest on L.A.'s teams in the daily Sports Report newsletter.
You may occasionally receive promotional content from the Los Angeles Times.