Ducks' Corey Perry is excited about matchup with Predators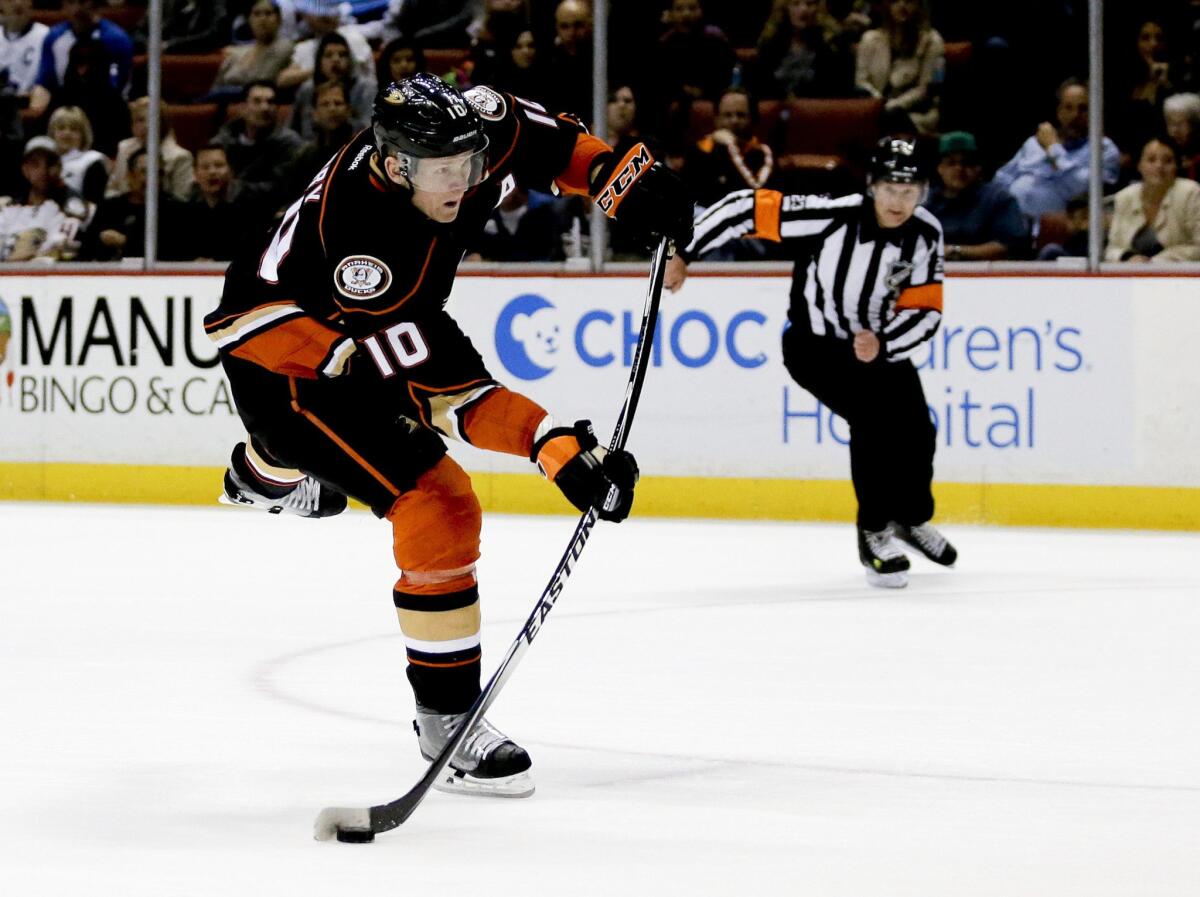 Corey Perry responded to a five-game goal-less skid by getting two in the net.
Thursday, the Ducks' high-scoring right wing will co-star with goaltender Pekka Rinne and the Western Conference's fellow division-leading Nashville Predators in a high-profile matchup.
Rinne, who leads all goalies with 29 wins despite suffering a sprained knee on Jan. 13, has practiced regularly since Jan. 29 and declared himself "100% ready to go" for the visiting Ducks.
Anaheim (33-12-6) is tied with Central Division leader Nashville (33-11-6) for most points in the NHL (72). The Predators possess an NHL-best 20-2-1 home record at Bridgestone Arena.
"If you can't get excited about that, why are you playing?" Ducks Coach Bruce Boudreau said.
Perry knows Rinne well, having watched the goalie push Nashville to a 2011 playoff triumph over the Ducks.
Perry knows himself better and — after increasing his goal total to a team-high 21 in Tuesday's 5-4 overtime triumph over the Carolina Hurricanes — said he's reverting to form after being slowed by a sprained knee in early December.
"I feel good. ... Not making excuses, but it's tough coming off a four-day break and playing three [games] in four [days]," Perry said about how the Ducks were handled in losses to San Jose and Chicago by a combined 10-4 score.
"Those two games were tough to go through. I'd rather go through it now, work out all the kinks, get that all out of the way rather than later in the year."
There were few kinks evident Tuesday, with Perry scoring the tying goal with 4 minutes, 8 seconds left in regulation, then drawing traffic before dishing to Ryan Getzlaf for the game-winner 45 seconds into overtime.
"He played with the hunger he has … when he goes five games without a goal, the next game is usually a dangerous one for the opposition," Boudreau said. "He loves to score, will do what it takes to score … never [gives] up on the puck, scored in the blue."
Now comes another Perry nemesis, Nashville defenseman Shea Weber, as well as Rinne (1.96 goals-against average).
"He's a heck of a goalie … we have our work cut out for us," Perry said. "It's a matter of getting some opportunities, getting some shots, getting some traffic, and creating those second opportunities. That's what we talk about every single day."
Back in the game
Ducks defenseman Eric Brewer assessed his first game back since sustaining a broken foot on Dec. 1 as "OK," going minus-one with two hits in 18:40 of ice time.
"I was excited to play, to be in the mix. It's hard to replicate a game in practice … to get in, get the feel of the game, see what guys do and don't do," said Brewer, who was acquired from the Tampa Bay Lightning this season.
He may go back to the bench Thursday. Defenseman Clayton Stoner was the first player on the ice at Wednesday's practice, and said afterward he feels recovered from cold symptoms he experienced earlier this week.
DUCKS AT NASHVILLE
When: 5 PST.
On the air: TV: Prime Ticket; Radio: 830.
Etc.: The Ducks open a five-game trip against two division leaders (Tampa Bay on Sunday) and four teams with winning records. Nashville center Mike Ribiero (10 goals, 43 points) is a concern, Boudreau said, adding that playing well "without the puck" is paramount.
Follow Lance Pugmire on Twitter @latimespugmire
Get the latest on L.A.'s teams in the daily Sports Report newsletter.
You may occasionally receive promotional content from the Los Angeles Times.