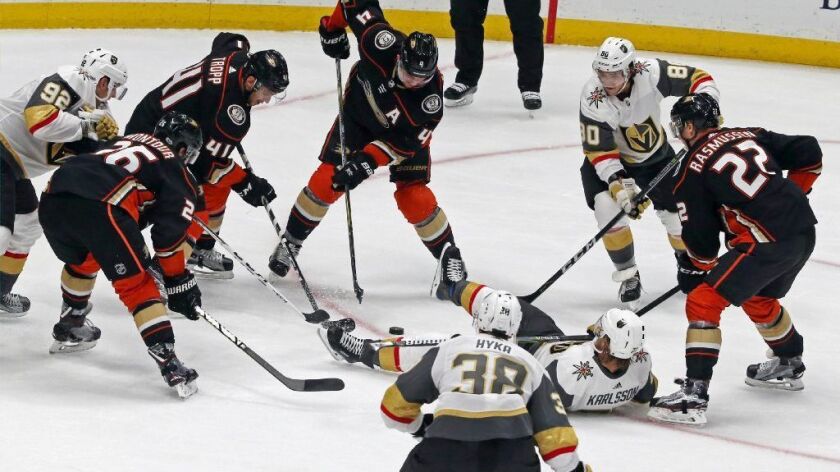 Corey Perry wasn't in the mood to discuss last season.
And who could blame him?
The Ducks always could count on Perry to pot at least 30 goals. He had done so in each season in which he played at least 50 games since his age-25 campaign in 2010-11.
That season, Perry led the league in scoring with 50 goals and won the Hart Memorial Trophy as league MVP.
Last season? He found the back of the net just 19 times (53 points) despite dressing for all 82 contests.
"I don't want to talk about it," Perry said swiftly following Sunday's 4-2 preseason defeat to the Vegas Golden Knights. "That was last season. This season's a new season."
It's also a new life for Perry at home. He and wife Blakeny welcomed a baby boy, Griffin, to the family last month. Now a father for the first time, the 32-year-old acknowledged priorities have changed since Griffin's arrival.
So when he says last season is behind him, he means it.
Life may be different now, but there was familiarity for Perry on Sunday at Honda Center. He played to the right of Ryan Getzlaf on the top line (and on the No. 1 power play unit), after being separated from him much of last season.
The Ducks' captain is confident Perry will return to his dynamic goal-scoring ways. But if Perry is putting any extra pressure on himself after a down year, he isn't showing it.
"I don't set goals for myself," said Perry, who will earn $7.5 million this season. "When you set goals and don't reach them, then you're looked at as a failure."
When Perry is at his best, the four-time all-star terrorizes goalies with his 6-3, 210-pound frame any way he can.
He's made a living below the two face-off spots doing the dirty work: providing screens, corralling the puck behind the net, jockeying for position in front.
"Goalies are too big and too good nowadays and too athletic," said Perry, a Canadian who owns two Olympic gold medals. "If they see (the puck), they're going to stop it. It's a matter of somebody being there (to help score); somebody willing."
That's exactly what Ducks coach Randy Carlyle loves about Perry. He's the kind of player every club craves.
"He's got to come in and make a complement to our hockey club and make a contribution," said Carlyle, who like Perry isn't setting any particular goal plateau he must reach to be successful. "And obviously he's an offensive player. I don't know, I think we'd be satisfied if he got 25 or 28 (goals) or 70 points.
"We think he can continue to provide offense for our group."
He'll need to if the Ducks are to fulfill their vast potential and reach the Stanley Cup Finals. The power play ranked No. 17 in the league last season (18.7 conversion percentage), and the team is already without three key players on that unit due to injury: Ryan Kesler, Hampus Lindholm and Sami Vatanen.
Perry is "as good at any player in the league at bringing the puck out from behind the net," Carlyle noted, and that's exactly what the special-teams unit needs.
The team also needs Perry to improve on his 8.8 shooting percentage, well below his career 13.2. Still, the shots were there, all 215 of them, which ranked 43rd in the NHL.
"Everybody goes through those bumps along the way in their career," Getzlaf said. "Luckily for us, he's only had a couple."
Perry now carries the responsibility of being a father, and life is forever changed. But when he's on the ice, the Ducks hope it's the same "Pears" fans have watched strike fear into opposing goalies for 11 seasons in Anaheim. After all, last season is over. It's a fresh start.
---