Column: Stanley Cup champion Kings aren't satisfied treading water at midseason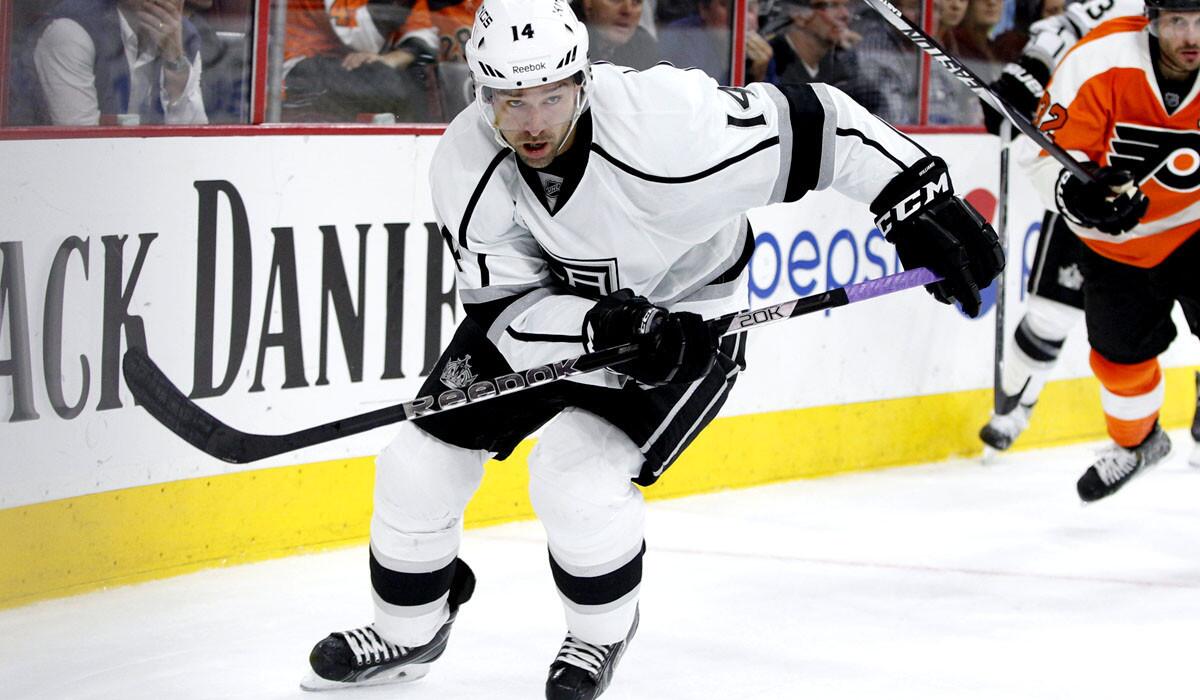 Only occasionally this season has General Manager Dean Lombardi seen the Kings resemble the group that blended a strong work ethic, forbidding goaltending and staunch defense to win the Stanley Cup twice in three seasons.
"There's been pockets where it kind of looks like us. You say, 'There it is,' and then it goes the other way," he said. "Lately I think it's been better. We've seen greater pockets of it. But is it where needs to be? No."
The Kings, 5-5-4 since Dec. 6, will hit the midway point of their schedule Thursday, when they face the New York Rangers at Staples Center in a reprise of the 2014 Cup Final. The Rangers have won 10 of their last 11 games and are among the NHL's hottest teams. The Kings….not so much.
"We're just kind of treading water right now, not really swimming forward, not really swimming back," right wing Justin Williams said Monday. "We're just kind of there, and that's not good enough. It's not OK with us."
The fact that the Kings are not satisfied is encouraging. This group has largely been self-policing, with occasional prods from Coach Darryl Sutter.
The question is whether they have the physical and mental reserves to repeat after three long playoff runs and the unexpected loss of defenseman Slava Voynov to a league-imposed suspension. He has pleaded not guilty to a felony domestic violence charge, and his jury trial is set for March 2 — the day of the trading deadline.
The Kings got salary-cap relief in the amount of Voynov's $4.1 million cap hit. They didn't get relief on the ice. In his absence, they've played Drew Doughty and Jake Muzzin more than is ideal and gave Brayden McNabb and Jamie McBain big roles, often with uneven results.
Top-four defensemen like Voynov are hard to find, and the Kings are unlikely to acquire one; if they replace his salary and later get him back, they'd be over the cap and would have to make a move. Lombardi said Monday he can envision Voynov returning this season if a jury determines he's not guilty.
"Because, in fact, it is a potential scenario that we don't have control over, we have to work on the assumption he's coming back," Lombardi said.
Lombardi said he's happy with the Kings' offense despite slumps by Anze Kopitar, Jeff Carter, and others. "That hasn't been the issue, I don't think. It's never been our M.O. to go out and outgun anyone," he said. "We can match up, but we're still built from the back out…. The personnel is there. Our top guys haven't been lighting it up playing where you'd think they'd be, and the numbers aren't bad."
As Williams said, not bad isn't sufficient for a team that has set its standards high.
"Our goals-against is something that's concerned us right now and something that we'll address, and we'll be fine. No panic at all," Williams said. "We can't lose what we're made of, and we're built from the back out. Defense first."
Doughty said no one is happy with being in the mix for a playoff spot instead of in firm control.
"We know what it takes. This group has been together for so long," he said. "We go through these spells every year. I think every team in the league does. But we've got to get out of this one quickly, and we've got to get on a roll and win a bunch of games."
Lombardi trusts their words over their inconsistent deeds. "In the end, these guys have always figured it out," he said. "Every challenge is different, and every time, they seem to find a way, and that's ultimately what you believe in."
Ratings dip for Winter Classic
Staging the Winter Classic outdoors on New Year's Day has given the NHL a unique opportunity to stand out in a crowded sports calendar. Having players brave the elements in front of huge crowds makes for picturesque scenery and celebrates a past many of us wish we had shared.
But TV ratings for last Thursday's game between the Chicago Blackhawks and Washington Capitals at Nationals Park indicate the appeal is wearing off. It drew an overnight rating of 2.3 on NBC, the lowest of the seven Winter Classic games. That's better than NBC's ratings for regular-season telecasts, but it should warn NHL executives to re-evaluate their strategy.
They've spoiled its special nature by also creating the Stadium Series — staging six outdoor games last season was overkill — and involving the same handful of teams doesn't expand audiences. In addition, Nationals Park lacked the history and charm of Fenway Park and Wrigley Field, previous memorable sites.
The Winter Classic is still profitable for the NHL and a big prize for Commissioner Gary Bettman to dole out. Likely future sites Colorado and Minnesota would provide great scenery and boost civic pride, and rumors persist that the Bruins will host the Montreal Canadiens next Jan. 1 at Gillette Stadium in Foxborough, Mass. But would they be compelling national TV draws? The NHL must find ways to restore the magic the Winter Classic has lost through overexposure.
Slap shots
The NHL fined the Philadelphia Flyers an undisclosed amount for violating the collective bargaining agreement with the players association by traveling to Nashville on Dec. 26, during the holiday period when team activities are prohibited. General Manager Ron Hextall said players suggested it because they didn't want to make a one-hour, 40-minute flight the day of the game. "In the end we were willing to accept the consequences," he told CSNPhilly.com. The Flyers lost that game — and the next four. Karma?
Twitter: @helenenothelen
Get the latest on L.A.'s teams in the daily Sports Report newsletter.
You may occasionally receive promotional content from the Los Angeles Times.