Dion Phaneuf is ready to bring his hard-hitting game to the Kings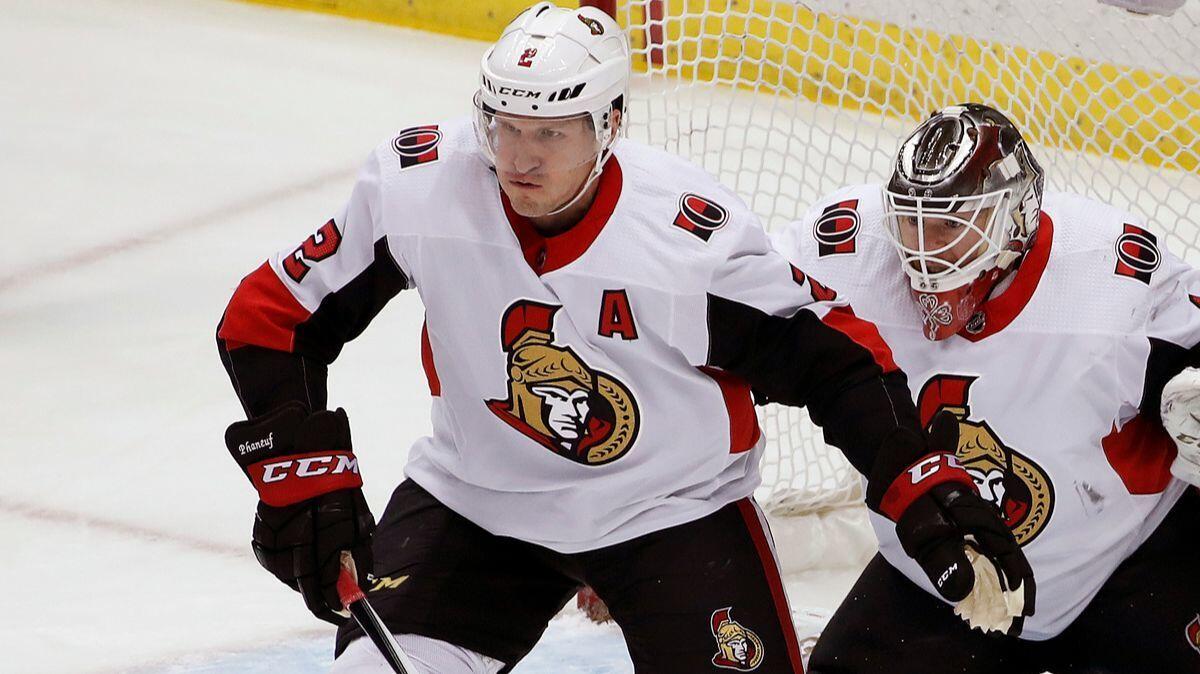 Reporting from Pittsburgh —
Southern California isn't foreign to Dion Phaneuf.
During the 2013 lockout, he skated with some of the Kings at their El Segundo practice rink. It was during the fall, so it might have dipped below 70 degrees, a tad different climate for a guy from Edmonton, Canada.
Phaneuf can get used to it.
"It's going to be a change in weather — something that will be nice," Phaneuf said. "But the bottom line is you've got a job to do."
That's how the Phaneuf era begins with the Kings: with a warm outlook and a workman-like approach of a Western Canadian. Already in Pittsburgh after his trade Tuesday from the Ottawa Senators, Phaneuf practiced Wednesday with the Kings, ready for a restart and willing to throw his 6-foot-4, 225-pound body around. Call it a flank of Alberta beef on the Kings' blue line.
"I've played a physical style of game for my entire career, and that's something that I'm going to have to bring here," Phaneuf said. "You're playing in the West. You're playing against some big hockey clubs. For me, I'm going to come and bring that edge with my game and try and contribute in any way that I can."
Phaneuf fills a need as a top-four defenseman with leadership and experience. He plays more than 20 minutes per game, in all situations, and he helped Ottawa reach Game 7 of the Eastern Conference finals last season. Phaneuf also turns 33 in April and is signed through 2020-21, but the Kings are banking on some immediate dividends.
"I guess that shows us that we're not trying to rebuild or something like that," said defenseman Drew Doughty, who has linked his future with the Kings to their ability to contend. "They're trying to go for it. I've been through the rebuild before. I don't really ever want to have to go through that again, along with the rest of my teammates. … When you have that belief from the management group, that gives you a little bit of confidence."
General manager Rob Blake is expected to comment further Thursday after he obtained Phaneuf and Nate Thompson for Marian Gaborik and Nick Shore. Phaneuf's style meshes with the Kings, long known as a hard-working outfit under former coach Darryl Sutter, who coached and drafted Phaneuf with the Calgary Flames. First-year coach John Stevens had Phaneuf paired with Alec Martinez in practice, and Doughty was with Jake Muzzin.
Stevens mentioned "identity" often with Phaneuf, and Doughty expanded on it.
"He's stepped up on me before and gotten me before, so I know what it's like to be hit by him," Doughty said. "He's scary. Like, he can fight, too. Guys are scared of him. When you're a 20-minute guy who can do all those things, that's huge to have on the team."
Thompson was expected to join the Kings late Wednesday and Stevens said "all indications are he should be ready to play" after a lower-body injury caused him to sit out Ottawa's last four games. Thompson, 33, has built a career on penalty killing and faceoffs. He has a history of serious injuries that include major shoulder surgery in 2015 and a torn Achilles tendon in 2016. But Thompson was a strong depth player with the Ducks and helped them reach the conference finals last season.
"I think he's the type of guy that can help the people around him, just with his experience," Stevens said.
Gaborik was a crucial scorer in the 2014 playoffs and he is synonymous with that season's Stanley Cup triumph.
"Nothing but thanks to superb organization @LAKings," Gaborik wrote on Twitter. "It's been great 4yrs with an awesome group of guys and amazing people."
UP NEXT
When: Thursday, 4 p.m. PST.
On the air: TV: FS West; Radio: 790.
Update: The Kings recalled Michael Mersch. Pittsburgh's Sidney Crosby and Evgeni Malkin are first and second, respectively, in league scoring, since Jan.1. Goalie Matt Murray is 5-0-1 since he returned to the lineup Jan.30. The Penguins' nine-game home winning streak is the second-longest in the NHL this season, behind the Washington Capitals' 10-game run.
Twitter: @curtiszupke
Get the latest on L.A.'s teams in the daily Sports Report newsletter.
You may occasionally receive promotional content from the Los Angeles Times.