Column: NHL All-Star gathering blends fun with a touch of reality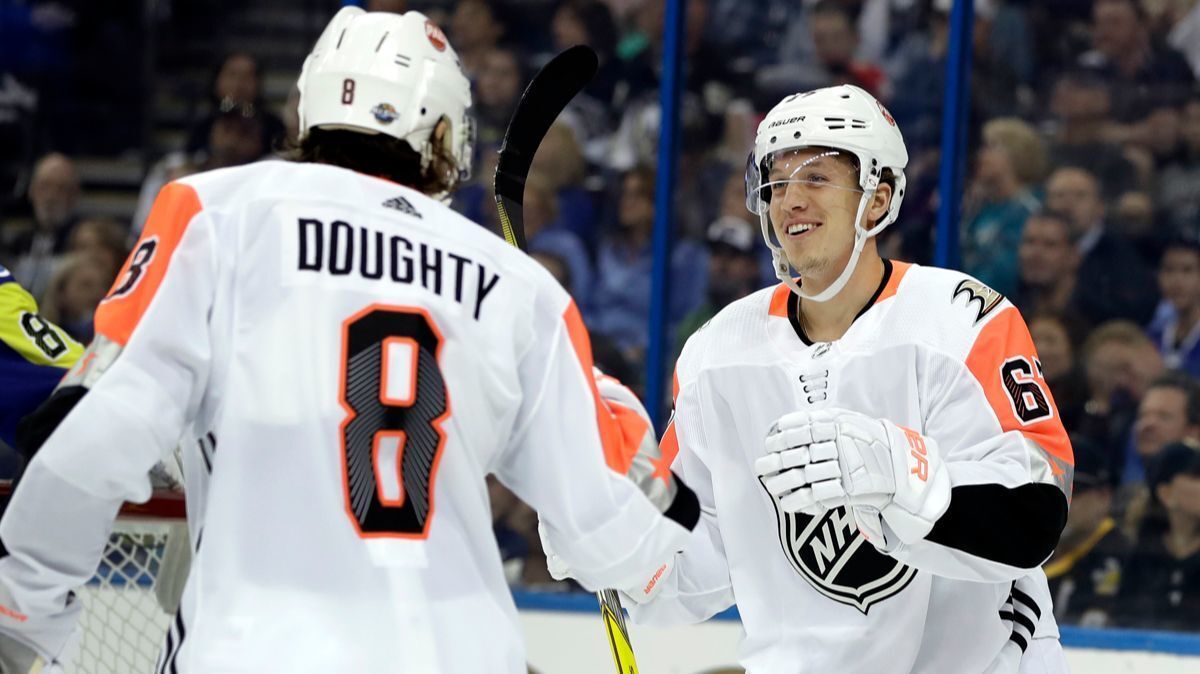 Reporting from Tampa, Fla. —
Two weeks from now, when NHL teams are again deep into their schedules and pondering their trade-deadline strategy, memories of the All-Star game will have dimmed for most of the players and coaches who participated in the entertaining three-on-three mini-tournament Sunday at Amalie Arena.
Two weeks from now, Katie Hawley of Ladera Ranch will be undergoing surgery to remove her cancerous thyroid, extending a list of more than a dozen surgeries and countless treatments she has undergone for the insidious disease that attacked when she was 9. But for one magical weekend she was just another 17-year-old kid, a fan who screamed herself hoarse from her seat behind the Pacific Division team's bench while her favorite player, Ducks forward Rickard Rakell, led the Pacific All-Stars to 5-2 victories over the Central Division and, in the finale, the Atlantic Division.
"It's been so amazing," Hawley said, wearing her Rakell jersey as she stood outside the Pacific locker room. "It's been life-changing, seriously."
Rakell, aligned in both games in exciting harmony with Kings center Anze Kopitar and Kings defenseman Drew Doughty, was a contender for most valuable player Sunday. He had two goals and an assist in the finale, helping the Pacific clinch the $1-million prize that will be split among the 11 players. Doughty totaled a goal and three points, and Kopitar had two assists in the two games. The MVP bonus and car went to Vancouver Canucks rookie forward Brock Boeser, who had two goals and three points in the two games. With 24 goals and 43 points in 46 games, he looks to be an All-Star mainstay for years to come.
But long after Rakell forgets how he scored or what the final tally was, he will remember spending precious time with Katie, whom the Ducks have made their honorary 21st player.
"It's been a special weekend for both of us," Rakell said. "I had a lot of fun, and it's been awesome for me to have her with me and just to put a smile on her face."
Sunday's 20-minute mini-games were about having fun and giving little mind to tight checking or strenuous defense. Edmonton's Connor McDavid had four assists in the Pacific team's opening victory over the Central, and Doughty's breakaway goal triggered the Pacific team's rally from a 1-0 deficit. The Atlantic team, led by a hat trick from hometown favorite Nikita Kucherov, defeated the Metropolitan 7-4 in the second game, which featured Pittsburgh's Sidney Crosby and Washington's Alexander Ovechkin setting each other up for Metropolitan goals. New Jersey Devils forward Brian Boyle, a former member of the Tampa Bay Lightning who sat out the start of this season while being treated for chronic myeloid leukemia, was loudly cheered by fans, as he was during Saturday's skill contests.
"This has been just spectacular for me. I'm never going to forget this experience," Boyle said. "It's a tremendous honor just to be here anyways, but they made it that much better."
In the finale, Vegas Golden Knights goaltender Marc-Andre Fleury and Calgary goalie Mike Smith each gave up only one Atlantic goal as Rakell, Kopitar and Doughty romped. Rakell kick-started the scoring on the rebound of a shot by Kopitar 59 second into the first 10-minute segment, Doughty increased the lead to 3-1 with assists by Kopitar and Rakell at 8:35, and Rakell clinched it at 7:24 of the second 10-minute period on a setup from Brent Burns. Boeser scored the second Pacific goal and set up Johnny Gaudreau of Calgary for the fourth goal.
Doughty was impressed by Rakell's performance but wasn't surprised by it.
"He's a tough guy to play against. Me and Kopi are matched up against him a lot so we know what he plays like and we knew how good he was," said Doughty, who had said he'd buy his Kings teammates dinner with his winnings but backed off to make it appetizers instead. "We were very happy to play with him."
The three-on-three tournament format was used for the third time and drew positive reviews from players.
"I think we get a lot more out of it, probably, than playing five on five. It's a lot more ice, a lot more action for us and ultimately for the fans, too," Kopitar said after the Pacific prevailed for the second time.
"It was fun," Crosby said. "There were some big saves and nice goals and that's what it's all about."
Not entirely. This All-Star gathering also was about making memories.
"I will always remember this for sure," Hawley said. "This is incredible."
Follow Helene Elliott on Twitter @helenenothelen
Get the latest on L.A.'s teams in the daily Sports Report newsletter.
You may occasionally receive promotional content from the Los Angeles Times.