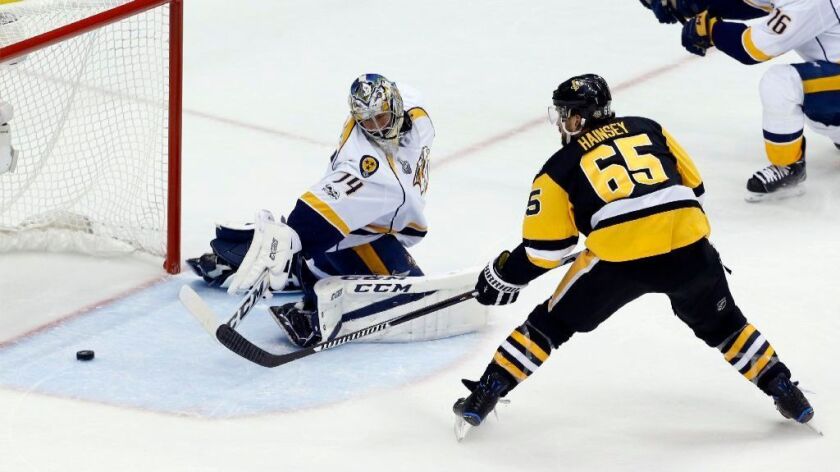 Reporting from PITTSBURGH —
A loss by one goal or by six goals is, in the end, the same outcome. But Nashville Predators coach Peter Laviolette acknowledged it will be difficult for his team to soon forget its ugly 6-0 loss to the energized and aggressive Pittsburgh Penguins on Thursday night, a rout that lifted the Penguins to within one victory of becoming the first team to repeat as Stanley Cup champion since 1998 and pushed the Predators near the end of their feel-good playoff run.
"I don't know if anybody shakes off a game like that, that quickly," Laviolette said after the Penguins dissected the Predators' defense and again turned PPG Paints Arena into goaltender Pekka Rinne's personal purgatory. "Sometimes it's good to hang on to it a little bit."
They'll need whatever motivation they can get from their worst-ever playoff loss to help them avoid elimination in Game 6 on Sunday at Nashville. Although the home team has won each game of the Cup Final and the Predators are 9-1 at Bridgestone Arena during the playoffs, there were enough ominous signs for the Predators to be concerned about whether they can push this to a Game 7 on Wednesday in Pittsburgh.
Sidney Crosby set a determined tone from the outset and set up three goals, and winger Phil Kessel ended a six-game goal drought as the Penguins piled it on against Rinne and backup Juuse Saros. Pittsburgh goalie Matt Murray barely broke a sweat in making 24 saves for his second career playoff shutout. Rinne, the Predators' backbone all season, was replaced by Saros after yielding three goals on nine shots in the first period. Rinne has given up 11 goals on 45 shots in three Final games at Pittsburgh.
"Just one of those games where they were going and we were trying to find it and didn't really get it going at any point," he said. "As a team you just try to put this behind you and focus on the next one."
But what if the next one might be their finale? "You have to remind yourself that even in the Final, as long as there's life, there's hope," Rinne said, "and so we all have to feel confident going home and having this chance to play Game 6 at home."
The Penguins, who scored 91 seconds into the game after Crosby drew a penalty and Justin Schultz blasted a shot through Rinne's pads, thought they played perhaps their best game this season. It's tough to argue.
"Yeah," said winger Chris Kunitz, whose pass put Bryan Rust in position to loft a backhander past Rinne at 6:43 of the opening period for a 2-0 lead. "You get a power-play goal early — something that's been on the wrong side for us lately — five-on-five goals, putting pucks to the net, playing with speed, being physical. Those were all things that in the first 30 minutes we were doing good. After that the game kind of got a little out of hand."
It actually got out of hand late in the first period, when Crosby and Nashville defenseman P.K. Subban continued their verbal and physical battles and got tangled up behind the net. Crosby pushed Subban's head against the ice several times — a curious move by someone who has suffered several concussions — and held Subban down. They eventually got matching holding penalties, and Evgeni Malkin made it 3-0 on a pass by the previously vilified Kessel while the teams played four on four.
Subban called the incident with Crosby "just hockey," but Laviolette was irked. "I really don't understand the call," Laviolette said. "I saw my guy get his head cross-checked into the ice 10 times. I don't even know what he did, P.K."
Crosby said Subban "was doing some UFC move on my foot" to prevent him from escaping their clinch. "I don't know what he was trying to do with my ankle." The Penguins' captain also said Subban had placed him "in some kind of lock" that led him to hit Subban's head, but Crosby is fortunate he didn't get a harsher penalty.
Crosby also appeared to throw a water bottle with his left hand later in the game but said he was making a gesture to protest a non-call when the bottle flew out of his grasp. "I'm a righty and I've got a better arm than that," he said.
Crosby's pitching skills aside, the Penguins took heart from continuing what they see as game-by-game improvement. "We believe that we're gaining traction and momentum with each game that we play," Sullivan said.
That can't be reassuring to the Predators while they digest this loss. "There's a lot of confidence in our group and we'll move past this," Laviolette said. "But it's difficult to just sit here and say, 'Oh, yeah, it's gone, everything is good.' We just lost the game by a big score, so we've got to be better."
Follow Helene Elliott on Twitter @helenenothelen
---