Nashville GM David Poile has transformed Predators, and it's all about preparation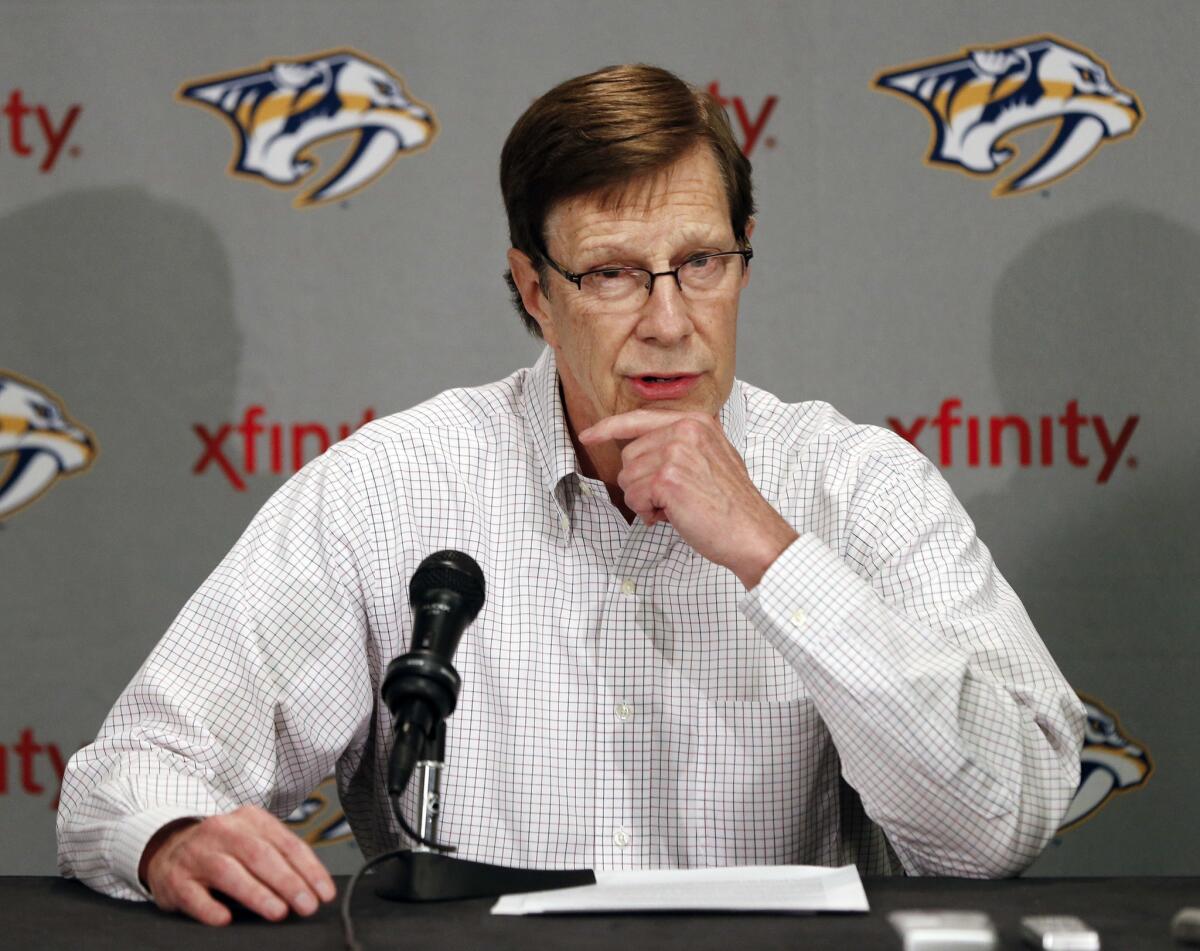 Reporting from NASHVILLE —
Walking through Bridgestone Arena while his team practiced, Nashville Predators General Manager David Poile chose a row and a seat with an unusual amount of care before he settled in. Was he superstitious, seeking a seat that had a meaningful number?
He didn't disclose the answer for a few minutes, when the conversation turned to the devastating eye injury he suffered a few days before he was to travel to Sochi, Russia, in his role as general manager of the 2014 U.S. Olympic hockey team. He chose that specific seat so he could see a reporter and the ice without craning his head to compensate for the lack of vision in his right eye. He makes similar choices in restaurant booths, on airplanes and while walking with his wife, Elizabeth.
"It's preparedness," he said. "Just like you put yourself in a position to be successful, I'm sitting on this side, this is my good eye."
Poile is reluctant to discuss the accident, which occurred when he was struck by a deflected puck as he stood in a tunnel leading off the ice in Minnesota's Xcel Energy Center. "It was just an unfortunate thing," he said the other day, "but I think I had a good attitude and came back really fast. People helped me."
He has earned loyalty because he has given it throughout a management career that began with his administrative job with the expansion Atlanta Flames in 1972. Few things in hockey last forever, especially within the executive ranks. Coaches are hailed as saviors when they're hired and sent off with terse thanks when they're fired. General managers build and rebuild only to be banished at the whim of owners, but Poile has been a constant.
Poile, 66, has been employed as a general manager since August 1982, spending 15 seasons with the Washington Capitals before joining the Predators in 1997 for their inaugural season. In that time he has employed only a handful of coaches — Bryan Murray, Terry Murray and Jim Schoenfeld in Washington, and Barry Trotz and Peter Laviolette in Nashville — but has never reached the Stanley Cup final.
The hockey gods seem to have shown him little mercy, but he remains steadfast in his purpose. By building through the draft and taking some free-agent gambles, he has transformed the Predators from a good little team with limitations into a legitimate Cup contender. The Predators can take another step forward Thursday, when they will take a 2-1 series lead into their playoff game against the Ducks at Bridgestone Arena.
"Lots of things have to line up for you, for sure," Poile said, pointing to the Predators' six-game, first-round loss to Chicago last spring in a series that included double- and triple-overtime losses. "Last year we played terrific in the playoffs against Chicago and fought in every game and we thought we really had a chance to win. But we didn't. Those are excuses that nobody remembers but me at the end of the day. You've got to find a way to win."
Poile had to make some difficult decisions the past few years. He had to let defenseman Ryan Suter go as a free agent in 2012 without getting anything in return, and in 2014 he let Trotz leave after 15 seasons. Trotz landed in a good spot: He was hired by the Capitals and this season guided them to the NHL's best record. The Predators have been able to open up offensively under Laviolette and finally have the offensive talent to take the burden off an exceptional but previously overburdened defense.
"It was tough but it was the right thing to do," Poile said of parting with Trotz. "We've both moved on, and obviously he does have the best team in the league and he's a terrific coach, and my wish is that we meet him in the finals this year. We'll both be happy.
"We've got a really good situation here. Lavvy's an excellent coach and [has] an excellent staff with Kevin McCarthy and Phil Housley. The team plays a little bit different than under Barry, but the fans like it, the players like it, so it's all good."
Earlier this season Poile made another difficult but necessary move when he traded defenseman Seth Jones, the No. 4 overall pick in 2013, to Columbus for center Ryan Johansen. He has projected Johansen to be a prototypical No. 1 center and is closely watching his performance in this series.
"We know we had a player in Seth Jones who could be one of those guys who could play 15, 20 years for you and is solid. But it was never working for us. It didn't work in the playoffs last year, when we went up against Jonathan Toews," Poile said. "But the matchups have been really much better in the second half of the season with Johansen. We feel better, even in this series, where you're going up against two of the best center-ice men in the league, in [Ryan] Getzlaf and in [Ryan] Kesler. I think having Johansen has certainly given us a better chance to be successful."
For Johansen, who had 33 goals for Columbus in 2013-14 but only eight in 42 games with the Predators after joining them on Jan. 6, this series is his biggest stage, one that might answer some questions about his abilities. "He's already had 30 goals — can he get back there? Is that his ceiling? Where are we going on this? Can he be a dominant player like Getzlaf is? Can he be a guy that can win a Cup? All those situations," Poile said. "That's why we need to play a couple rounds."
The Ducks will have some say in that. Poile credited them with a strong performance in a 3-0 victory Tuesday but he's eager to see how his players approach Game 4. "It's a huge opportunity," he said, "and it's a huge evaluation time for us."
And he will be prepared for that too.
Twitter: @helenenothelen
Get the latest on L.A.'s teams in the daily Sports Report newsletter.
You may occasionally receive promotional content from the Los Angeles Times.