What we learned in the NHL over the past week of play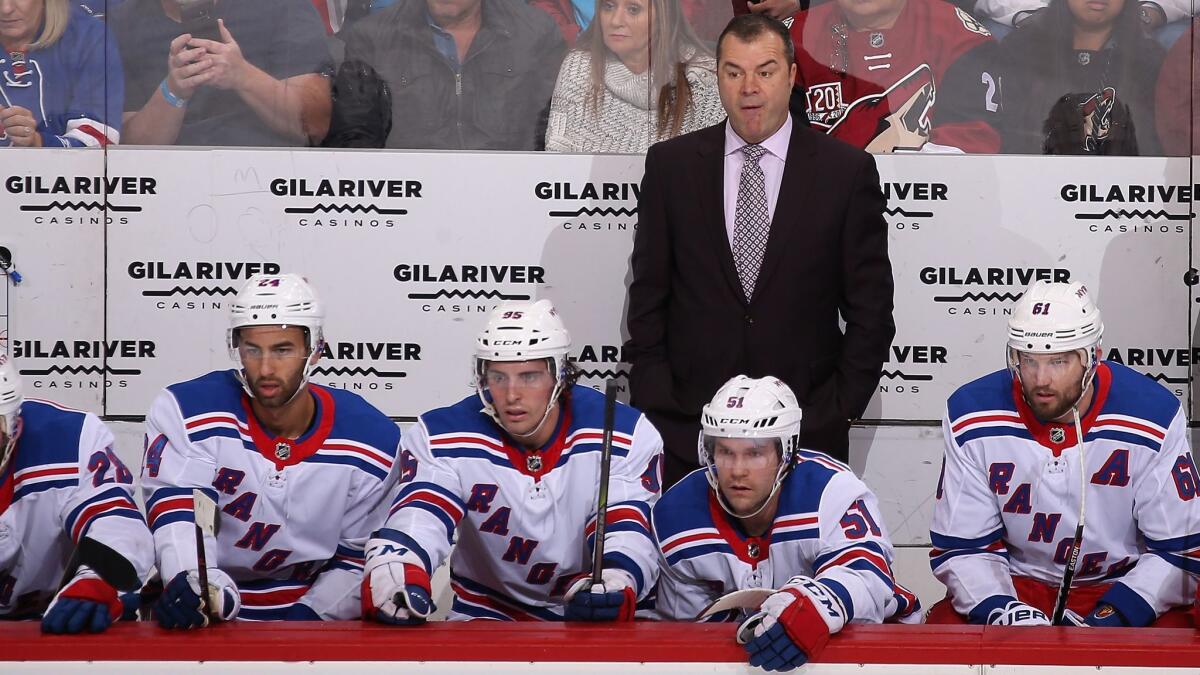 No coaches were fired in the first half of the season
The NHL schedule passed the halfway point on Saturday and all 31 coaches still owned the jobs they had on opening night. Some appeared to be on shaky ground in the early going but turned things around, notably Alain Vigneault of the New York Rangers. Who will be the first to go? Todd McLellan of the underachieving Edmonton Oilers got the dreaded vote of confidence over the weekend from General Manager Peter Chiarelli, but it's always easier to fire one coach than trade a bunch of under-performing players. The Montreal Canadiens' woes have triggered calls for the head of general manager Marc Bergevin more than for the firing of coach Claude Julien, with the prevailing sentiment being that Bergevin hasn't given Julien much to work with. Bergevin said Sunday he's in no hurry to make a trade, but left wing Max Pacioretty could be trade bait.
The Avalanche is digging out
Colorado's 7-2 rout of Minnesota on Saturday was significant for several reasons. It was the team's fifth straight victory and seventh in the last 10, a surge that put Colorado in the second West wild-card spot. It also was Colorado's 22nd victory this season, matching its total for all of last season. The Avalanche was 22-56-4 last season, last among the Original 30. Nathan MacKinnon has been crucial to the turnaround with a five-game point streak, with three goals and 12 points in that span.
Jaromir Jagr may be near the end of the NHL road
Jagr, second in NHL career scoring with 1,921 points, has talked to the Calgary Flames about his exit, according to Elliotte Friedman of Hockey Night in Canada. Jagr, who will be 46 next month, has been slowed by injuries and has only one goal and seven points in 22 games while averaging 13 minutes and two seconds' ice time per game. It's unclear if he wants to stay in North America or return to Europe. It might be difficult for him to find a meaningful role here, given the increased emphasis on speed and youth. Jagr deserves the chance to exit with dignity.
Lame Ducks no more
Right wing Corey Perry's return from a knee injury last Saturday gave the Ducks as close to a fully healthy roster as they'll get while winger Patrick Eaves battles what's believed to be Guillain-Barre syndrome. The Ducks celebrated having a nearly whole roster by giving up a goal with 16 seconds left in the third period in a 3-2 loss at Calgary. They did well to stay close to the playoff pack while so many key players were hurt, but they no longer have any excuses for their inconsistency. They've responded well in the past when pressed, and they have the talent and depth to make a playoff push. It's up to their leaders to get them going, something for them to ponder during their break this week.
Follow Helene Elliott on Twitter @helenenothelen
Get the latest on L.A.'s teams in the daily Sports Report newsletter.
You may occasionally receive promotional content from the Los Angeles Times.