Kings' Slava Voynov goes from jail to immigration custody in domestic violence case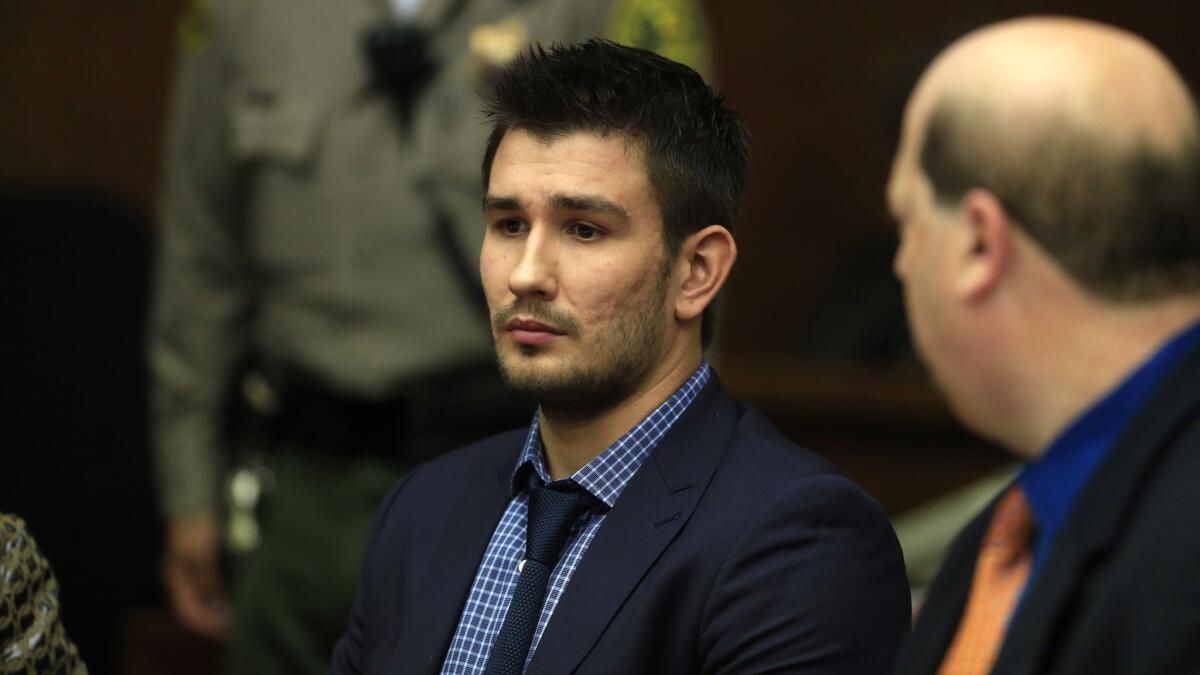 Slava Voynov has been taken into custody by U.S. Immigration and Customs Enforcement, throwing the young Kings defenseman's NHL future into question.
Voynov had been jailed at the Seal Beach Police Detention Center since July 7 after his no contest plea to a misdemeanor domestic violence charge in Los Angeles Superior Court.
After Voynov's release in Seal Beach, ICE took him into custody Wednesday and is holding the Russian citizen at an unspecified detention facility pending a hearing by an immigration judge, an agency spokeswoman said Thursday.
See the most-read stories this hour >>
Because of the violent nature of Voynov's legal entanglement the agency didn't allow a bond. That is common in cases in which the agency believes the subject is a danger to the community or flight risk.
The Kings declined to comment. Voynov's agent, Rollie Hedges, didn't immediately return a message.
The NHL is aware of the development, Deputy Commissioner Bill Daly said, and it probably will affect the timing of the league's planned inquiry into Voynov's domestic violence incident.
As recently as Friday, Voynov, in the midst of a six-year, $25-million contract, was seen at the Kings facility in El Segundo. Team officials explained his presence as part of the work-release program allowed by his sentence.
Now Voynov faces potential deportation far from the Kings facility or the relative comfort of the Seal Beach Police Detention Center — where he paid $100 per day to serve his jail sentence.
Interested in the stories shaping California? Sign up for the free Essential California newsletter >>
"An individual with crimes like domestic violence is not in great shape in immigration court," said Teddy Chadwick, an immigration lawyer licensed to practice in California and Wisconsin who has written about the matter. "He's in a tough spot."
In the most recent ICE memorandum ranking enforcement priorities, Voynov falls under Priority 2(b), covering those "convicted of a 'significant misdemeanor.'"
Voynov, 25, was arrested Oct. 20, 2014, following a dispute with his wife, Marta Varlamova. It started at a team Halloween party, where he allegedly punched her face, and continued at the couple's home in Redondo Beach.
According to the Redondo Beach Police Department's report, Voynov repeatedly choked and kicked Varlamova, then pushed her into a flat-screen television.
"According to the victim, she is scared of the defendant and he is very aggressive when he drinks," Voynov's probation report said. "She admitted this was not the first time the defendant has struck her."
Voynov accepted a plea bargain in July that reduced the charge from a felony to a misdemeanor. Though he pleaded no contest, it's essentially the same as a guilty plea under the Immigration and Nationality Act.
If he remains in ICE custody, veteran immigration lawyers estimate the case could take several months to resolve. But the process may extend for a year or more if he is released on bond because of a backlog of cases in immigration court. That path could create another problem.
"In removal proceedings, if they leave the country, they generally would not be let back in," Chadwick said.
In a statement released by Voynov's agent in July, Voynov accepted "responsibility for his actions the night of the incident."
The NHL suspended him with pay after the arrest. In late June, the Kings suspended Voynov without pay after he tore his Achilles' tendon in a non-hockey incident.
Daniel Todd, a San Diego lawyer who specializes in immigration matters, said an option open to Voynov is to voluntarily leave the U.S. immediately and reapply for a visa. But there is no straightforward answer.
"His lawyers didn't seem to think he was going to be deportable based on this when they took the plea," Todd said. "They may realize that he's stuck now and he has to just take it."
nathan.fenno@latimes.com
Twitter: @nathanfenno
Times staff writer Helene Elliott contributed to this report.
ALSO:
Bill Plaschke: Ruling doesn't mean Tom Brady is innocent
Jorge Ramos is on the defensive over his role as journalist and immigrant advocate
Get the latest on L.A.'s teams in the daily Sports Report newsletter.
You may occasionally receive promotional content from the Los Angeles Times.