Matt Greene is hurting and so are the winless Kings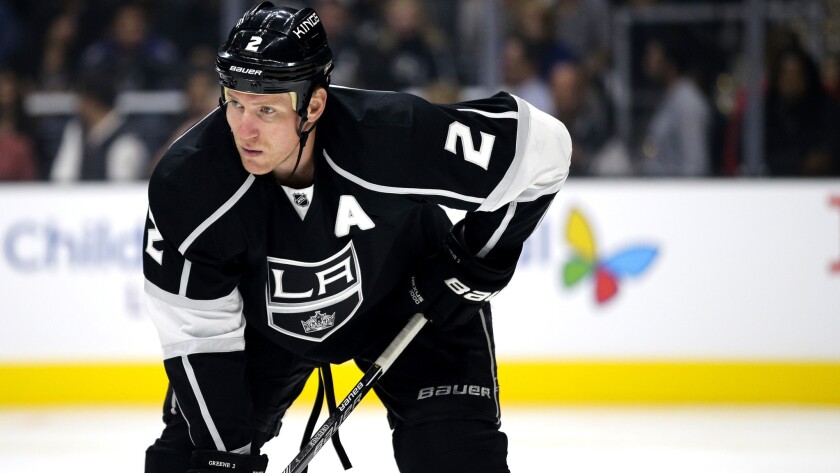 Evaluation or maintenance.
It appeared to be both with Kings defenseman Matt Greene missing practice Wednesday. Kings hockey operations said he was being evaluated — with more set for Thursday — after playing a little more than a minute of the third period Tuesday in a 3-0 loss to Vancouver.
"It is all related, but it's maintenance," Kings Coach Darryl Sutter said, indicating the issue could be linked to Greene's upper-body preseason injury.
The Kings have another day of practice before a game Friday against visiting Minnesota. Reinforcements aren't far away now with the Kings' American Hockey League affiliate in nearby Ontario, instead of Manchester, N.H. For instance defenseman Jeff Schultz is just one traffic jam away instead of one or two flights.
Of pressing concern is the Kings' dismal start — three losses in three home games against Pacific Division rivals. They've never lost their first four games to start the season.
In 1969-70, they lost their opening three games, all on the road, scoring a total of three goals. This season, they've scored twice in three games, just once at even strength, the other one short-handed.
"Our leaders aren't playing good enough hockey," Kings defenseman Drew Doughty said. "That's pretty obvious to a lot of people. When your leaders aren't playing well, the young guys that don't have a lot of experience, they don't know the way to go.
"That's what we've got to change, our leaders stepping up to the plate and everyone else will follow."
The Kings are 0-13 on the power play in three games, and Doughty said their net presence against Vancouver was "lacking."
"A few times our defense had looks at the net," he said. "They didn't have anyone in front of the net, so the shots were an easy save for the goalie. ... We don't need to score pretty goals on the power play, we need to just bang in a dirty one."
Said Sutter: "We've scored one even-strength goal, one short-handed goal this year. We liked our team's training camp, but at the same time, the guys that want to score and need to score, didn't have much success in preseason, either.
"That part has carried into the regular season. We've got to help them, as coaches, with that and get more out of them."
---
Get the latest on L.A.'s teams in the daily Sports Report newsletter.
You may occasionally receive promotional content from the Los Angeles Times.