That's how they rule: Kings win Game 7 again, reach Stanley Cup Final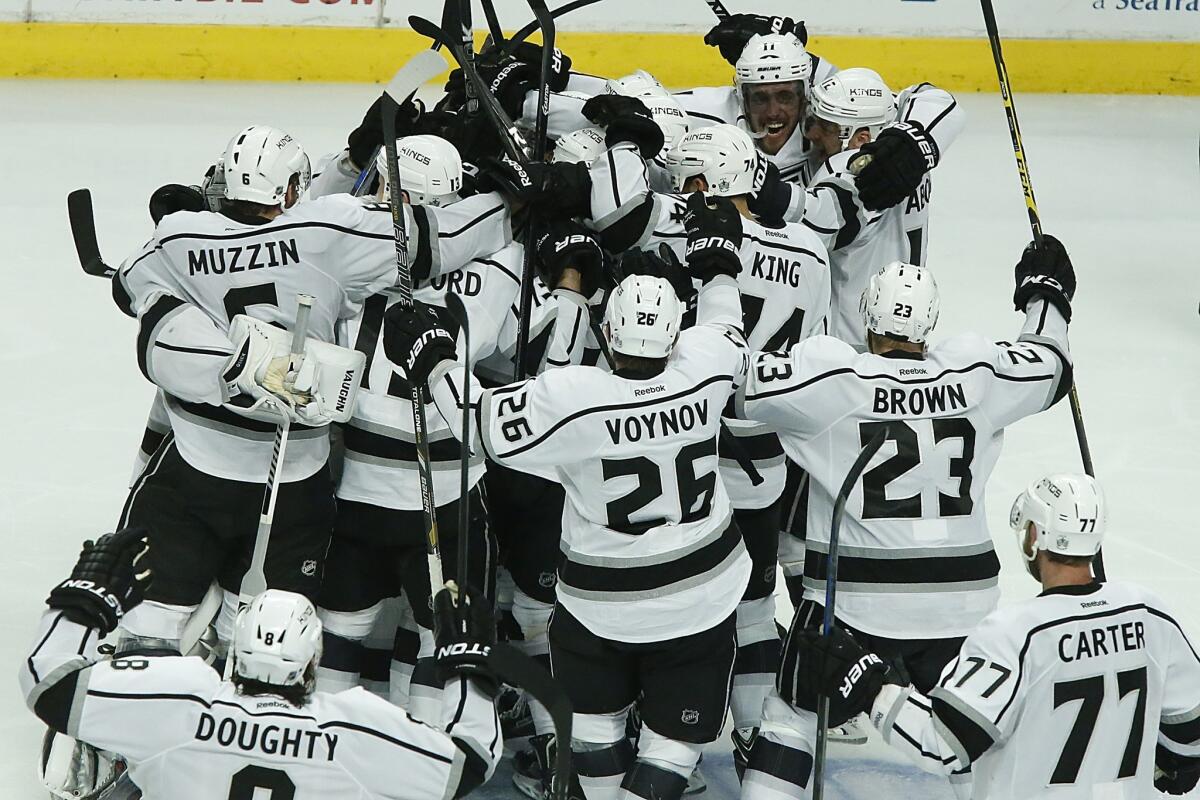 Reporting from Chicago —
They had not traveled so far and played so long, been through so much, to just skate away quietly and quickly into the night.
A two-goal deficit for the Kings less than nine minutes into Game 7 at the United Center would not be the final word about these epic Western Conference finals. Kings forwards Justin Williams and Jarret Stoll said it wasn't going to end that way against the Chicago Blackhawks.
"'This time it's our time.' They had a couple of overtime winners themselves and they knocked us off a couple of years ago . . . last year," Stoll said. "And now it was our turn."
Overtime and a crazy wrist shot by defenseman Alec Martinez through traffic and past Chicago goalie Corey Crawford put the Kings in the Stanley Cup Final for the second time in three years. His goal 5 minutes 47 seconds into overtime dethroned the reigning Stanley Cup champions as the Kings beat the Blackhawks, 5-4, on Sunday night.
"I didn't know it went in until I saw Stolly going bananas there. He was getting pretty excited," Martinez said. "That's when I just started celebrating, too."
Setting up the game-winner was none other than Justin Williams, who only added to the weight of his Game 7 legend with the assist, plus an earlier goal. The Martinez wrist shot bounced off the upper body of Blackhawks defenseman Nick Leddy.
There will be little recovery time for the Kings. They will meet the New York Rangers in the Stanley Cup Final, starting Wednesday at Staples Center.
There was plenty of history, and sweat equity to get there. The Kings rallied from three deficits (2-0, 3-2, 4-3) before winger Marian Gaborik tied it, 4-4, with 7:17 to play in regulation, alertly jumping on a rebound of Dustin Brown's wrist shot.
The last time the conference finals were determined in overtime was 20 years ago when the Rangers beat the New Jersey Devils. And the Kings' hat trick of three Game 7 victories, all on the road, this postseason is another NHL mark. They lost the first three games in the first round to San Jose, overcame a three-games-to-two deficit to beat the Ducks in the second round, and nearly went out against Chicago after holding a 3-1 series lead. They are 7-0 in elimination games this postseason.
"This series, and I can only speak for myself, was probably the most emotional seven games I've ever played," Brown said. "One, the caliber of the two teams, and also how the games were won and lost on both sides. Leads, third-period leads, leads early, leads late . . . it was emotional."
The tight-knit Kings group allows the players to be candid with one another, and emotional, if necessary.
"There are times where there's not nice things said to each other," said Brown, the team captain. "But it's all in the nature of motivating each other and pushing each other to be better. When you have guys that have been together, you're capable of holding each other accountable and pushing each other to the next level.
"The turnover here has been very minimal. Dewey [Drew Doughty] gets pretty emotional out there and sometimes it takes one or two guys to calm him down and he's great. That's probably the easiest example because he gets very emotional, which I love."
There also were goals from Jeff Carter and rookie Tyler Toffoli. The goal and assist by Williams gives him seven goals and 14 points in seven Game 7s in his career.
Perhaps he should consider changing his jersey number to 7. For him, the most important stat is 7-0 in Game 7s.
"The story is how we were able to come back and how resilient we were," Williams said. "How awesome the series was to play and be a part of. It was just fitting it ended in Game 7 in overtime."
Said Chicago Coach Joel Quenneville: "You look at what happened in these last three games, the unpredictability from the start, the emotion, the intensity, playing the right way. I thought both teams left it out there."
Chicago vs. Los Angeles took hockey to another, higher level. There was almost none of the sideshow theatrics and nonsense that threatened to take over the Eastern Conference finals between Montreal and the Rangers.
Kings-Blackhawks could be the rivalry of the future. Williams noted that it finally is one, adding: "If we win, they're going to have to come through us. It's the whole 180 thing. Obviously it wasn't a rivalry until we won. We won the series. But hey, listen, this is three-quarters of the way. This isn't the whole way. We have a big, big challenge ahead of us."
There had been talk about a Golden Age of hockey in Chicago before the start of this series. Now that might be a topic of discussion for the Kings, who will be trying to win their second Cup in three years. Of course, "golden age" used to mean something else in Southern California.
"Within the past few years, we've tried to earn the respect of the league," Williams said. "L.A. is not just a place to come and play a hockey game and work on your tan. It's a tough loop in California right now to play. We want to put L.A. on the map, and put it significantly on the map with regard to hockey."
Twitter: @reallisa
Get the latest on L.A.'s teams in the daily Sports Report newsletter.
You may occasionally receive promotional content from the Los Angeles Times.