Column: Family ecstatic, touched as Kings rookie Daniel Brickley makes his debut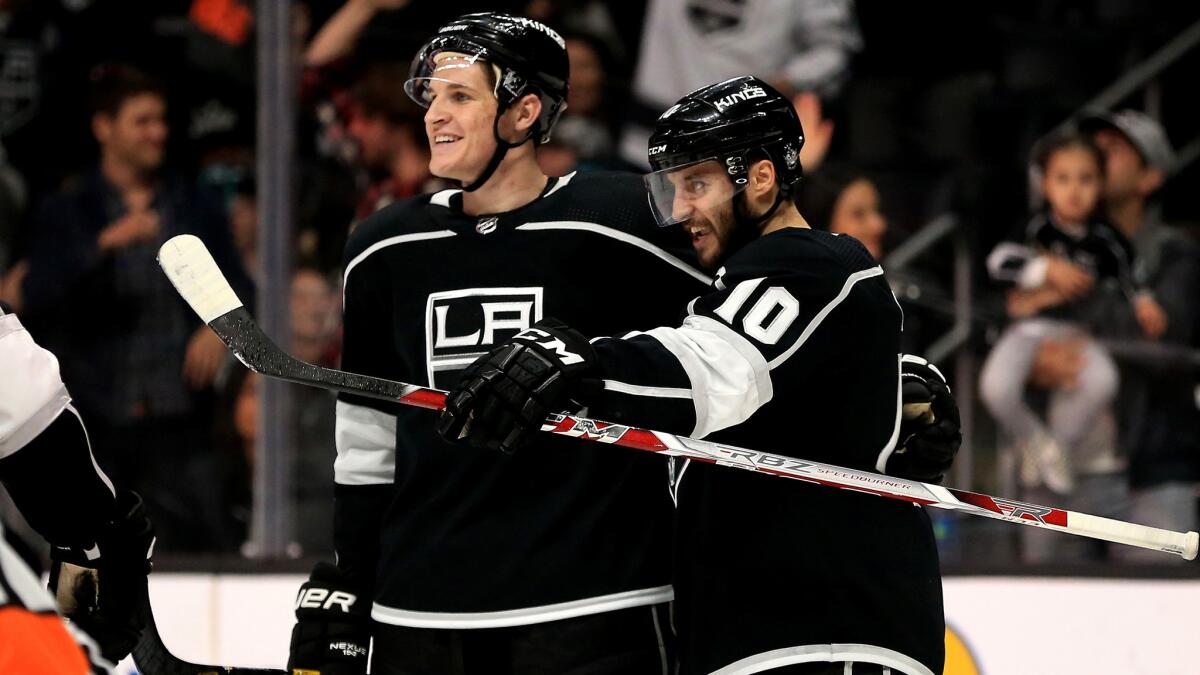 Matt Brickley watched intently as the Kings took the ice for warmups Thursday night at Staples Center. His son, Daniel, was among them — and Matt had known that was possible — though he had been told Daniel probably would not play against the Minnesota Wild.
Teams often send out more players than the game limit of 18 skaters and two goalies, and coach John Stevens had said Daniel could participate for the experience and to allow his parents, Matt and Ally, visiting from Utah, to take pictures of the rookie defenseman in his No. 78 Kings uniform.
They were ecstatic to see Daniel, a college standout who signed with the Kings as a free agent last week, but Matt dared to hope for more. He turned to club president Luc Robitaille, who had joined the family in a suite, and asked if Daniel might play.
Robitaille said he thought so, because a few other players had the flu. "I said, 'How many guys were dressed in the warmup?' " Robitaille said. Twenty, Matt replied. He counted. Not 21? No, Matt repeated, 20.
"I said, 'Then he'd better be playing because I know we're not hiding anyone in the locker room,' " Robitaille said. "The funny thing was, he was still nervous, and when the players stepped on the ice and when he saw 78 step on you should have seen them cheer. It was absolutely fantastic."
Daniel Brickley, who stands a strapping 6 feet 3 and has great scoring instincts and hockey vision, acquitted himself well in his NHL debut. He earned his first point by faking a shot and making a cross-ice pass to Christian Folin that led to Tobias Rieder's redirected goal, and he showed poise during a tough game that had playoff-placement implications. His future is bright. Cruelly, his father's future is not.
Matt Brickley, a former minor league and college referee and longtime hockey official in Utah, was diagnosed with stage 4 colon cancer late last year. The family, which includes daughter Abbie and son Sam, was told his illness is terminal.
The Kings brought the Brickleys to Los Angeles on Thursday with the thought Daniel wouldn't play that night but had a remote chance of cracking the lineup on Saturday. If he sat out both games, at least they'd see his new home.
"It was the right thing to do," Robitaille said. The circumstances that put Daniel into the lineup on Thursday, with his parents and siblings there to see him, transformed the game into a gift that was precious beyond words.
"We weren't sure that Daniel was going to be able to play this year," Ally Brickley said, holding back tears. "So we're so lucky. It's been a special day."
It came at the right time, when the family could enjoy it together. "It was thrilling. A combination of a dream that started when he was 4 years old," Matt said before briefly giving in to emotions. "It's always been his dream and ours. Today, we realized it."
Matt, a bear of a man with graying hair and a big smile, felt good Thursday. That isn't always the case. "My treatment's going well. I couldn't ask for anything better, given the condition I was diagnosed with," he said of the disease that was detected during what was expected to be a routine colonoscopy.
"I get chemo treatments every other week, but I'm in one of those immunotherapy clinical trials for an experimental drug and I get infusions of that every third week. Compared to a lot of people I see at the hospital I have nothing to complain about."
Daniel has often called Matt his role model, but Matt gave his 23-year-old son credit for carving out a successful career despite being ignored in the NHL draft. Daniel had a late growth spurt while at Minnesota State-Mankato and raised his game, drawing interest from perhaps a dozen teams before choosing the Kings.
"I like to think that I put him on the right track, but he did all the work to get here," Matt said. "Ever since he was little he loved the game. Right from the get-go. He just set his sights on his goals and I told him what it took and the sacrifices you had to make, but you know how kids are. They don't always do what Dad says. But Daniel had a good work ethic and he knew what he wanted. He went for it, and here we are."
Daniel, though not eligible to play in the playoffs because he signed so late in the season, is on the brink of a fine career. He must learn to close plays harder and more quickly, but the coaching staff will guide him. His offensive skills clearly are strong.
"I think you saw how fluid of a skater he is. That part of it, they're hard things to teach," general manager Rob Blake said. "The defensive part, we can get that part to grips [if] a player wants to learn and he's willing to put the work in."
The puck Daniel passed for his first point was retrieved by Jeff Carter and later handed to Robitaille. With the compassion of a son who lost his mother, Madeleine, to liver cancer in 2013, Robitaille delivered that puck to the right person.
"I gave it to the dad and said, 'Go take a picture with it,' " Robitaille said, striking the perfect note. Daniel will get more assists, but probably none as memorable as that one.
Follow Helene Elliott on Twitter @helenenothelen
Get the latest on L.A.'s teams in the daily Sports Report newsletter.
You may occasionally receive promotional content from the Los Angeles Times.