Column: Kings' problems are far deeper than John Stevens' shortcomings as a coach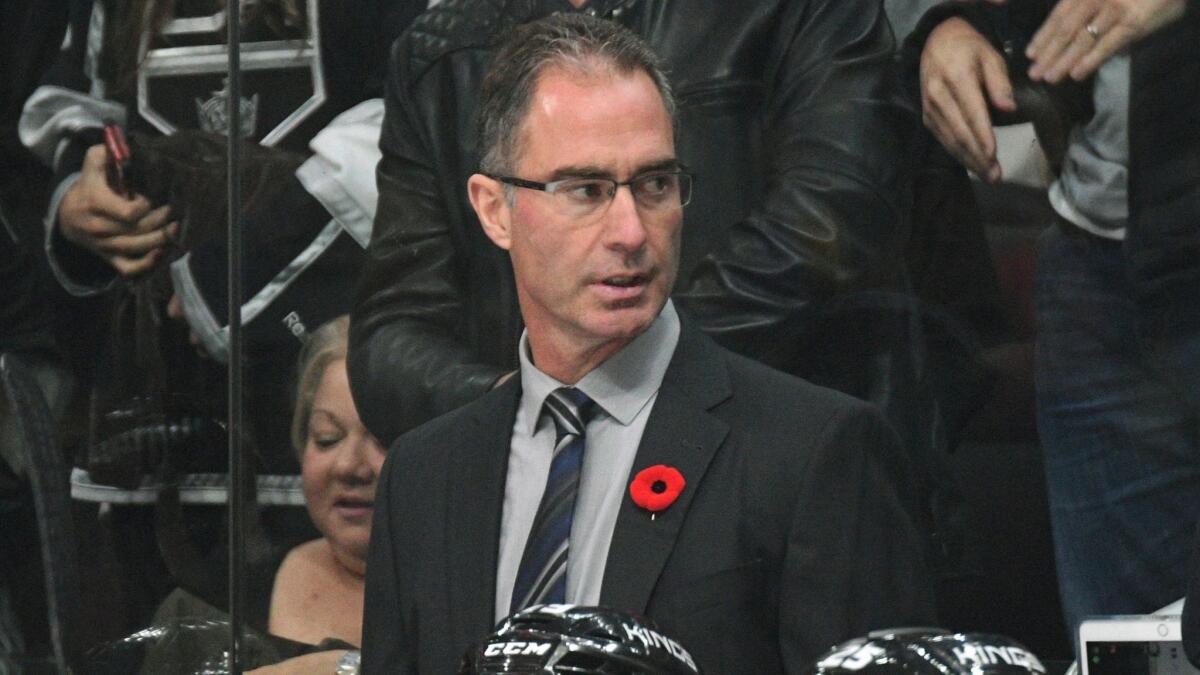 It was April 23, 2017. The abrasiveness of two-time Stanley Cup-winning coach Darryl Sutter had become toxic and he was fired after the Kings missed the playoffs, to the regret of none of his players. General manager Rob Blake replaced Sutter with associate coach John Stevens, the only person who was extensively interviewed for the job.
Stevens was a guru of defense strategy but club President Luc Robitaille said the soft-spoken Stevens had proposed "innovative and creative ideas" on how he'd squeeze more goals out of a tediously low-scoring team. The shackles on their skilled players would be lifted. The days of stale, joyless hockey were about to end.
"We believe John has the ideal qualities to lead our hockey club," Blake said that day. "His wide array of coaching experience, including success as an NHL head coach and his inherent knowledge of our players and those in our development system, is very appealing to us. We are confident he is the best person to lead our hockey club forward."
As it turned out, Stevens couldn't lead the Kings forward. They've actually regressed. But it wasn't entirely his fault they were swept out of the playoffs last spring or that they ranked last in the NHL in points, goals per game, and goal differential when he and assistant Don Nachbaur were fired Sunday and replaced by Willie Desjardins and Marco Sturm.
The Kings' big mistake wasn't hiring Stevens. Their miscalculation was — and remains — stubbornly clinging to the belief that the aging core players from their 2012 and 2014 Cup-winning teams are capable of winning another championship in a faster, youth-dominated NHL. That wasn't remotely true last season and there has been little reason to believe it this season, no matter that they had stemmed the bleeding of a six-game losing streak by winning two of three games before Stevens was dismissed.
They're slow, especially on defense, too easily rattled in their own zone, and too panicky when teams close on them quickly. Dustin Brown's return from injury last week gave them a universally respected voice in the locker room and a determined presence on the ice but an experienced group like this shouldn't lose its poise or become easily flustered. Stevens wasn't fiery, and fans often and wrongly seized that as evidence he lacked passion. The best coach isn't always the loudest person in the building. The fault lies with players who should have been able to motivate themselves, not with a coach who wouldn't go against his nature to manufacture a public and phony display of temper. He carried himself with class during the worst of slumps and the best of win streaks. That, and his work in making defense the foundation of their Cup titles, shouldn't be forgotten.
Despite the high expectations held by Blake and Robitaille, the Kings figured to be a borderline playoff team at best. They haven't been close to that. Even with the addition of $6.25-million man Ilya Kovalchuk, whose play has picked up recently, the Kings averaged 2.15 goals per game and allowed 3.46 per game. Their power play has worked only sporadically, converting 14.9 % of its chances. Not until the last few games did the coaches maximize Kovalchuk's blazing shot and fine passing ability, but they were handicapped by the forwards' overall lack of skill and speed. Stevens tried to get the team to play at a fast tempo but with rare success. There's little reason to believe a new coach will have better luck with the current roster.
It's relatively easy to change coaches although Blake, no doubt sincerely, said firing Stevens was "awful… terrible …very difficult." It's far tougher to acknowledge an entire roster is built on a flawed premise and that the organization's drafting and development efforts haven't produced a steady flow of kids who can be impact players and eventually become the next core.
Blake said he's evaluating the players "just as much as we were the staff," and he must conduct that process impartially and without sentiment. Many of the worst decisions former general manager Dean Lombardi made late in his tenure were driven by sentiment, and those moves have had a significant cost for the Kings financially and strategically. Blake can't let emotion sway him if he determines he must change the mix, a conclusion that seems inevitable.
In the meantime, the Kings will assemble in El Segundo on Monday for their first practice under Desjardins, who is expected to mentor potential heir apparent Sturm after Sturm completes his obligations as coach of the German national team. Speaking to reporters during a conference call Sunday, Blake said he expects Desjardins will rekindle players' passion and competitiveness and take them in the right direction. "We have some real good players, we need them playing at a higher level," Blake said. Remember, Blake also thought Stevens would do that. It's on Blake and Robitaille to give Desjardins and Sturm and anyone else who might join them the right material to win in a league that has, to all appearances, left the Kings behind.
Follow Helene Elliott on Twitter @helenenothelen
Get the latest on L.A.'s teams in the daily Sports Report newsletter.
You may occasionally receive promotional content from the Los Angeles Times.