Jarret Stoll scores in overtime to lift Kings past Ducks, 3-2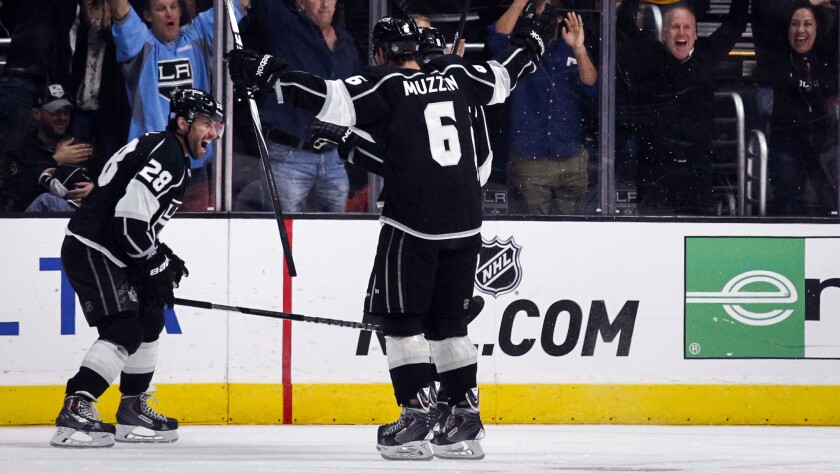 Jarret Stoll looked like a kid again, more like a giddy 12-year-old than a 32-year-old with two Stanley Cups on his resume.
Scoring goals has a way of melting the years away. The Kings' center delivered his first of the season 2 minutes 19 seconds into overtime on the power play for a 3-2 victory over the Ducks on Saturday afternoon at Staples Center.
"I needed that one," said Stoll, whose last regular-season goal was April 9. "I put a lot of pressure on myself to try to help out and contribute and try to make sure other parts of my game were there. It always feels nice to score a goal and especially to get two points out of it."
Then there's the big picture.
Season rivalry update: Kings 1, Ducks 1.
This was the second time in four days that the issue could not be decided in regulation between the Southern California rivals. Anaheim took Round 1, 6-5 in a shootout, on Wednesday night.
The Kings countered with a special-teams display: power-play goals by Anze Kopitar and Stoll, who added an assist, as well as another short-handed goal from Tyler Toffoli. Defenseman Jake Muzzin added two assists.
The Ducks had leads of 1-0 and 2-1 on second-period goals by Emerson Etem and Ryan Kesler. Kesler has three goals in two games against the Kings.
The teams don't play again until Jan. 17. If this was a sneak peak of coming attractions, then hockey fans are in for an intriguing season-long series.
The Kings' overtime goal came with seconds left on the power play, after Ducks defenseman Hampus Lindholm went off for hooking Kopitar. Kings forward Justin Williams put on a burst of speed down the left wing and threw the puck in front. Stoll got just enough on it to put it between the legs of Ducks goaltender Frederik Andersen.
"It hit something and squeaked through my legs," Andersen said. "Bad bounce, so we couldn't get it done. Tough goal, bad bounce."
Said Stoll: "I got enough of it. Not all of it. [Bryan] Allen was on me, so I got enough of it."
The Ducks were without leading goal scorer Corey Perry, who continues to regain his conditioning after a bout with the mumps. Coach Bruce Boudreau said Perry will be a game-time decision for Sunday's contest against Florida at Honda Center.
This was a franchise-record fifth consecutive overtime game for the Ducks.
"You're not going to get all the breaks over 82 games," Kesler said. "You guys saw what happened out there. … Having them down 2-1 on the road, you take that every night.
"We need to learn how to play with a one-goal lead, but there's no panic in this room. We're not getting two points, but if we look ourselves in the mirror and give 5% more, things are going to turn for us. They were hitting, shoving. We took it and gave it back."
One curious statistic involves the goal-scoring of Toffoli. Of his team-leading eight goals, four have come short-handed. On Saturday, it came on a two-on-one with Stoll, tying the score at 1-1 in the second period. He became the fastest player to record four short-handed goals (18 games) in club history.
"It's fun," Toffoli said. "It's nice to score goals any way you can. It was a big win and we needed it tonight … today. I think I had four [short-handed goals] a full season in Manch [Manchester]."
The Kings welcomed the return of defenseman Robyn Regehr, who had missed three games because of a lower-body injury. Still, because of the absence of defenseman Alec Martinez, that meant continued big minutes for Drew Doughty, who played a season-high 32 minutes 21 seconds.
Martinez injured his finger Thursday night against Dallas and had surgery the next day. Kings Coach Darryl Sutter essentially went with five defensemen in the third period, limiting Jamie McBain's ice time to three shifts, totaling about a minute of action in the third.
It is unclear when Martinez will return.
"Everything went well," Sutter said of the procedure. "It was basically a finger, they had to do some suturing on his finger and clean up his nail.
"When it heals, then he'll be ready."
---
Get the latest on L.A.'s teams in the daily Sports Report newsletter.
You may occasionally receive promotional content from the Los Angeles Times.