Kings feeling the pressure from a lack of five-on-five scoring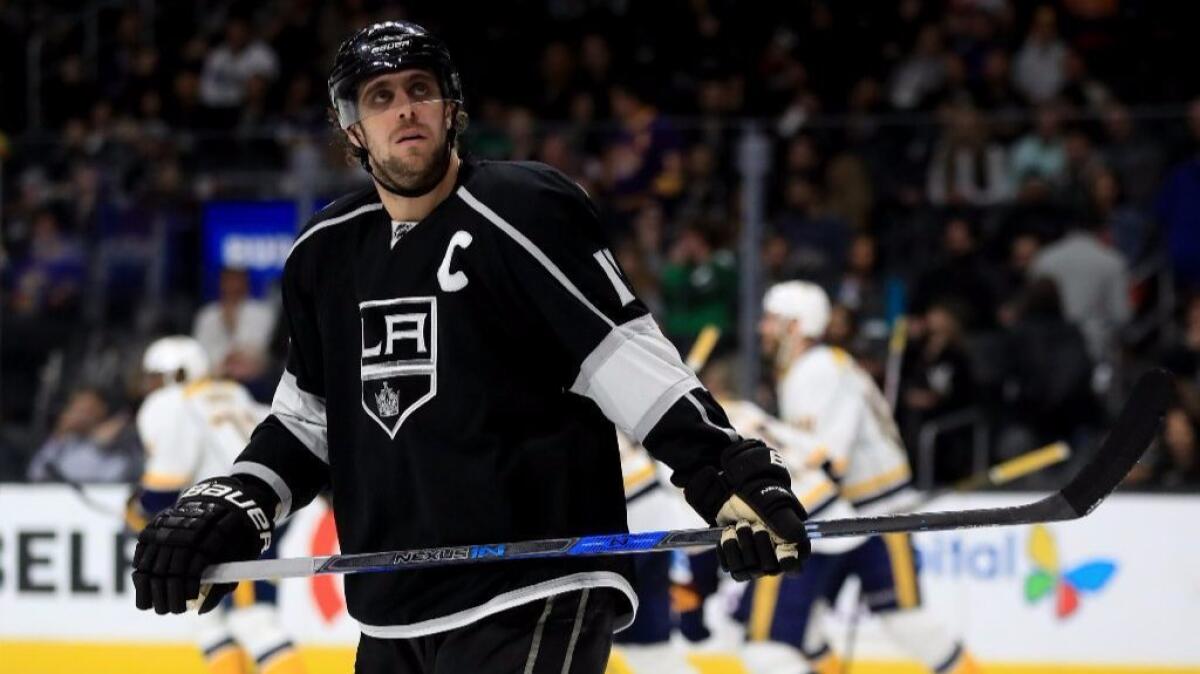 The theme for the Kings wasn't exactly "Bring on the Washington Capitals" when they gathered Friday.
Although they've scratched out points in three of their last four games, the Kings have scored one even-strength goal during that time. Of their eight goals, six have been on the power play and one was short-handed. Their last even-strength goal was Tanner Pearson's third-period score against the Toronto Maple Leafs on March 2.
"Not scoring five on five is definitely a concern of ours," Drew Doughty said. "We need to be putting more pucks in when we are five on five. It's good that the power play stepped up and we scored a bunch of big goals for us [Thursday], but we need five on five and special teams going for us at the same time."
The all-cylinders approach seems like a must considering the Capitals were ranked No. 1 in the NHL in five-on-five goals for and against through Thursday. Washington scored five goals on just 20 shots in a 5-0 win against the Kings on Feb. 4.
"They don't just create offense from run-and-gun," Kings assistant coach John Stevens said. "They're a very sound defensive team and really solid at all positions. They're a committed checking team that gets the puck back and goes the other way. It will be a good challenge for us."
Stevens said the Kings' defense can do a better job of getting pucks through to the net, a common refrain this time of season when games steer more toward playoff hockey and hard-earned goals are the norm.
"We're getting enough time in the zone," Stevens said. "We just have to do more with our time in the zone."
Doughty said he particularly enjoys the physical play of Western Conference games against the Ducks and San Jose Sharks, but he also tends to elevate his game against high-profile competition.
The Capitals would fit that category, and Doughty embraces the challenge of Washington's Alex Ovechkin.
"We obviously respect each other as players, but when it comes down to it, we both have a big desire to not lose, and we'll do whatever it takes to win," Doughty said. "I'm going to run him, and he's going to run me. That's just the way it is."
Muzzin fined
Defenseman Jake Muzzin was fined $2,000 for his second embellishment violation, the NHL announced. Muzzin embellished a high stick from the Vancouver Canucks' Michael Chaput on March 4.
Muzzin received a warning for an Oct. 14 incident against the Philadelphia Flyers. A second violation results in a fine under the league's scale.
NEXT UP
VS. WASHINGTON
When: 7:30 p.m Saturday.
On the air: TV: FS West; Radio: 790.
Update: Jordan Nolan (lower-body injury) and Nick Shore (upper body) did not skate and Ben Bishop was the only goalie for an optional skate. The Kings have killed 48 of 50 penalties in the last 20 games. Washington has lost two straight in regulation for the first time since Nov. 26-Dec. 1 and is 5-4-1 since its bye week. Former Kings forward Justin Williams is one goal shy of his sixth career 20-goal season.
Get the latest on L.A.'s teams in the daily Sports Report newsletter.
You may occasionally receive promotional content from the Los Angeles Times.