Column: Nothing the Kings did was quite good enough this season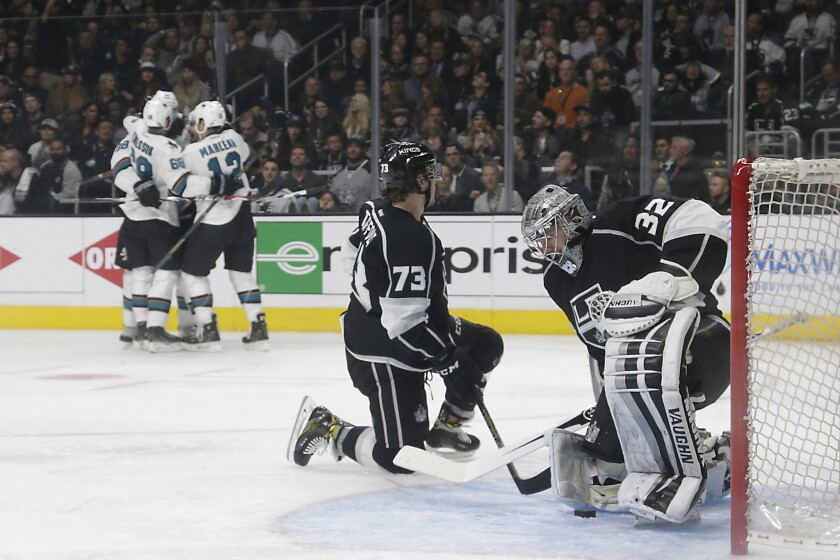 A handshake instead of another Stanley Cup championship.
A season ended with a beautiful but brief tease and a first-round playoff exit.
What had the makings of another epic rally against a familiar foe ended Friday with the Kings' 6-3 loss to the San Jose Sharks, pushing them into an off-season sure to be full of soul-searching and roster rebuilding as the most dominant era of their history recedes further into the past.
See the most-read stories in Sports this hour>>
If they are honest, they shouldn't be fooled by having spotted the Sharks a 3-0 lead Friday and then pulling even in the second period, setting pulses racing and restoring fans' shaken faith at a raucous Staples Center.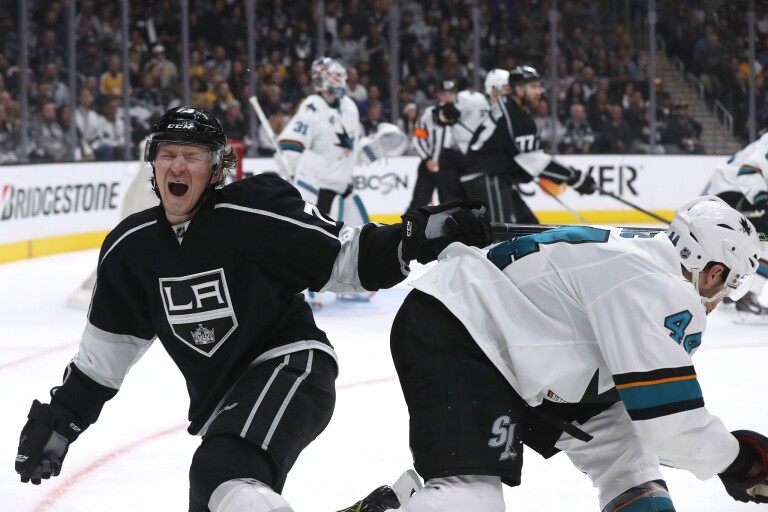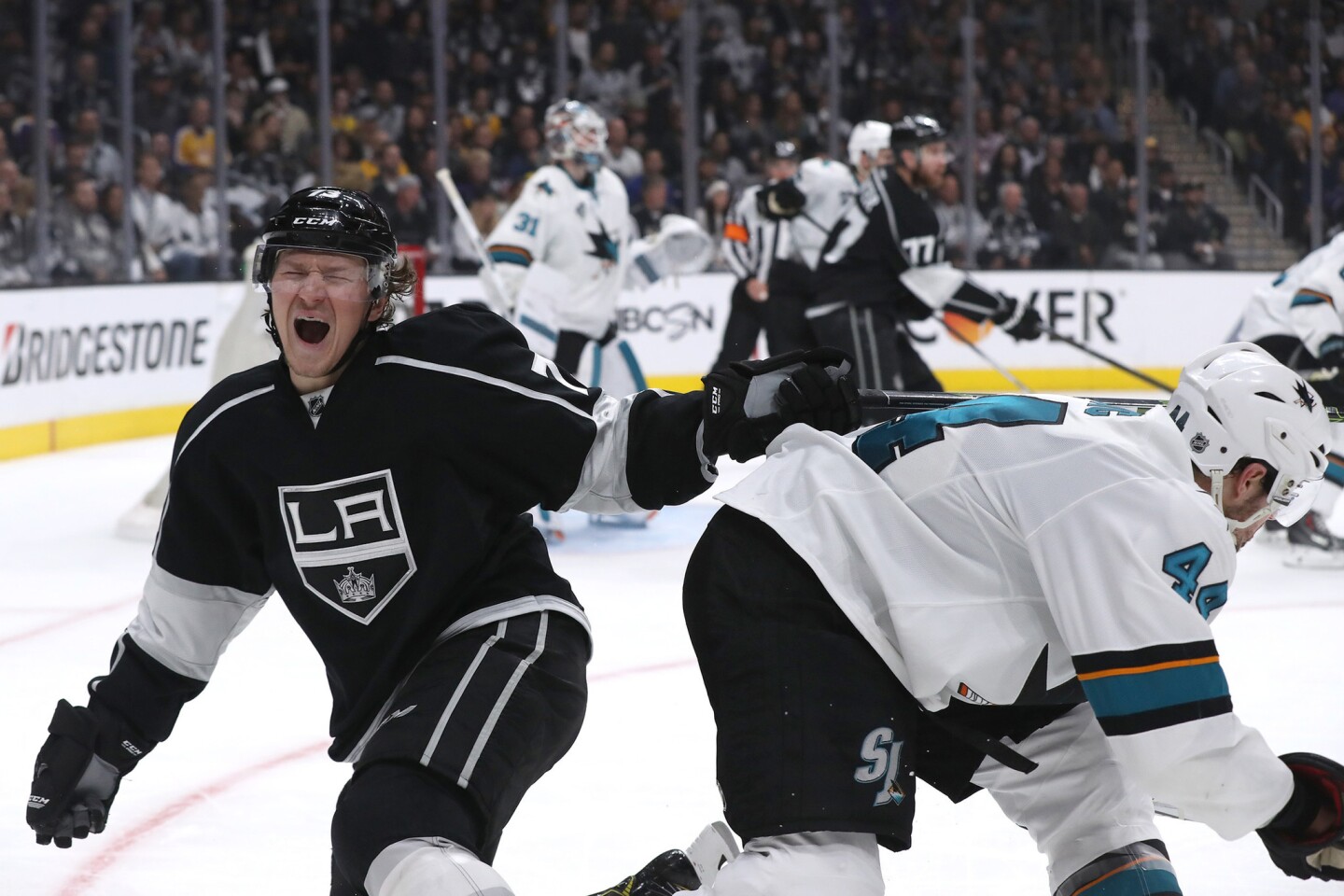 Kings forward Tyler Toffoli grimaces in pain after colliding with Sharks defenseman Marc-Edouard Vlasic during the third period of a game on April 22.
(Robert Gauthier / Los Angeles Times)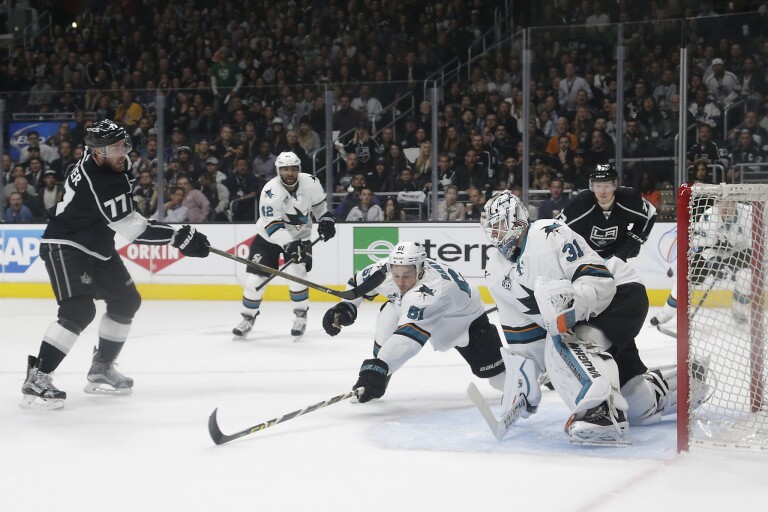 Kings forward Jeff Carter scores against the Sharks during Game 5 of the Stanley Cup playoffs at Staples Center on April 22.
(Robert Gauthier / Los Angeles Times)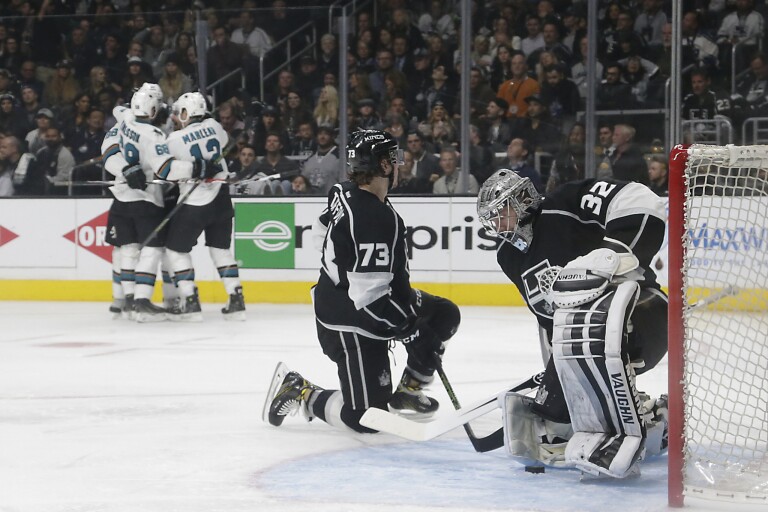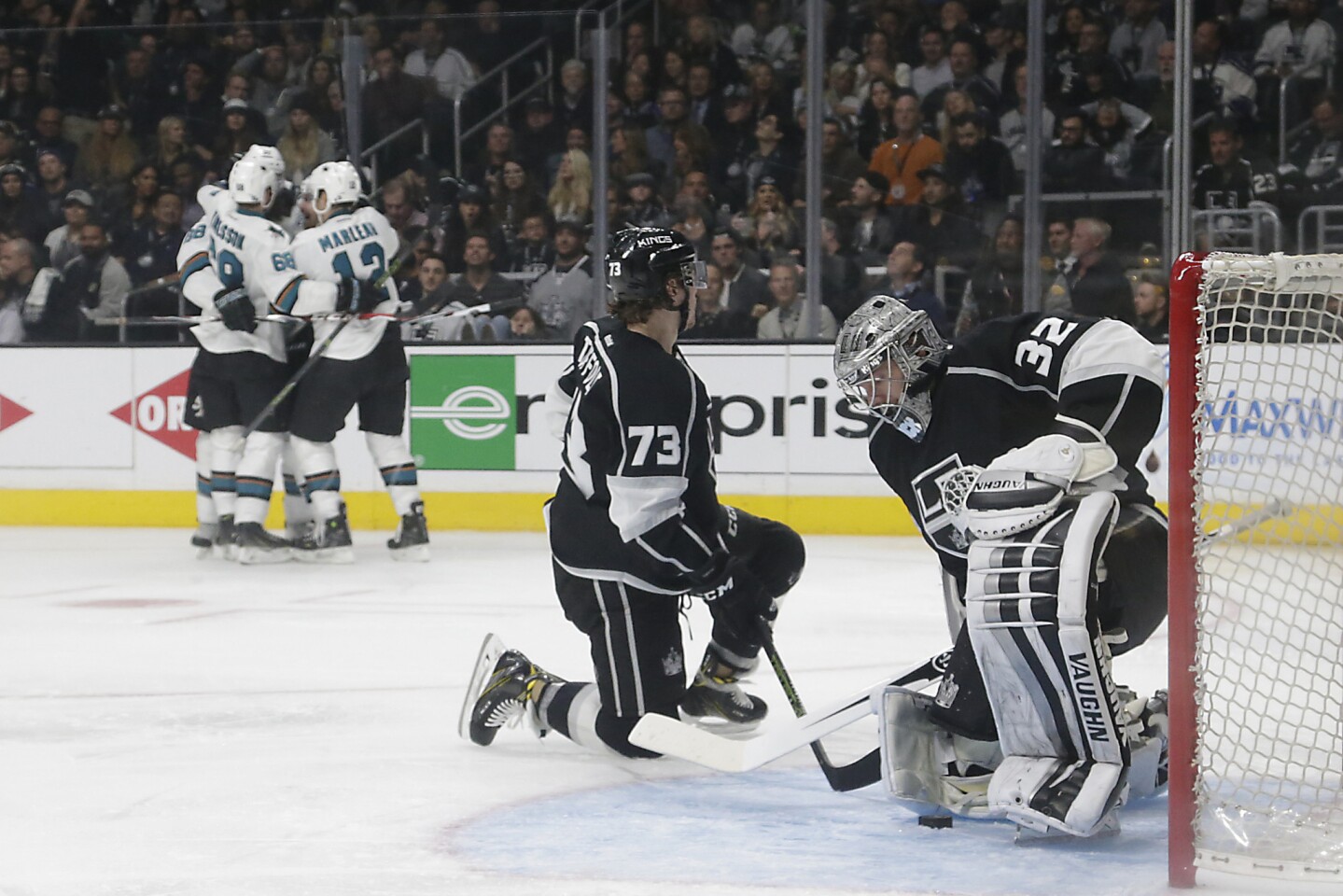 Kings goalie Jonathan Quick and forward Tyler Toffoli hang their heads after allowing a third period goal to Sharks forward Joonas Donskoi on April 22.
(Robert Gauthier / Los Angeles Times)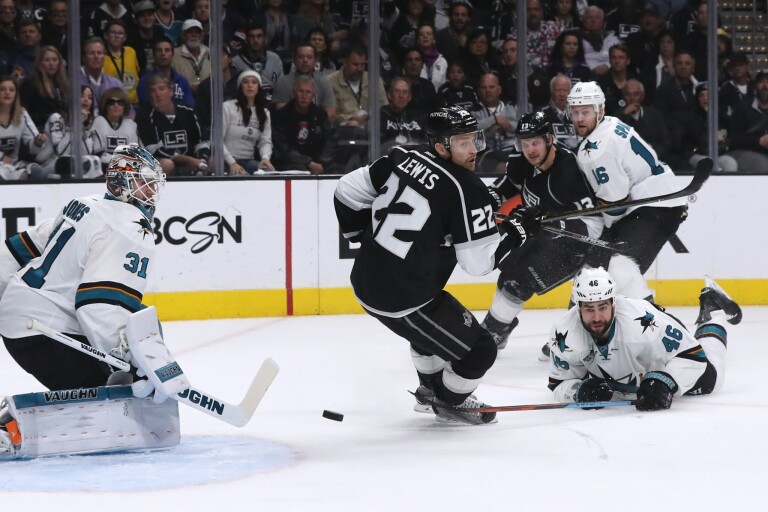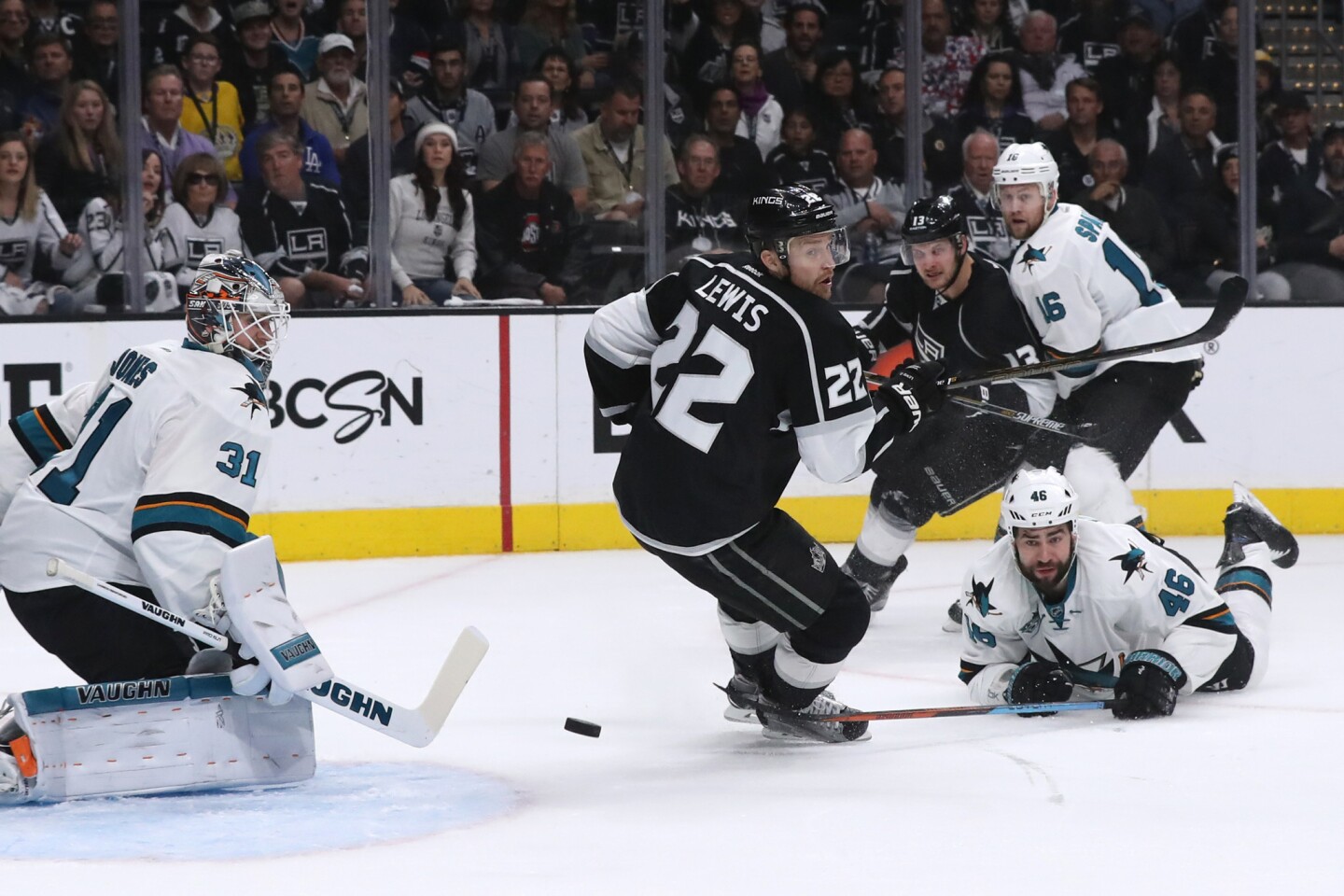 Kings forward Trevor Lewis misses a chance to put the puck on the net as Sharks defenseman Roman Polak knocks it away during the first first period of a game on April 22.
(Robert Gauthier / Los Angeles Times)
Sharks forward Jonas Donskoi scores a third period goal against the Kings during a game at Staples Center on April 22.
(Robert Gauthier / Los Angeles Times)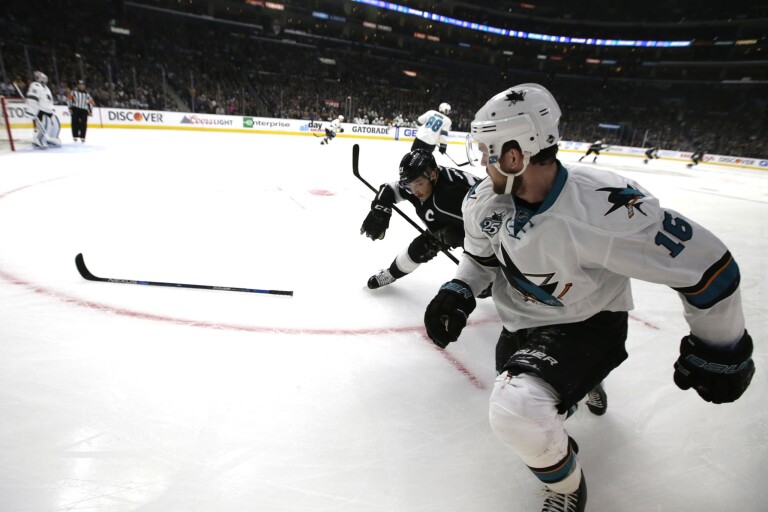 Kings forward Dustin Brown knocks the stick away from Sharks forward Nick Spaling during the first period of a game on April 22.
(Robert Gauthier / Los Angeles Times)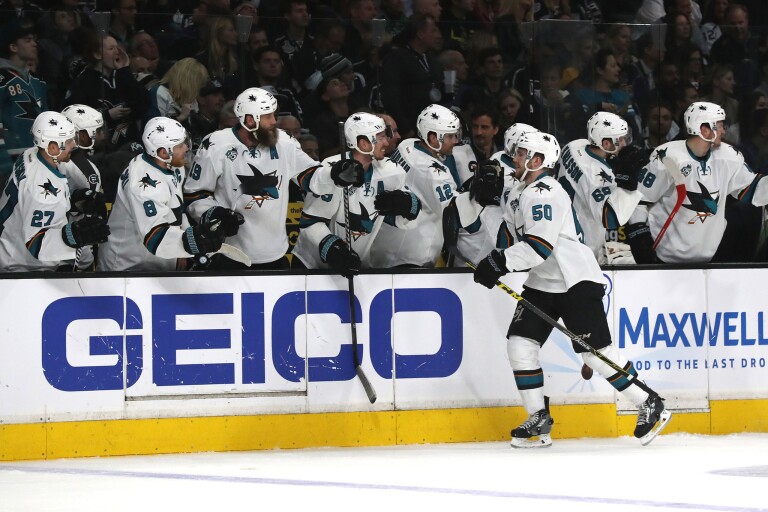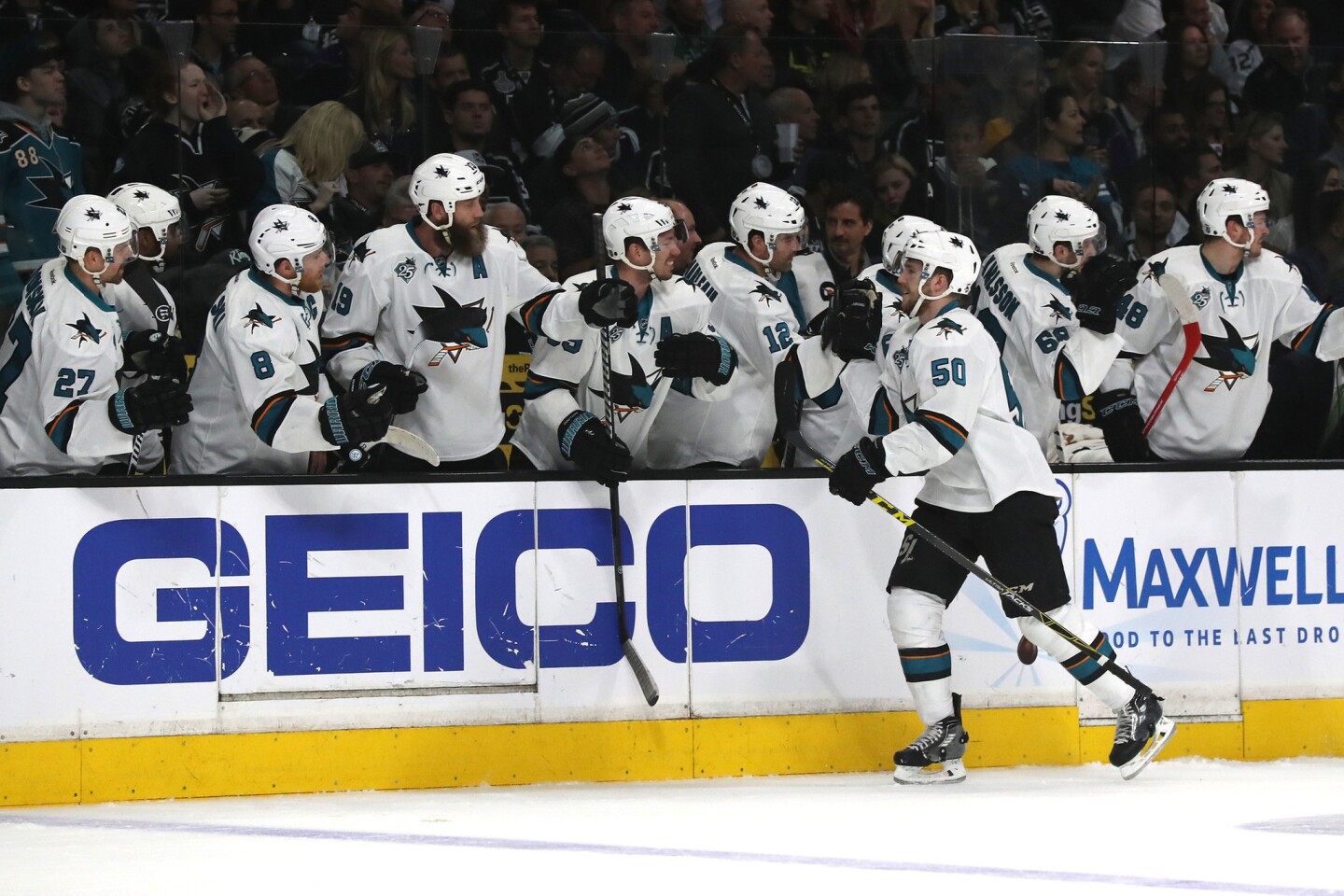 Sharks forward Chris Tierney high fives teammates after scoring a first period goal against the Kings in Game 5 of the first round playoff series on April 22.
(Robert Gauthier / Los Angeles Times)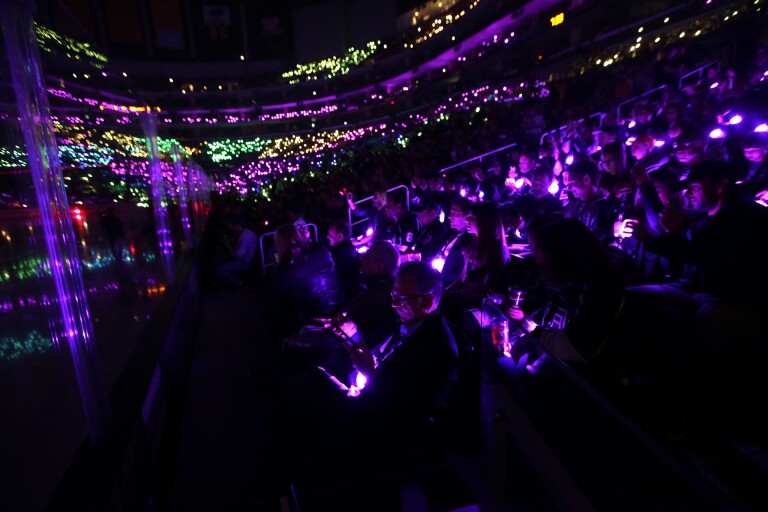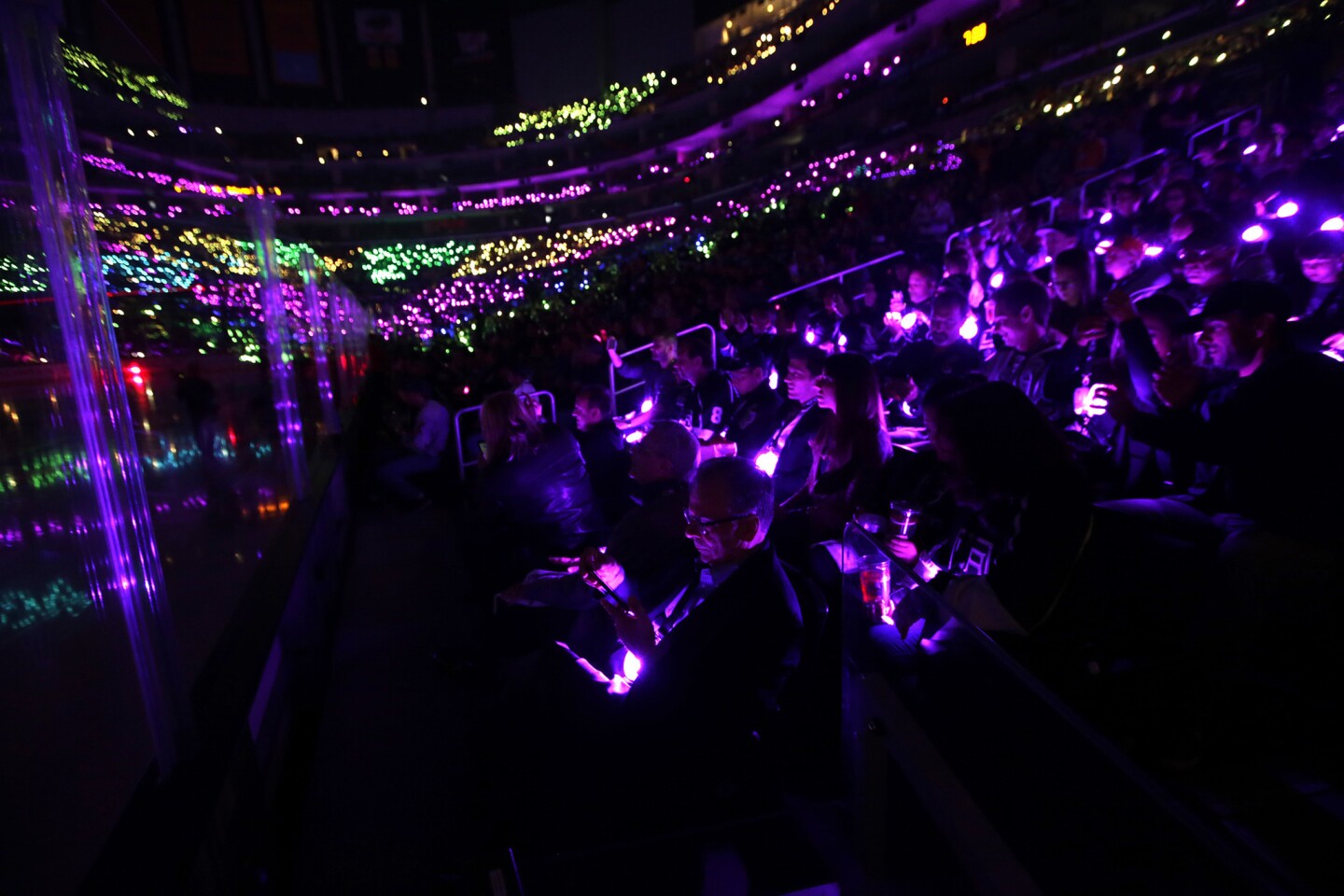 A pregame light show takes place before Game 5 of the Kings and the San Jose Sharks at Staples Center on April 22.
(Robert Gauthier / Los Angeles Times)
They were not good enough to beat a team that has a dubious playoff history, a team that on Friday seemed to remember its postseason missteps before regrouping in the third period to pull away on a goal by Joonas Donskoi — who wasn't with the Sharks when they squandered a 3-0 series lead over the Kings in 2014 — and a goal by Joe Pavelski, who has done all he can to help the Sharks overcome their reputation as shaky postseason competitors.
"I definitely think we didn't play our best hockey when we needed to, starting when we clinched a playoff spot," said Kings left wing Milan Lucic, who is eligible for unrestricted free agency but said he "100%" wants to stay here. "I think we played only one really good game, and that was at home against the Ducks, since that point.
"So it's definitely disappointing how hard we worked in the season to clinch a spot as fast as we could, that we didn't make the most of it."
They played well in spurts Friday, but not for long enough. And that was a recurring theme for the season: Nothing they did was quite good enough to return them to the ranks of the NHL's elite.
The 16-point lead they built over the Ducks atop the Pacific Division wasn't enough for them to hold on to first place. They never got enough in this series from their top players, never got solid enough defensive play, though Alec Martinez's groin injury was a key loss. "The regular season doesn't mean anything in the playoffs," defenseman Jake Muzzin said. "We had a good regular season but this was disappointing."
The Kings' Cup triumphs in 2012 and 2014, sandwiched around a loss in the 2013 West final to eventual champion Chicago, seem even more impressive in retrospect. If it's tough to reach the top, it's much tougher to stay there. Missing the playoffs last spring and this season's early exit emphasize how difficult it is to sustain success in a salary-cap era and keep players motivated and healthy.
This team pieced its defense together but never developed the depth of the two Cup teams. General Manager Dean Lombardi couldn't find adequate replacements for two of his most rugged defensemen — Willie Mitchell, who left as a free agent, and Robyn Regehr, who retired. Lombardi could not have predicted Slava Voynov's no-contest plea to a misdemeanor domestic violence charge, jail time and eventual decision to leave the United States, but his attempt to replace Voynov with Andrej Sekera cost the Kings a first-round pick for a player who was injured and left as a free agent, with no compensation to the Kings. Lombardi mortgaged the future for a run last season that never materialized, a move that could hurt the Kings for years to come.
It's no coincidence the Kings and the Blackhawks have faced elimination in the first round this spring, although the Blackhawks escaped Thursday with a double-overtime victory over the St. Louis Blues. The Blackhawks, who won the Cup in 2010, 2013 and last season, have had to figure out how to reward players for success yet keep everyone under a salary cap that hasn't risen as much as had been anticipated, and how to replace vital role players whose salaries had to be sacrificed to give the team's stars lucrative, long-term deals.
There are no easy answers. But now the Kings have plenty of time to figure it out over a longer summer than they expected to have. "Your whole focus going into the season is to make the playoffs as quick as you can, and we did that and we did it in pretty good fashion," said Coach Darryl Sutter, whose contract will soon expire. "Then another thing was to get to 100 points and then start again. We just weren't able to get that."
Follow Helene Elliott on Twitter @helenenothelen
---
Get the latest on L.A.'s teams in the daily Sports Report newsletter.
You may occasionally receive promotional content from the Los Angeles Times.