Wanderlei Silva vs. Chael Sonnen live round-by-round coverage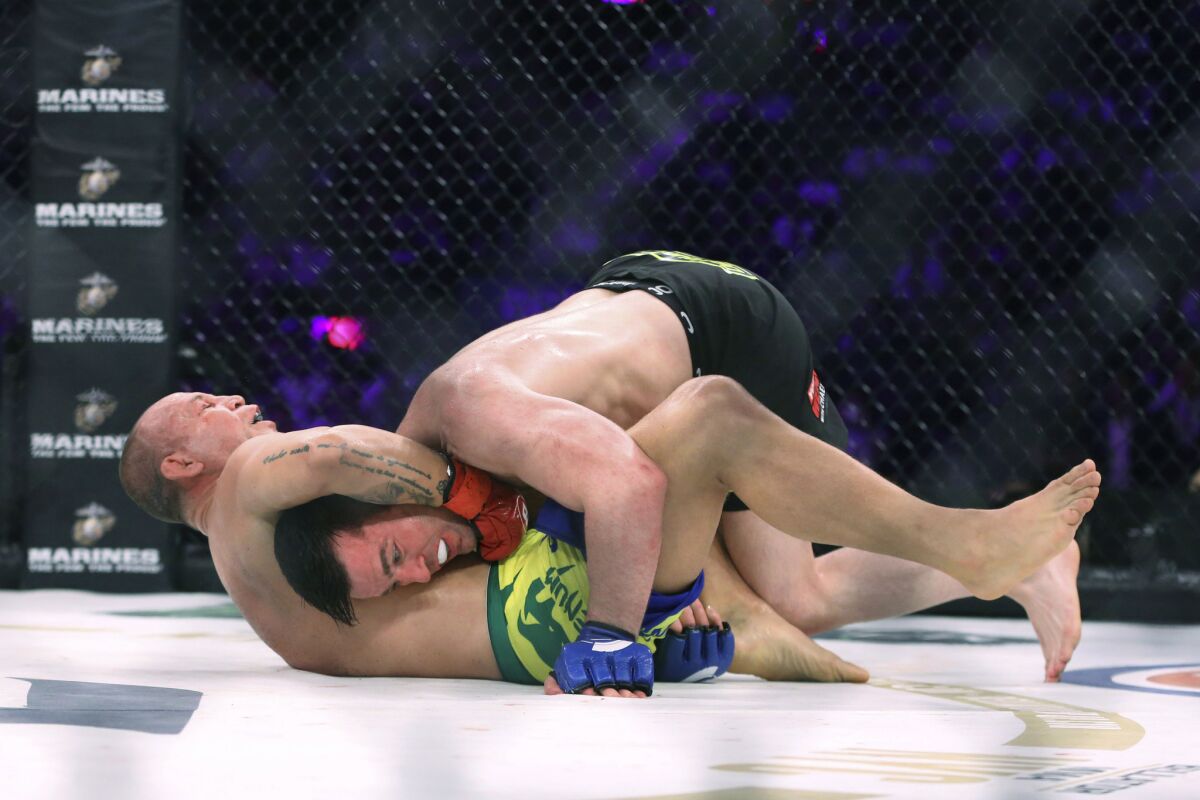 This is a grudge match that goes back years. Chael Sonnen told a lot of jokes about the country of Brazil to sell fights and Wanderlei Silva took it personally. Sonnen seems to view it as just promotion but Silva genuinely wants to hurt Sonnen and that's been his MO for most of his career anyway. Silva hasn't fought in four years while Sonnen has struggled in recent fights so it will be a test to see what each man has left. Silva is a feared striker while Sonnen relies heavily on his wrestling.
Round 1. Sonnen moves forward and secures the takedown. He lands some punches from inside Silva's guard. Sonnen adds some elbows. Silva is just defending. Silva finally gets up with two minutes left in the round. Silva drops Sonnen with a right hook. Silva follows to the ground but Sonnen ties him up. Sonnen gets up and gets a takedown. Silva grabs a guillotine choke in the process but has to give it up because he can't control Sonnen's body. Sonnen lands some elbows late. 10-9 Sonnen.
Round 2. Sonnen charges in and gets caught with a hard punch. Silva decides to grab a guillotine choke and pull guard. He just holds Sonnen in it and neither man seems too concerned about getting out of that position. Eventually John McCarthy stands them up. Sonnen grabs a double leg takedown. Sonnen lands some punches by the cage. Silva is just covering up again, although he's not getting caught with much in the process either. 10-9 Sonnen.
Round 3. Sonnen eats a right hook but keeps going and gets the takedown again. This time he's side control position. He looks for mount but loses it and ends up in half guard. Sonnen looks for a kimura but can't get it. Sonnen continues to look for that kimura. He can't get it so he moves into full mount. He then transitions back into side control. He lands a few additional punches as the fight concludes. A frustrated Silva shoves Sonnen off. Sonnen decides not to take the bait and just walks off. 10-8 Sonnen, 30-26 Sonnen.
Winner: Chael Sonnen, unanimous decision (30-26, 30-27, 30-27).
That wasn't much of a fight but it did have a few moments. Sonnen's wrestling obviously was the difference. Both fighters are well past their primes and it showed. Sonnen after the fight tried to lobby for a fight with Fedor Emelianenko and perhaps that will be the next novelty fight for him.