Aly Wagner confident and eager to bring more as Fox's World Cup analyst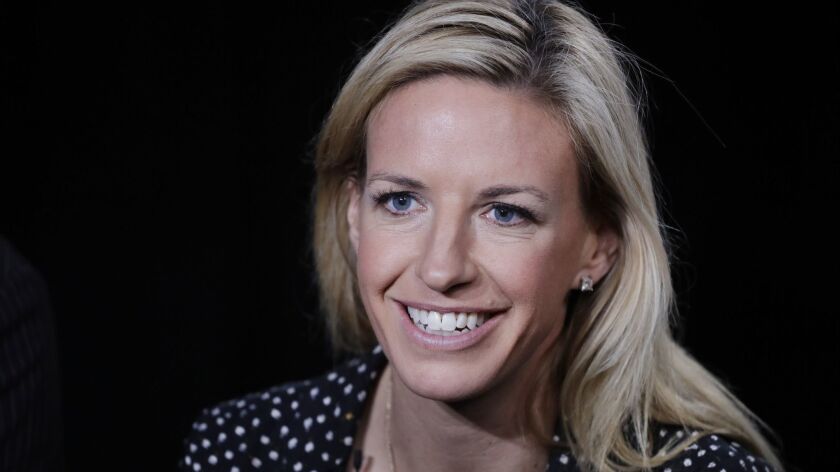 Aly Wagner constructs pitch-perfect responses to pretty much any question fired her way.
The 38-year-old former midfielder for the U.S. women's national soccer team still finds it "pretty cool" to be the first woman to call a men's World Cup match for a U.S. broadcaster during Fox's coverage last summer.

For the record:
7:10 p.m. June 3, 2019An earlier version of this column stated the Univision Deportes Newtwork launched 20 years ago. It launched in 2012.
Wagner provided color commentary off TV monitors at the network's Century City studios before flying to Russia for the tournament's final 10 days. She described the experience as "unnerving," but she asked Fox for the opportunity not long after her meteoric rise as the star of Fox's coverage of the 2015 Women's World Cup.
As for her roles off camera, which include taking care of 5-year-old triplet sons and a 3-year-old daughter, Wagner isn't so unnerved. Her Twitter account documents as much, including a recent family road trip of 300-plus miles that included just one efficient bathroom break.
The Women's World Cup, which starts in France on Friday, gives Wagner a chance to realize she actually considers herself to be a working broadcaster this time around.
"That's a good question, because I felt like such a newbie for a long time, the transitioned athlete, that my mindset is on being a broadcaster and this is my career," Wagner said recently before heading to Paris.
"My focus with what I want to get across to the audience has shifted and developed and grown over the last four years. I have a better understanding what helps make a better experience for the viewer at home while still providing the detailed analysis that I pick up on the fly.
"It wasn't all that easy before, but I feel really comfortable in my skin and in what I'm doing."
David Neal, the executive producer in charge of all World Cup properties for Fox Sports since 2012, says he's "exceedingly proud" of Wagner's progress.
Neal hired Wagner after watching an audition tape of her commentating on Santa Clara University soccer games. Neal said David Hill, the original Fox Sports president who has worked as a consultant for the network in recent years, was impressed when he first heard Wagner during the 2015 Women's World Cup. Hill told Neal: "I don't even know who that is, but she's the best color commentator you've got."
Added Neal: "And as usual, Hill was right on the money."
When Neal gave her more higher-profile assignments, including the men's World Cup, people outside the sports sphere noticed.
InStyle magazine included her as the only sports figure in "The Badass 50" — its list of "women who are changing the world." Vogue noted Wagner was "killing it" on the men's calls.
"That's the beauty of it, right?" Wagner said of the recognition. "It's a great indication of how this sport can be at the cross over from hardcore athletes to focused professionals to intersect into pop culture and form a kind of energy that can shape the next generation. That's where I get my high and I get excited to see things shift."
Wagner agrees on the importance her influence could have on women's soccer and its potential halo effect. Paired with play-by-play broadcaster JP Dellacamera, Wagner will commentate on every USWNT match during the World Cup, starting with the team's opener against Thailand on June 11 (noon PDT, Ch. 11, Telemundo). Wagner's World Cup starts with the France-South Korea match Friday (noon, FS1).
All five Fox broadcast teams have women analysts, including Danielle Slaton, Kyndra St. Aubin, Angela Hucles and Cat Whitehill. Play-by-play broadcasters Jenn Hildreth and Lisa Byington also are part of the team. Slaton will be in France teamed with Derek Rae. Alex Curry, who covers the Angels for Fox Sports West, will be one of the reporters dispatched to France as well. Three teams will remain in L.A. calling games off monitors.
Two weeks ago, Fox Sports won a national Sports Emmy Award for "Outstanding Trans-Media Coverage" for its 2018 World Cup broadcasts. That recognizes Fox's linear TV integration with FS1 as well as FoxSports.com and its live shows on Twitter.
"All that cross-pollination will come back into play," said Neal, noting Fox will have more than 800 hours of Women's World Cup coverage on all its platforms.
Of the record 27 million viewers in the U.S. who watched Americans' win over Japan in the 2015 Women's World Cup final, two million were via Spanish-language Telemundo, with nearly a million more on video streams.
Telemundo Deportes, which also has its Universo cable partner and the NBC Sports app in Spanish, has planned accordingly for a 24-country tournament that lacks Mexico's national team after it failed to qualify. Fox faced a similar situation last year during the men's World Cup when it saw an audience slump without the U.S. playing.
Sign up for our daily sports newsletter »
Neal, a Woodland Hills native and USC grad whose production company helped launch the soccer-rich Univision Deportes Network in 2012, sees "a very peaceful coexistence" with Telemundo, which plans to adjust well with early morning matches that play into the fact it is a daytime TV ratings leader in many major U.S. cities.
It should be noted: Telemundo's Viviana Vila, who also made TV history as the first woman to do Spanish-language analysis during the network's 2018 World Cup coverage, returns for Women's World Cup and will pair up for select broadcasts with the legendary Andres Cantor.
Telemundo has five women analysts on match coverage along with Paris studio co-hosts Ana Jurka and Carlota Vizmanos.
"One of the biggest issues I've seen with covering women's sports is the folks who produce them think you can just cut and paste (from the men's sports), and you really can't," said Ray Warren, president of Telemundo Deportes. "You see how someone like Mary Carillo has done in the booth for tennis coverage.
"Others copied us by hiring women, but we had this plan long before it became popular. This is a ceiling we want to break. It's more than just a major global tournament that happens to have women. It's a global tournament about women."
---
Get our high school sports newsletter
Prep Rally is devoted to the SoCal high school sports experience, bringing you scores, stories and a behind-the-scenes look at what makes prep sports so popular.
You may occasionally receive promotional content from the Los Angeles Times.