Angels' season so far is a matter of perspective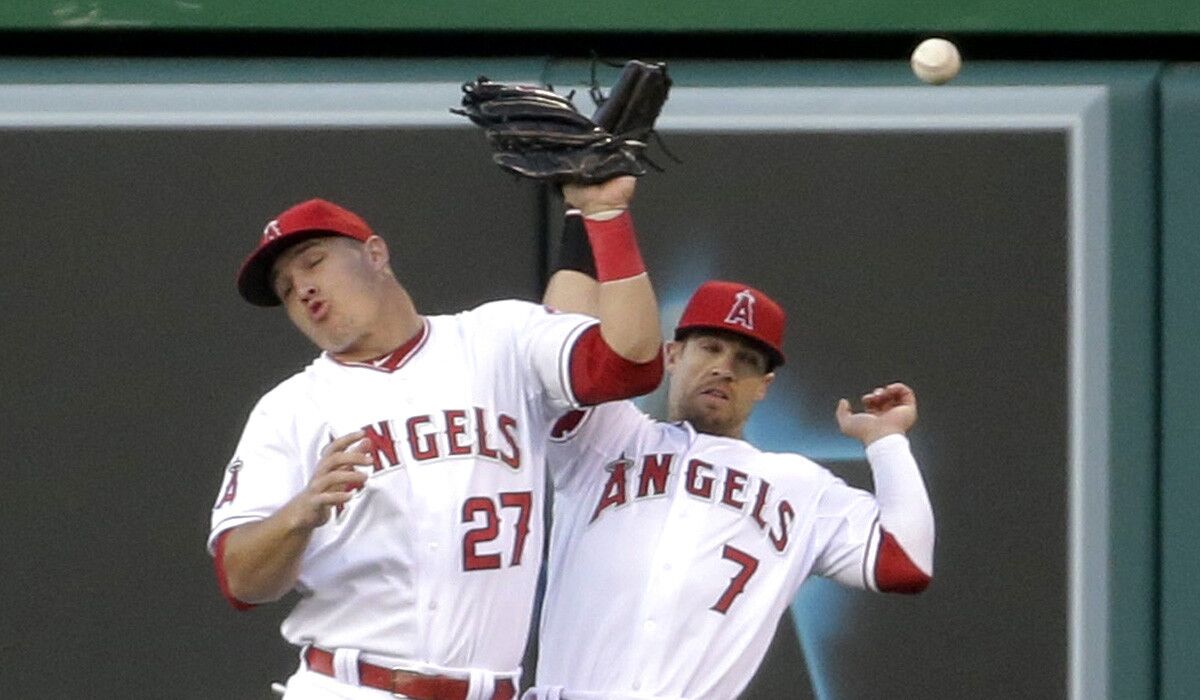 An ugly first inning that featured two Angels errors, one on a routine fly ball that dropped when Mike Trout and Collin Cowgill collided in right-center field, and two walks led to an unsightly 9-2 loss to the New York Yankees on Wednesday night.
The Angels fell to 16-17 and three games behind first-place Oakland in the American League West, and how you assess their season so far depends on your perspective.
The glass-half-empty view: The Angels are 2-8 in one-run games, six of their losses coming in the opponents' last at-bat, and they led at some point in 12 of 17 losses, the highest percentage of losses with blown leads in the majors.
Ernesto Frieri was so shaky in his first 10 games, yielding a 9.35 earned-run average and five home runs, that he lost his closer job April 25.
The bullpen has converted six of 10 save opportunities and allowed 23 of 52 inherited runners (44%) to score. If the relievers were more reliable, the Angels could easily be in first place.
The glass-half-full view: The Angels lost cleanup batter Josh Hamilton to a thumb injury April 8, leadoff batter Kole Calhoun to an ankle injury April 15, third baseman David Freese to a hand injury May 2, and they haven't been buried in the division.
Though No. 3 starter Hector Santiago fell to 0-6 with a 5.19 ERA with a rocky 21/3-inning start Wednesday night, the rotation has been a full run better this season (3.79 ERA) than it was through 33 games in 2013 (4.80).
The Angels may be treading water, but at least they're not drowning in a 91/2-game deficit like they were through 33 games last season, when they were 11-22 and had gaping holes in the rotation and bullpen.
"I think we're playing well under the circumstances," ace Jered Weaver said. "I think we can be better, though, for sure."
Catcher Chris Iannetta is more of an optimist.
"I know it's difficult from the fans' perspective when you're playing .500 ball, but we've had a decent start," he said. "We don't have to dig ourselves out of a big hole. We're right there."
A .500 record suggests mediocrity, but Iannetta thinks it's OK to spin your wheels for a while as long as you mix in an occasional burst of speed.
"I think the best teams are the ones that play .500 the whole season and then get hot," Iannetta said. "It doesn't necessarily have to be all at once. If you play .500 and win five games in a row, all of a sudden you're five games up.
"You play .500 for another month and win another five straight, you're 10 games over. By the end of season you could be 20 games over, but the majority of the time you're playing .500 ball. That's the sign of a good team to me."
Despite the injuries, the Angels ranked second in the major leagues in runs per game (5.2), third in runs (166) and fourth in home runs (40) before Wednesday.
Albert Pujols, Howie Kendrick, Trout and Erick Aybar have led the offensive, reserve Ian Stewart had some big hits in April, and C.J. Cron has eight hits and three runs batted in in his first five big league games.
"We're going out there and scrapping," Weaver said. "When we get those guys back who are on the shelf right now, it's going to make it that much better."
Calhoun and Hamilton traveled to Arizona on Wednesday night to resume their rehabilitations. Calhoun hopes to return by late next week. Hamilton, who will begin hitting off a tee Friday, could be back by May 26. Freese should return May 18.
And key late-inning reliever Dane De La Rosa may need only one more rehabilitation inning at triple A before he returns from shoulder and forearm injuries.
"Whether we have those guys in the lineup or not, we need to hold leads better," Manager Mike Scioscia said. "That needs to improve, and we feel it will."
Get our high school sports newsletter
Prep Rally is devoted to the SoCal high school sports experience, bringing you scores, stories and a behind-the-scenes look at what makes prep sports so popular.
You may occasionally receive promotional content from the Los Angeles Times.