Column: So, you're buying a racehorse — better get your friends to pony up too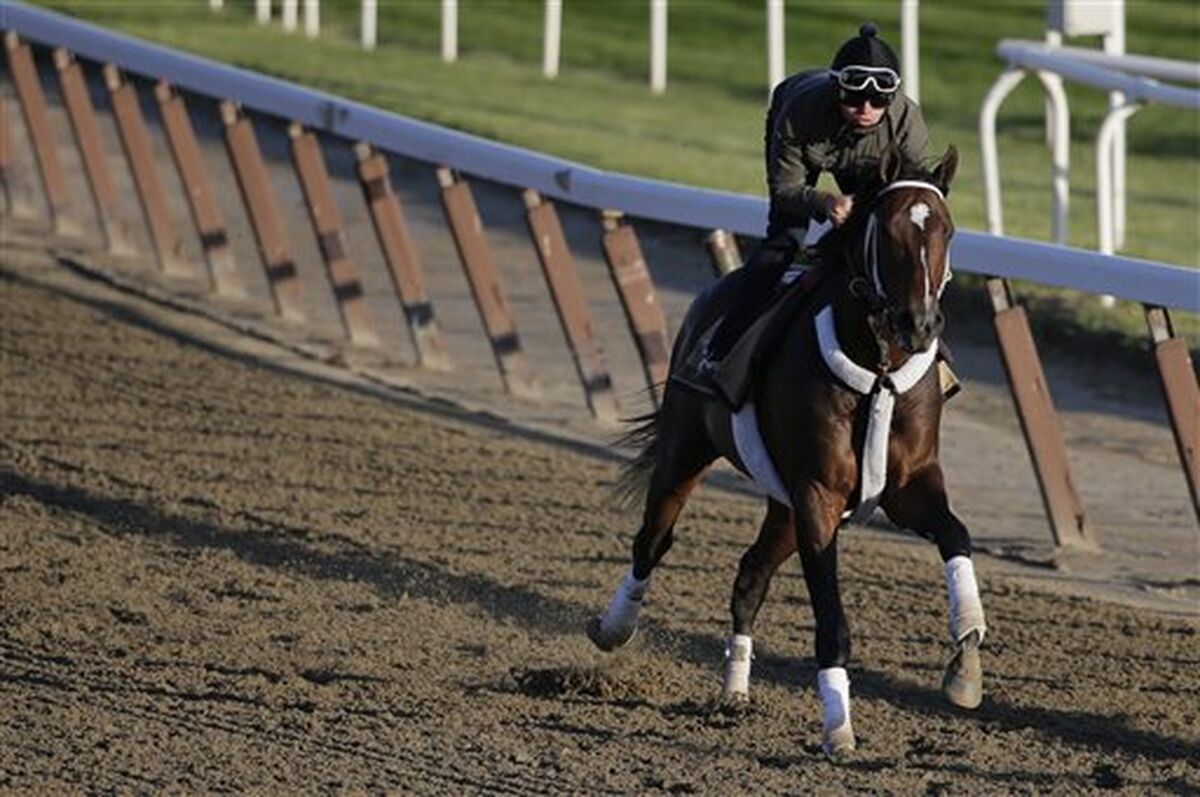 Favorite expense report ever (and quite possibly my last):
DESCRIPTION/PURPOSE: The next Secretariat.
EXPENSE TYPE: Taxi, bus, limo, train, etc.
AMOUNT SPENT: $3,000.
As I explained to my boss, that's not a bad price for a racehorse. Sure, out of sympathy, I'll probably end up buying some old gelding. No matter. I look forward to riding it through the front door of a local saloon, then offering pony rides to the slack-eyed millennials.
That's right, I'm buying a racehorse. You can acquire a shimmering chestnut for a few grand, or less than you'd pay for a cruddy used Civic. And you'll never win the Kentucky Derby in a Civic.
My shimmering chestnut won't, either? Probably not. But keep in mind that at the 2014 Derby, a 37-1 longshot named Commanding Curve, which cost investors $11,000 to buy in, finished second to California Chrome.
At a racetrack, miracles happen. A horse named Singletary, bought for $30,000 by civilian investors, ended up earning $1.7 million, including first place in the Breeders' Cup Mile.
Yet, you're not in this to clean up. You're in this risky business for the chance to be a pro owner. And to have a little legal fun (for a change).
"The rate of return is terrible," admits Terry Finley of West Point Thoroughbreds, a syndicate that hooks together horses and investors.
"I tell [buyers] that it's like going to Vegas," says Mark Verge, former chief executive of Santa Anita. "Be prepared to lose money."
Obviously, that's why I expensed the stupid thing (approval pending).
So, how do you buy a racehorse? I'm still figuring that out.
"My suggestion is to take a little piece of a horse with four or five — or 10 — friends, then the investment will be smaller," advises veteran trainer Doug O'Neill.
Acquiring the trainer is key, O'Neill explains. The trainer is your broker — and nursemaid — in this deal. He or she will take you through the nuances of the sport, including such things as why they might add wine to the feed, to settle your pony's tummy.
Or, as trainer Blake Kelly mentioned, the rare shot of vodka to settle its nerves.
To find the right fit, veteran horseman Nick Alexander suggests keeping an eye on trainer rankings in daily programs. Do a little homework, he says. Hang out at morning workouts, chat up the jockey agents. Look for a trainer with people skills, who's willing to guide newbies through the process.
(Sure, Bob Baffert has those skills. But you'd have a better shot at wooing Elizabeth Banks.)
You need a patient trainer willing to spend an afternoon with you watching claiming races (where the participating horses are all for sale). If you and your partners like a $20,000 horse, you might claim it. And for $4,000 each, you and your five-buddy partnership are off to the races.
And the cleaners. Because consider, too, these monthly expenses:
Trainer: $4,000.
Vet: $1,000.
Blacksmith: $200.
Without major health issues, the cost of keeping a racehorse comes to about $50,000 a year, most experts say.
When will you collect? You would see a check when your horse's winnings exceed his maintenance costs. Or, you'd collect if you later entered your $20,000 claiming horse in a $30,000 race, it gets claimed and you'd pocket a share of the $10,000 profit.
"Claiming horses get traded a lot," O'Neill says.
Another popular option for buying a horse is to take an equity stake with a syndicate, such as Little Red Feather Racing Club. LRF, as it is known, had the great run with Singletary, and also made investors $1.9 million for a filly called Egg Drop when she was sold to birth babies.
Syndicates are simple. Clients contract for a percentage of a horse — 10%, 25%, whatever you decide. The syndicate, meanwhile, lines up other partners and handles everything associated with training and care. Curious? Go to www.horseracingsyndicates.info.
"We present it as a lifestyle investment," says Finley, founder of West Point, a major syndicate that runs 65 horses across the nation. "The numbers, in a lot of ways, don't add up."
West Point is the company that helped guide Commanding Curve to that runner-up spot in the Kentucky Derby two years ago. That's lightning in a bottle, Finley admits. As with any athlete, performance depends on talent, heart and staying healthy.
"But when you get a horse that exhibits that will to win ... there's nothing that even comes close." he says.
"It's a very moving thing."
And, yes, you do get to stand in the winner's circle.
Follow Chris Erskine on Twitter @erskinetimes
---
Get our high school sports newsletter
Prep Rally is devoted to the SoCal high school sports experience, bringing you scores, stories and a behind-the-scenes look at what makes prep sports so popular.
You may occasionally receive promotional content from the Los Angeles Times.