Chargers' exit leaves an empty stadium full of memories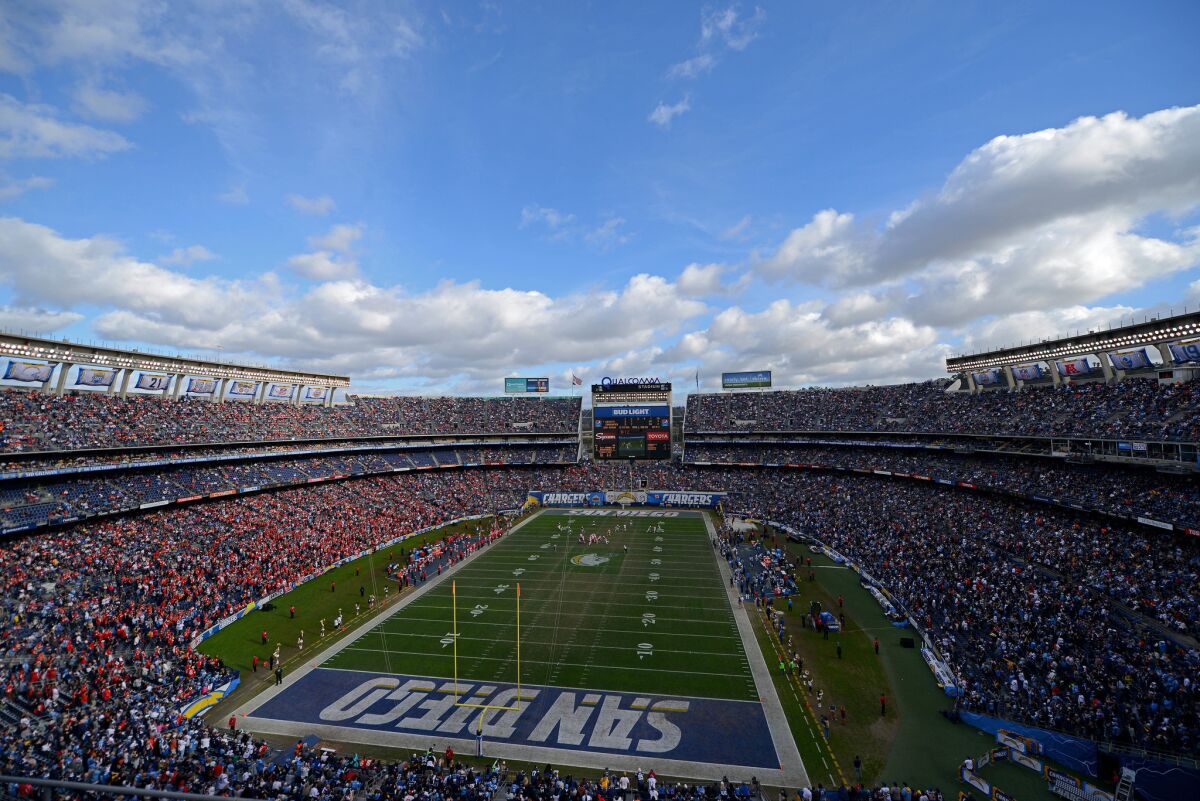 With the Chargers relocating from San Diego to Los Angeles, it's the end of an era for a stadium that, despite increased ridicule since it hosted its third Super Bowl in 2003, served as a second home to myself and thousands of others who've resided in "America's Finest City."
Those who weren't raised in the seats of Qualcomm Stadium have dismissed it as an unsightly, concrete, cookie-cutter, multi-purpose venue that — without enough suites — is outdated and out-used by NFL standards.
They're right, but let me tell you what a delight it was to wear the place out.
In 1967, the same year that San Diego Stadium opened for business, my parents brought me home from the hospital to our cul-de-sac home off Mission Village Drive, a road that feeds into the stadium.
My grandpa, a gas station owner, was one of the original Chargers' season-ticket holders, and he brought me along at age 7 to my first game against a team he told me we hated, the Oakland Raiders.
Wearing a new Chargers' No. 74 jersey to befit the year, I held my grandpa's hand up the escalator to our press-level seats.
There, on a typical cloudless San Diego afternoon, Ken Stabler, John Madden and Co. got the best of us, proving the Raiders were worth our disdain. That point was later underlined by Stabler's famed "Holy Roller" play in the stadium a few years later, and a touchdown pass from Jim Plunkett in the 1980 AFC Championship game that was deflected off a silver-and-black helmet.
By 1984, I left my high-school job early so I could race down Interstate 8 to watch the San Diego Padres' first home playoff game against the Chicago Cubs in the National League Championship Series.
The Pads had been so bad for so long that the game had the feel of a champagne cork being popped for fans, whose cheers I could hear at introductions while running up the stadium's signature concrete circular ramps to my seat alongside my brother and dad.
As I rushed through the concourse, I stopped at one aisle to see Padres shortstop Garry Templeton being introduced, waving his hat to the fans to further encourage the enthusiasm that helped the team not only win that game, but three straight to make the World Series.
After Kurt Bevacqua homered to win the team's only World Series victory, he blew a two-handed kiss toward our direction in seats by the third-base line.
By 1994, I could afford my own season tickets, and my dad, brother and I had seats behind the east end zone, where visiting fans would sometimes sneak in.
What a joy it was telling a mullet-wearing yahoo from Kansas City in front of me to hit the road after Stan Humphries and Junior Seau paced a win. It was in these seats that we saw Miami's Pete Stoyanovich miss a field goal wide right that allowed the Chargers to escape with a 22-21 playoff victory.
A week later, on the night of Jan. 15, 1995, we attended the euphoric celebration following the 17-13 AFC Championship win at Pittsburgh with about 75,000 squeezed into the stadium.
As the "San Diego Super Chargers" song blared, "Bring on the 49ers!" was posted on the big-screen message board.
Be careful what you wish for.
In 2004, when The Times had assigned me to hard-news reporting and my children were 10 and 4, we started making treks back to the stadium with a new season-ticket experience that lasted six seasons.
The loss of community bonding not only during games but in tailgating is one hell of a punch to San Diego's gut.
I recall one game in 2007 when then-Gov. Arnold Schwarzenegger appeared at midfield in a Chargers jacket to thank firefighters and volunteers who helped during a massive wildfire that left many homeless, ending the speech with a memorable, "Go, Chargers, Go!" shout.
During the national anthem, my family and I peered a section over and saw a grown man — certainly affected by the damage — with his face saturated in tears until he was comforted by a neighbor seated a row below him.
And there was some remarkable football during that time.
LaDainian Tomlinson entrenched himself as the best Charger of all, an inspiration who set the NFL season touchdown record and should've been used more by Coach Marty Schottenheimer in that especially painful 2006 playoff loss to Tom Brady and the Patriots.
If any of about seven things had happened in the Chargers' favor that game — like Marlon McCree not fumbling an interception return or receiver Vincent Jackson getting both feet inbounds in the end zone — I'm convinced that would have been the year.
Instead, owner Dean Spanos allowed Schottenheimer to be fired after a 14-2 season and erratic focus under Norv Turner defused a talented roster that has been further diminished by injuries in recent seasons.
The uncertainty over relocation allowed the shameful scene of Raiders' fans taking over the stadium last month to clinch a playoff spot.
Of course, if you're a San Diegan, the sadder sight will be the empty stadium on NFL Sundays.