DiVincenzo leads Villanova to second national championship in three years
After the second NBA-range three-pointer fell through the net in less than a minute, Donte DiVincenzo bounded back on defense with pep in his step but no emotion on his face.
The reserve guard finally marinated in the moment when a timeout was called, and he earned not one but two chest bumps from teammates. He thrust an arm into the air, pointing toward the vast Villanova cheering section behind the team bench.
"Di-Vin-Cen-zo!" the Wildcats fans roared inside the Alamodome. "Di-Vin-Cen-zo!"
They can say that again. The Big East Conference's sixth man of the year was the primary factor in the top-seeded Wildcats' 79-62 conquest of third-seeded Michigan on Monday night in the NCAA tournament's championship game.
DiVincenzo scored 18 of his career-high 31 points in the first half, providing the spark the Wildcats (36-4) needed to persevere through a slow start in which they were frazzled by the Wolverines' active defense.
DiVincenzo also provided some memorable defense in the second half when he blocked Michigan's Charles Matthews on a driving dunk attempt. Then came the two three-pointers in a span of 52 seconds that gave the Wildcats an 18-point lead with eight minutes left and essentially sealed their second national title in three years.
There would be no need for a buzzer-beating three-pointer to match the one that Kris Jenkins made against North Carolina in 2016.
Villanova was so good in so many facets that it easily shrugged a subpar shooting performance in which it made 10 of 27 three-pointers. That total added to the Wildcats' records for three-pointers in an NCAA tournament (76) and a season (464).
Michigan's Moritz Wagner scored 11 early points before being overcome by a torrent of emotion that earned him a technical foul early in the second half. Wagner had just been called for an offensive foul when he went chest to chest with Villanova's Omari Spellman, who was also assessed a technical foul.
By then the Wolverines (33-8) were down by 15 points and could only try to pretty things up. They failed at that too.
Wagner finished with 16 points and Muhammad-Ali Abdur-Rahkman added 23 for the Wolverines, who made only three of 23 three-pointers on the way to their second loss in a national championship game under coach John Beilein.
In the minutes before tipoff, a fan stood several rows behind the Michigan bench and held up a yellow-and-blue sign acknowledging the magnitude of the challenge.
"Shock the World," the sign read.
Even those rooting for the Wolverines seemed to realize they were likely to be outclassed.
Villanova featured the nation's best offense and an ability to lull opponents into thinking they were every bit the Wildcats' equal before quickly discovering otherwise during a flurry of Villanova points.
The Wolverines were buried under a hailstorm of three-pointers and dynamic playmaking that included DiVincenzo making 10 of 15 shots and forward Mikal Bridges adding 19 points while making seven of 12 shots.
The Wildcats take and make so many three-pointers that their games can feel like a two-hour shootaround. The only difference is that there's another team trying and often failing to stop them.
Michigan's defense actually did what it wanted for much of the first half. The Wolverines limited Villanova's three-point attempts and closely contested the ones the Wildcats did take.
Villanova missed its first four three-pointers and nine of its first 10 before DiVincenzo scored on a variety of moves, including a pullup jumper following a head fake, a dunk, two driving layups in which he was fouled, and yes, three three-pointers.
DiVincenzo seemed most pleased by an assist he logged after whipping a pass underneath the basket to Spellman, who went up for a dunk. DiVincenzo wildly pumped his fist in excitement after what had once been a seven-point deficit for his team had become a six-point lead thanks in large part to the reserve guard's 18 first-half points.
Villanova's advantage would grow to a 37-28 halftime margin after point guard Jalen Brunson, who struggled for much of the game's early going, made his first three-pointer after two misses.
Michigan closed the first half in full retreat after some heady early moments. Matthews came over to block a Brunson layup after Brunson had used his cross-over dribble to get past another defender. Matthews later leaped to steal a pass, the Wolverines' active defense flummoxing a Wildcats offense that has led the nation in scoring this season.
Wagner was another early sensation. He scored 11 points over the game's first nine minutes, including a layup after a hard cut that gave the Wolverines a 21-14 lead.
But Wagner appeared to wear down quickly after he plunged his 6-foot-11 body to the court and furiously fought for a loose ball amid a scrum of bodies. He rose and enthusiastically clapped after the Wolverines retained possession on a jump ball but airballed a corner three-pointer and later airballed a fadeaway jumper.
The experience would only become more deflating for Wagner and the Wolverines in the hour to come.
Donte DiVincenzo leads Villanova to first half lead over Michigan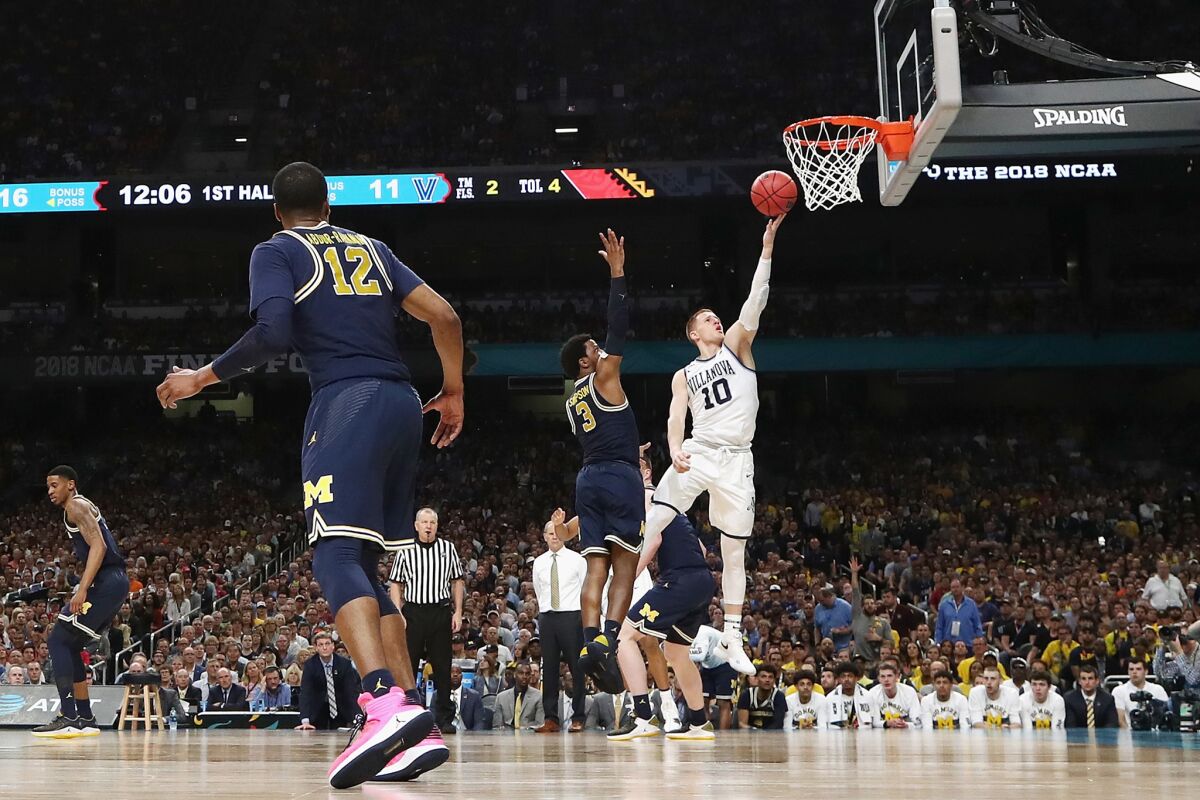 The Villanova Wildcats closed the first half with a 23-7 run to open up a 37-28 lead against the Michigan Wolverines in the NCAA Basketball National Championship game.
The Wolverines used the hot hand of Mo Wagner to sprint out to an early lead, but the top-seeded Wildcats got 18 points from Big East Conference's sixth man of the year Donte DiVincenzo to inch closer to the title.
DiVicenzo made seven of his 10 shots, including three of four from the three-point line to lead all scores.
Villanova shot 45.2% (14-31) in the first half and dominated the Wolverines on the boards with a 20-14 advantage.
Michigan was led by Mo Wagner with 11 points and 10 from MuhammadAli Abdur-Rahkman.
Michigan takes early lead with Wagner's hot shooting
The Wolverines started off with some hot shooting that staked them to an early lead. They continue to attack the basketball and at the 12:00-minute TV timeout they hold a four point lead 18-14.
Both offenses have been red hot with Michigan shooting at 63.6% (7-11) while the Wildcats are at 50% (6-12).
Mo Wagner leads all scorers with nine points.
Michigan's commitment to defense gets biggest test against Villanova in NCAA championship game
Villanova's offense is like a riddle without an answer. Each of the Wildcats' rotation players can shoot, pass and dribble with precision. They space the floor and have made more three-pointers than any major college team in history.
Michigan's counter to the nation's most efficient offense starts with someone who won't put a hand in anyone's face or rotate to contest a jumper during the NCAA tournament national championship game Monday night at the Alamodome.
He is a former high school history teacher who has helped put the Wolverines on the brink of what would be their first national title under coach John Beilein after reviving their commitment to defense since his arrival in Ann Arbor last summer.
Villanova is the favorite thanks to three-point shooting
The first net cut down Monday night will be the one closest to the Michigan bench inside the Alamodome.
It's just a bit of protocol predetermined by NCAA officials, but Wolverines fans can hope it's a good omen for their upset bid in the national championship game.
Villanova is a 6½-point favorite widely expected to win a second NCAA tournament title in three years without the need for a buzzer-beating three-pointer to match the one that Kris Jenkins made against North Carolina in 2016.
The Wildcats take and make so many three-pointers that their games can feel ilke a two-hour shootaround. The only difference is that there's another team trying and often failing to stop them.
Villanova has set new records for three-pointers in a Final Four game (18), an NCAA tournament (66) and a season by an NCAA Division I team (454).
But Michigan has the better defense and the longer winning streak in his favor; the Wolverines have won 14 consecutive games, last losing to Northwestern on Feb. 6.
No matter what happens Monday, the last team to beat Michigan this season will be the Wildcats.