They built it for a movie, and people keep coming to Field of Dreams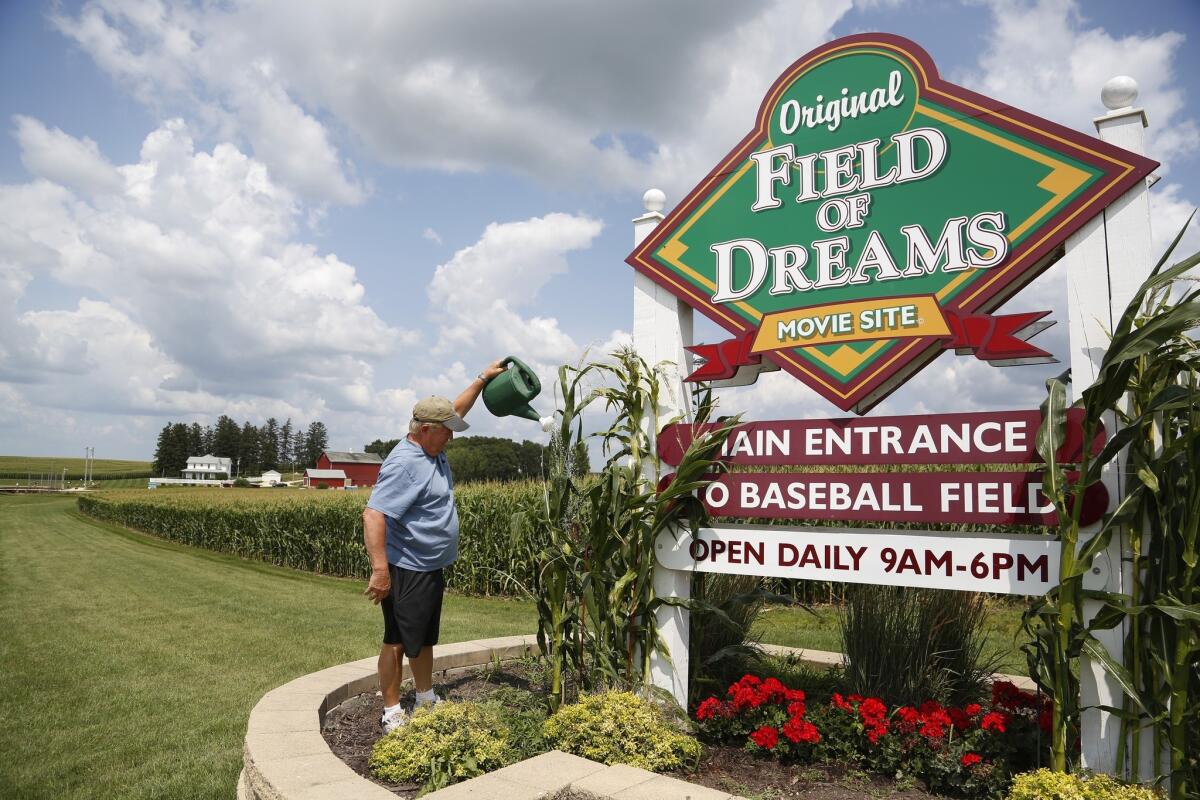 Reporting from DYERSVILLE, Iowa —
Heaven has no gates, only a small wooden sign draped by a cluster of corn on the side of a narrow and winding farm road.
Heaven is easily attained, just make a left turn at the sign and rumble over a stretch of gravel to a simple clearing below a white farmhouse, no turnstiles, no tickets, no programs, no ushers, no charge.
Heaven isn't soft white, but deep green, and dark brown, the shades of a baseball field cut into the middle of a cornfield, a simple backstop, two small wooden sets of bleachers, shimmering white bases, a green cushion infield, all encased in rows of giant corn stalks that line the outfield and stretch endlessly beyond.
On this steamy weekday afternoon in July, heaven is occupied by a Wyoming cattle rancher sitting on a simple wooden bench behind the first-base line, softly crying.
For the last half hour, he and his young, club-footed son have been doing what everyone does here. It is why they travel here, showing up from bright dawn to foggy dusk, from humid summer to snow-piled winter, fathers and mothers and daughters and sons and every possible permutation under that wide and wonderful umbrella that has been known as family.
They have been playing catch.
"To connect with my son in this place like this, there are no words for it,'' said Frank Maestri, the rancher. "It's hard to explain, but it's like we're supposed to be here, we're supposed to share this."
Twenty-five years ago, a $15-million movie called "Field of Dreams" chronicled this longing in a sweetly redemptive tale of family, forgiveness and baseball. The film, adapted from the novel "Shoeless Joe" by W.P. Kinsella, didn't win any Academy Awards. The American Film Institute didn't even consider it a sports movie. But in telling the tale of an Iowa farmer who follows instructions from a disembodied voice to build a backyard baseball field to attract the ghosts of former players — including his father — "Field of Dreams" created one of the most enduring of American sports monuments.
Twenty-five years later, the actual Field of Dreams is still there, accessible to a public that has turned it into a shrine, addressing the question originally posed by the ghost of Shoeless Joe Jackson to farmer Ray Kinsella.
"Hey, is this heaven?" Shoeless Joe asked after stepping out of the corn and finding himself on the pristine diamond.
"No, it's Iowa," Kinsella replied.
Twenty-five years later, it's clearly both.
::
It is arguably the most famous baseball field in the world, yet there has never been a professional game played there, perhaps because there are no dugouts, no clubhouses, no concession stands, and only two port-a-potties.
It is surely one of the most utilized fields in existence, yet the grass is still green, the dirt is smooth, and there is no blowing trash or scribbled graffiti despite the lack of any security guards or full-time grounds crew.
It is certainly one of the top tourist spots in the sports world, yet in the 4,000-person burg of Dyersville there are only two battered blue signs offering directions, as if celebrating the fact that for 25 years, everyone has just figured out how to find it.
"It's become a lot more than a baseball field," said Kevin Costner, who played the farmer Kinsella. "It's a mecca."
Where the movie ended — with Costner's character "having a catch" with the ghost of his estranged father — is where the story of the real Field of Dreams begins. Several months after the film's premiere in May 1989, after Costner had helped convince the field's two owners to temporarily keep it intact, families started finding their way to the unmarked farm to play catch with their loved ones.
"One day a guy shows up from New York, on his way to California, I had no idea how he found us, he said he had to play catch here," said Don Lansing, the co-owner whose white farmhouse starred in the film and is still there. "I thought to myself, maybe we have something special."
It was the beginning of something that was, well, straight out of the movies.
The film's signature piece of dialogue — "If you build it, he will come," the voice intoned to Kinsella — became not just a famous line, but an accurate prediction.
The booming words of James Earl Jones' Terence Mann character — "People will come, Ray. They will come to Iowa for reasons they can't even fathom. They'll turn up at your driveway not knowing for sure why they're doing it. They'll arrive at your door as innocent as children, longing for the past" — became a reality.
In a tradition that has stretched through 25 years like the line of car headlights snaking through the cornfields at the end of the movie, people have come, as many as 70,000 annually, although keeping an official count is difficult because there are no tickets and the field is essentially accessible at all hours.
They come to play a first catch with a toddler, or a final catch with a dying relative. They hold family reunions with giant games of catch. They hold impromptu weddings after quick games of catch. They have even discreetly spread loved ones' ashes when they have finished playing catch.
"It was a timeless movie about family and baseball and how the sport ties one generation to the next," said Michelle Saudem, a mom from Detroit who has come to play catch with sons Ari and Lev Ershler. "This place brings that to life."
They also come to hit, if they can find somebody to pitch. A man recently stepped off a tourist bus, grabbed a bat and was soon whacking liners down the third-base line, which was even more impressive considering he was a 79-year-old retired cop from Baltimore who had not picked up a piece of lumber in 30 years.
"You can really sort of feel the magic here," Vernon Schoff said.
They don't come just for the catch, they come for the corn, disappearing into the stalks that, late in the summer, tower ominously above their heads. The movie implied that the corn was heaven, and so families will take several steps deep into the stalks to marvel and perhaps even pray before nervously turning around and stepping out into the outfield like the ghosts in the movies.
Old T-shirts and faded medallions and scuffed baseballs have been found in the dirt at the base of the stalks as if left there as mementos. On the other side of the field is a giant red barn that houses other items of clothing and jewelry that seemingly have been purposely left behind. It is a unique "Lost and Found" in that few things there have really been lost, and the only thing found has been peace.
"There are as many reasons people come to the field as people who come to the field," said Denise Stillman, a partner in the real estate investment company "Go The Distance Baseball"' that purchased the 193-acre farm nearly two years ago for $3.4 million. "It's a place of healing, a place of acceptance."
Healing was required of the actual farm, as the two families who shared ownership of the actual field — the Lansings and the Ameskamps — spent years fueding over its commercialization. The occasional organized event or publicized charity show would have to take place in left and center field, which was owned by the Ameskamps, while the Lansings' infield remained only for games of catch.
"The movie was small, simple, serene, and that's how we wanted to keep the field," said Don Lansing, who eventually bought out the Ameskamps before selling to Stillman's group.
Stillman's company, which is raising funds to build youth league fields deep in the corn far beyond the Field of Dreams, has delightfully kept the field's innocence while restoring a few magical touches. For the first time in several years, a team full of aging former amateur players and local towns folk has been convening every other Sunday afternoon, dressing up in throwback baseball uniforms and walking out of the corn. They are called the ghost players, and serve as the field's unofficial curators and historians.
"After all these years it's still amazing, you walk out of the corn and you can hear a pin drop, we still get goose bumps," said Frank Dardis, a 60-year-old ghost player who also appeared in the movie. "You hear people crying. You see people turn to each other. This is one place where families aren't afraid to say 'I love you.'"
Before one game, an elderly man gave Dardis a weathered first baseman's mitt to use during an exhibition. Afterward, when Dardis tried to return it, the man refused to take it back.
"He told me he wouldn't be using it again, and he thought it would be happier here," Dardis said.
Then there was the terminally ill man who spent Father's Day weekend playing catch with his sons and watching the movie on a inflatable screen in center field that is used for special occasions.
Afterward in the guest register, the father wrote, "I can die now." Below that note, his son wrote, "'My father can die now."
Said Stillman, "It is humbling to think that, for some, we are considered almost holy ground."
This is why her company refuses to charge admission, settling for two donation boxes, as it doesn't want to deny anyone a chance to visit. This is also why some other parts of the operation stay in the former owner's family. Although there is a full-time worker who mows the grass, the ghost players and sometimes even Lansing himself will rake and clean. The one allowance for tourists, a gift shop, is run by Lansing's sister Betty Boeckenstedt. Stillman even promotes the movie family, as one of the top bleachers contains the spot where Costner's character impulsively carved a love note — "Ray Loves Annie" — to his character's wife played by Amy Madigan.
"This movie, this field, is all about the power of healing, of reaching across," Costner said. "It's our generation's 'It's A Wonderful Life.'"
This is especially true in the case of one of the ghost players, Ron "Hank" Lucas, a 65-year-old upholsterer from the nearby tiny town of Holy Cross. In 1967, Lucas signed with the Dodgers out of high school and pitched one summer for Tommy Lasorda on the organization's rookie league team in Ogden, Utah. In 13 games, Lucas was 2-0 with a 6.43 earned-run average. That winter, while driving to his job at a meat packing company, he fell asleep and was involved in an accident that damaged his face and ended his Dodgers career.
Today, he relives those moments as a pitcher coming out of the corn. Life imitates art. The Field of Dreams is literally his field of dreams.
"My career was finished before I ever got a chance," Lucas said. "This field gave me another one."
Sweating through his thick throwback uniform, Lucas smiles and turns from a picnic bench to the field, where the cries of kids and parents and baseballs slapping leather mix together in a cacophony of joy. There is a loud rustling as two little girls come giggling out of the corn. Gravel crunches as another minivan ambles up the driveway.
"They came, all right," Lucas said. "They sure did."
Twitter: @billplaschke
Get our high school sports newsletter
Prep Rally is devoted to the SoCal high school sports experience, bringing you scores, stories and a behind-the-scenes look at what makes prep sports so popular.
You may occasionally receive promotional content from the Los Angeles Times.