Tomas Hilliard-Arce might finally get to play soccer at Stanford Stadium when Galaxy takes on Earthquakes
All Tomas Hilliard-Arce could do was watch.
He had already led Stanford's soccer team to two national championships, and he was preparing to lead it to a third, but he'd never played at Stanford Stadium. That honor was reserved for Cardinal football and select other events, like the 1984 Summer Olympics or the 1994 World Cup.
One such event is the "California Clasico," a matchup between the Galaxy and San Jose Earthquakes. The teams play each other twice every regular season, and when it's San Jose's turn to host, the Earthquakes travel half an hour to play the Galaxy at Stanford Stadium.
Hilliard-Arce, the second overall pick in this year's MLS SuperDraft, watched last year's game in person. This year, after the Galaxy drafted him, he'll be able to take part when L.A. (6-7-2) takes on San Jose (2-9-5) at 7 p.m. Saturday.
"I was just in awe of the crowd attendance, the passion in the stadium and just the quality of both teams," Hilliard-Arce said of last year's match. "It's an awesome feeling getting to participate in the game this year."
Last year's Stanford Stadium matchup, a 2-1 San Jose win, drew 50,617 fans. When the Galaxy hosted San Jose at the StubHub Center just over a month ago, the game drew 23,118. L.A. coach Sigi Schmid remembers how difficult the San Jose crowd can be. He's expecting the atmosphere to be intense for what he called San Jose's "monster game" of the year.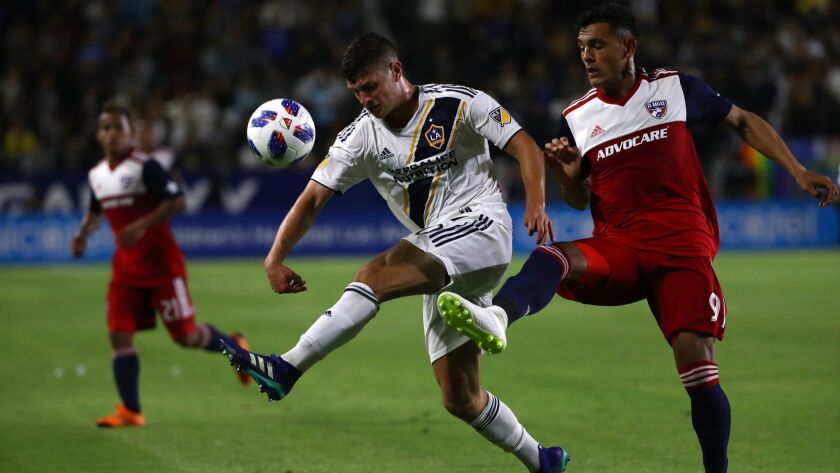 Hilliard-Arce, meanwhile, was on the field at Stanford Stadium recently, but not for soccer. He graduated with a degree in science, technology and society on June 17 — an off day for L.A. — and attended the ceremony.
He left school about seven months ago after winning his third national title to prepare for the draft, which was held Jan. 19. He remembers realizing that schools were announced before names, so as soon as he heard "Stanford" he knew he was headed to the Galaxy at No. 2 overall.
"That's when I think I blacked out," he said, "and the rest is history."
Hilliard-Arce has played in only three games for the Galaxy, but Schmid isn't worried about his young defender.
"His ability in the air is strong, and I think his combination play and his passing out of the back has improved," Schmid said. "He's a guy who's knocking on the door for sure."
Where he fits into L.A.'s plans against the Earthquakes is unclear. Hilliard-Arce didn't say whether he's starting or coming off the bench. Even with the tears shed at graduation and his history with Stanford, he knows this: Come Saturday, his focus will be on winning rather than sentimentality now that he can do more than watch.
"I think we have a good idea of who's gonna be out there, and the guys who aren't starting are always prepared to come on," he said, "so I'll leave San Jose guessing what we're gonna do."
---
Get the latest on L.A.'s teams in the daily Sports Report newsletter.
You may occasionally receive promotional content from the Los Angeles Times.