Giants' Travis Ishikawa hopes Mike Trout magic comes with new cleats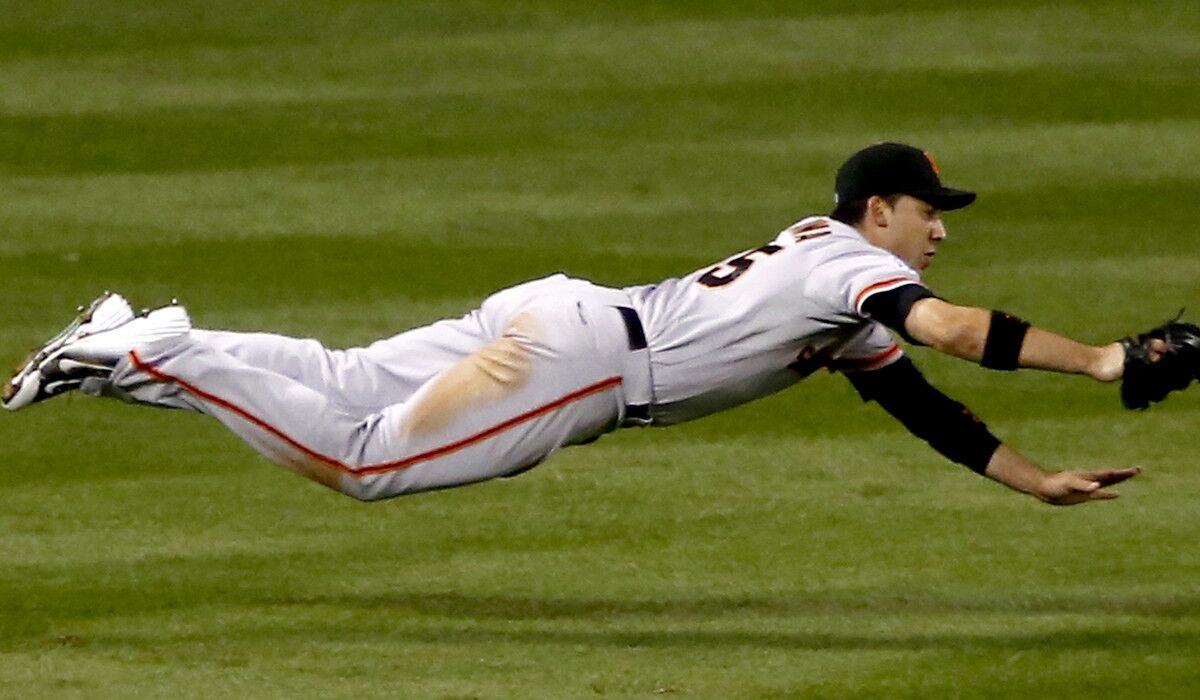 Reporting from St. Louis —
Mike Trout did not make it to the championship series, but his cleats did.
Travis Ishikawa is the accidental left fielder for the San Francisco Giants. He made a spectacular diving catch in Game 1 of the National League Championship Series on Saturday, and Giants pitcher Madison Bumgarner explained just how Ishikawa did it.
"He had the Mike Trout cleats," Bumgarner said, "so he decided he was going to play like Mike Trout out there."
True story. As Ishikawa dressed for Thursday's workout, he noticed a box in his locker. Nike had provided him with a pair of the new Nike Lunar Vapor Trout cleats, an explosion of color, designed and named for the Angels' outfielder.
Ishikawa showed the cleats to Bumgarner.
"I said, 'Am I cool enough to pull these off?' " Ishikawa said. "And he said, without hesitation, 'No.' "
Ishikawa said he solicited "some second and third opinions" from teammates.
"Those guys were a little less straightforward," he said. "They had a little hesitation before they answered yes, [so] I knew they were lying."
Ishikawa, 31, made his major league debut with the Giants in 2006. He was their first baseman in 2009 and a bench player on the 2010 World Series champions, then bounced through five other organizations before the Giants brought him back on a minor league contract in April.
He never had started at a position besides first base until the last week of the regular season. With outfielders Michael Morse and Angel Pagan injured, the Giants had a vacancy and started Ishikawa in left field three times.
So far, so good. He has started six of the Giants' first seven postseason games in left field.
Ishikawa said he felt comfortable with the lightweight Trout cleats, which Nike touts as "designed for the directional speed needed to steal more bases, get to more balls in the outfield, and get out of the batters box quickly."
Ishikawa has not stolen a base in five years. He knows he cannot be like Mike, no matter how cool those Trout cleats might be.
"I am nowhere near Mike Trout's caliber," Ishikawa said, "defensively, offensively, or anything like that."
There's no thought of bypassing Adam Wainwright
Adam Wainwright, hammered Saturday for a second consecutive start and hampered by a sore elbow, remains the St. Louis Cardinals' scheduled starter for Game 5 of the NLCS.
"This is our ace," Manager Mike Matheny said Sunday. "We're not here if we don't have him. When he feels right, and sometimes it goes from start to start, we want him on the mound as much as anybody in the game."
Wainwright has failed to survive the fifth inning in either of his postseason starts. He has pitched a total of nine innings, giving up nine runs and 17 hits, with diminished velocity and diminished reliance on his fastball.
On Sunday, Wainwright told Matheny his arm felt better than it had after a start in some time.
"We're beyond the 'just tell me what I want to hear' kind of garbage,' " Matheny said. "This was sincere."
Cardinals keep reaching NLCS
The Cardinals are in the NLCS for the fourth consecutive year, and for the ninth time in 15 years.
"They just believe it is their birthright to go to the World Series and win it," said catcher A.J. Pierzynski, a 17-year veteran who joined the Cardinals in July.
"And it is kind of funny. I tell these guys all the time they are spoiled. I don't think people realize how hard it is to go to the postseason for baseball. And for the Cardinals to do it every year and go to the NLCS or the World Series every year is pretty amazing."
---
Get our high school sports newsletter
Prep Rally is devoted to the SoCal high school sports experience, bringing you scores, stories and a behind-the-scenes look at what makes prep sports so popular.
You may occasionally receive promotional content from the Los Angeles Times.