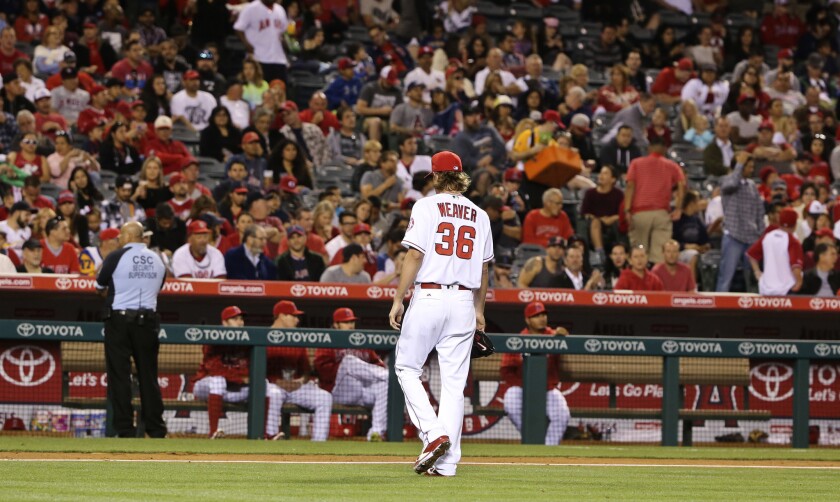 The Dodgers are down to "Kershaw complete game, then pray for rain."
David Gold
Ventura
::
Fire Mike Scioscia? Here are the reasons why that is crazy: Nava, Gentry, Perez, Soto, Ortega, Cron, Giovetella, Pennington, Shoemaker, Wilson, Salas. Not exactly Murderer's Row.
Rick Van Kirk
Irvine
::
How about including a scoring capsule alongside the box scores for the Angels and Dodgers? The way the local boys are playing, that won't take up much room.
Allen J. Schanhaar
Redondo Beach
::
I now believe the lack of Dodgers games on TV in the Southland is part of a master plan developed by the geek squad known as the Dodger front office. If nobody can watch this tire fire of a team, nobody will notice that "depth" for this front office means mediocrity 2-25 (No. 1 being Clayton Kershaw), and that the words "talent" and "bullpen" are mutually exclusive (especially when Chris Hatcher holds the cowhide).
Andrew Friedman and company should be embarrassed that it took about 25 ex-GMs to create this fiasco. Admission, parking and concession costs are the only things trending upward and we're at 28 years and counting.
Shawn Donaldson
Los Alamitos
::
Trayce Thompson hits home runs on consecutive nights but he's not good enough to start Wednesday night. This is one of the Dodgers' problems: inconsistent lineups, little continuity, and apparently not much consideration for who is hot. Another example of metrics and analytics running this club. Why have humans at all? Let's load a bunch of algorithms in the computer and have a robot deliver the lineup card.
Steve Owen
San Diego
::
I doubt Dodgers management will notice, or care, but it's now late enough in the season to call their off-season plan — which seems to have involved stocking up on minor leaguers and executives; hoping that Scott Kazmir could make us forget Zack Greinke; wishing really, really hard that Yasiel Puig and Joc Pederson would hit again; and counting on last year's awful bullpen to miraculously be any good this year — is a disaster.
I'll miss Kershaw, but his only hope is to demand a trade to a team that wants to win. The good news is, we should be able to get a hundred minor leaguers for him, or five executives, or even a couple of pitchers coming off of Tommy John surgery. I'm betting Garrett Richards has already gotten a call.
Donald Todd
La Cañada
::
Hey, Andrew Friedman and friends: I've been checking my sabermetrics (the box scores) every morning and have unearthed the following: The Dodgers, as you have so meticulously constructed them, stink. The starting lineup is struggling just to be ordinary. They have no power and can't score. The "depth" you keep babbling about consists of four or five guys not quite as good as the other guys. Our starting pitching goes two deep. You remember the old saying: "Kershaw, Maeda and three days of 4 2/3 innings." Was that supposed to rhyme? Oh, yeah, the bullpen is a train wreck. Nice work. Remind me: What year are you aiming for to complete our dynasty?
Phil Cott
Los Angeles
::
I grew up with the Dodgers and baseball in Brooklyn in the late 1940s. I can't remember a year when mediocrity was as pervasive as it is this season. Owners know that fans want to see home runs (or long passes or three-point shots), and that's what they serve up. The dearth of legitimate major league pitchers is due to a system that lacks the disposition to train young pitchers and a strike zone that burns young pitchers out.
The fans want home runs. The owners are going to give them home runs. That is the legacy of Babe Ruth.
Robert Greene
Redlands
::
I find it hard to believe that first-year Manager Dave Roberts is coming up with the ever-changing lineups we see every night. When players don't get regular at-bats, the result is an inconsistent-hitting team. Is it any wonder Don Mattingly chose to go elsewhere?
Vincent Martinez
Arcadia
::
Given the performance of the Dodgers bullpen, I'd like to suggest the Dodger Stadium groundskeepers also consider raking the warning track between innings.
Ron Yukelson
San Luis Obispo
::
The Dodgers minus Kershaw = the Lakers. Sad but true.
Jack N. Soll
Los Angeles
::
Must admit I did a little fist pump over Bill Plaschke's reporting plenty of empty seats at Dodger Stadium this week. Reminded me of the old "which came first?" routine: Are the fans staying away because the team is blah or is the team blah because thousands of blacked-out fans just don't care anymore? Maybe all those empty seats will force Dodgers management to get back in there and resolve their blackout fiasco.
Barbara Pronin
Placentia
::
Anyone who is waiting for the mayor of Los Angles to step in a broker a peace treaty on the Dodgers' broadcast situation better read up on the history of the Korean War.
Ken Keller
Valencia
::
The Angels cannot and will not trade Mike Trout. In fact, the only organization that would even contemplate such a disastrous move, would be the Dodgers and Andrew Friedman. The other 29 teams would know better!
Fred Wallin
Westlake Village
::
So the Angels are thinking about trading Mike Trout. That would be like Disneyland dropping Space Mountain and getting another merry-go-round.
Craig London
Encino
::
Yes, the Angels are riddled with injuries. But before blown-out elbows and injured thumbs, there were bad deals. Which has led to no offense. The Albert Pujols-Josh Hamilton signings really hurt.
Jim Fredrick
Manhattan Beach
::
I predict the Angels will be one of baseball's most improved teams … next year.
Ron Reeve
Glendora
King me
So Dean Lombardi had a premonition last season that things might not be going as well for the Kings as he would have hoped [May 7]? Of course not. Things don't stay the same even if you do because all the other teams in the league who didn't win the Cup the years the Kings did were retooling and trying to get better. It's hard to keep getting better when you're trying to stay the same, Dean, that's just a fact of life.
And now he's saying that failure is the best teacher? Why didn't he learn those lessons seven years ago or even when he was working for San Jose? Bob Dylan once penned a line that might be apropos here — "there's no success like failure and failure's no success at all."
Cal Teraoka
Costa Mesa
On the bench
I assume reader Bernie Donner never heard of NBA championship-winning coaches Gregg Popovich, Erik Spoelstra, Rick Carlisle or Chuck Daly when he asked last Saturday, "How can you hire a less-than-mediocre player" as Lakers coach?
Go Luuuuuke, go.
Ken Feldman
Los Angeles
::
Instead of a gold watch, the Lakers should give Byron Scott a gold pacifier for his service. He was hired to babysit a bunch of toddlers that need to grow up and an adolescent who never once listened to what the grown-ups said. No coach could have made that mess any better. Scott handled the two-year mess with dignity and class while being hamstrung by management and the roster. Best of luck to him in what ever he does next. He's earned it.
Jeff Heister
Chatsworth
He's a believer
Does anyone else out there think the Bryce Harper looks like Justin Bieber with a beard? That might explain a lot.
Jim Hebda
Playa del Rey
::
The Los Angeles Times welcomes expressions of all views. Letters should be brief and become the property of The Times. They may be edited and republished in any format. Each must include a valid mailing address and telephone number. Pseudonyms will not be used.
Mail: Sports Viewpoint
Los Angeles Times
202 W. 1st St.
Los Angeles, CA 90012
Fax: (213) 237-4322
Email:
---