Letters: Proposed Lakers-Pelicans deal is raising a few brows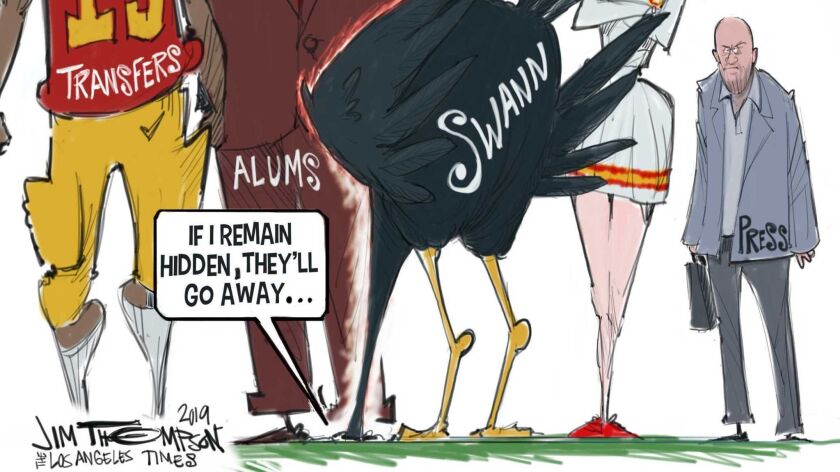 Anthony Davis to the Lakers is trade speculation on steroids. My favorite one is the Pelicans want Kuzma, Ball, Ingram, Zubac and draft picks. Really? You think? Why not include Josh Hart and the Magic Johnson statue while you're at it? Another one has Ball wanting a third team to get involved so he can play in Chicago or New York. Throw in a private plane and you're on!
Geno Apicella
Placentia
::
Magic and Rob Pelinka are really going to trade the last several years of draft picks to New Orleans? So theoretically, the Pelicans could field a starting lineup of all former Lakers draft picks?
C Zubac
PF Randle
SF Kuzma
SG Ingram
PG Ball
As we have grown attached to this group of young talented players, I will enjoy watching the "Lakers of the Big Easy" next year and will revel in their joy of beating the team that gave up on them.
Randy Brooks
Long Beach
::
The only person who thinks there was no collusion if the Lakers get Anthony Davis is Donald Trump.
Gary H. Miller
Encino
::
So here we are again with talk of a Lakers trade with New Orleans. Last time, it was nullified due to "basketball reasons." This time, it could be squashed due to Lonzo Ball reasons.
Paul Feinsinger
Agoura Hills
::
Remember player/coach Bill Russell? How about LeBron James going that way? He certainly has playing and motivational skills and should have a close relationship with his coach.
Ben Eisner
Westlake Village
Super stuff
Here we go again with another "sky is falling" Bill Plaschke panic attack on the inexperienced Rams and their purported worry and nervous excitement heading up to the Super Bowl.
All this psycho-babble about what a player did or didn't say, or the "way" he said it, or when he said it, or blah, blah blah! All nonsense!
Let's let the game play out and see who is victorious before condemning the Rams to failure simply because their responses don't meet with Plaschke's approval or analysis of what confidence is.
Rick Solomon
Lake Balboa
::
Thanks for bringing politics with all of the accompanying divisiveness to the Sports section, Dylan Hernandez. Besides that, ever hear the expression "putting the cart before the horse"? Let's see if the Rams are even in the position after the game to accept or decline a White House invitation before agonizing over it.
Ken Blake
Brea
::
My father Bob Kelley was the original voice of the Rams. My godfather was Dan Reeves, the team owner. I grew up with the team and they treated my brothers and me as family and friends. So how could I ever consider rooting for the Patriots? Nickell Robby-Coleman reflects everything that the Rams are not. His words don't reflect the true Rams Spirit.
Patrick Kelley
Los Angeles
::
I have no sympathy for St. Louis fans. Why? I'm 72 years old and grew up with the Los Angeles Rams. I, along with thousands of L.A. Ram fans, had our hearts torn out when Georgia Frontiere, Madame Ram, dismantled the team by putting a poor product on the field. This led to a drop in attendance and allowed St. Louis to swoop in and lure the team to St. Louis where the Rams eventually went to the Super Bowl and won.
Turnabout is fair play.
Oscar Rosalez
Diamond Bar
::
I love Andy McCullough's Dodger coverage, but his Tuesday article about jilted St. Louis fans really hits home.
Those of us who were here in the '50s and '60s with the Rams (I could name you the starting offense/defense of the '69 team this minute), lived and died with every NFC championship loss to the Vikings and Dallas, the '79 Ferragamo-team Super Bowl loss to the Steelers, and finally them and the Raiders both leaving in '95. We got to know exactly what fans in Cleveland and Baltimore went through when their teams left.
The fans in Los Angeles now, most of them anyway, have no idea who Deacon Jones was. And the St. Louis folks, having lost now three teams (The Browns, Cardinals and Rams) can now move to the head of the line the rest of us have been standing in.
Go Patriots.
Dan Johnson
Salem, Va.
::
There's no diminishing the Patriots' Super Bowl efficiency or consistency of appearance, or that Brady is the GOAT. Or, how great the 1985 Bears defense was. Even if they were one and done.
But lest anyone forget, New England and San Francisco, (both with five rings) each won with a system, and with free agency, were able to bring new players into they're systems, and teams.
The Steeler Super Bowl teams of the '70s won four rings in six years with the same players, a stat that will stand forever, unless they do away with free agency.
David Esterkes
La Cañada
::
I used to think that I would make a better NFL commissioner than Roger Goodell.
After his latest news conference, I realized that I couldn't match his talent for double talk.
Loren Coleman
West Hollywood
Talking baseball
I guess Dodgers president Stan Kasten thinks that the Buffalo Bills' fans were satisfied with four straight Super Bowl losses. How did that work out for the franchise's legacy?
Greg Badovinac
North Hollywood
::
Predictably, Stan Kasten's comments to Dylan Hernandez about what fans want misses the mark entirely, emanating as they do from a position of greed and arrogance. Kasten states, "Fans want stars they can identify with." What the fans want, Mr. Kasten, is the ability to afford tickets to see an occasional game, and the accessibility to watch their team if they can't afford to attend.
Bill Waxman
Simi Valley
::
A small sliver of sanity appears in baseball salaries and David Freese (not exactly a Hall of Famer) says he doesn't like it. He would rather retire than make a couple of million dollars to play baseball part time on top of the tens of millions he's already made for a middle-of-the-road career.
Glad he didn't want to "sound like a jerk."
Jeff Heister
Chatsworth
::
Dodgers fans were hoping for Trout, but they'll have to settle for Pollock.
Mike Schaller
Temple City
::
Anybody else notice that when Andrew Friedman traded away Matt Kemp and Yasiel Puig to Cincinnati, the basic lineup of the Dodgers turned to white? Don't worry, though. Yasiel and Matt will return to Dodger Stadium on Jackie Robinson Day, April 15 — playing for the Reds!
Barbara Bell
Pasadena
Miller time is up
No one in golf broadcasting or viewership will miss Johnny Miller. His commentary has always been negative, judgmental, and condescending to the players and viewers.
Let's let Johnny go back to Napa, to his mediocre and overrated remodel at Silverado, and fade away. He has no place in modern golf and has never been the asset or friend of the game he could have been.
Mark Mushkin
Camarillo
Oh, boy
Why oh why do you find it so hard to report on anything but football, baseball and basketball? On a day where the youngest woman ever became the U.S. figure skating champion she is relegated to a sentence in Day in Sports? Eighteen pictures appear in the sports section — all of them men. Try to get your head into the 21st century before it's too late.
Wendy Bonvechio
Ojai
Write on
Andy McCullough continues to top the list of what is an impressive roster of Times baseball writers. His free-agency story on Jan. 30 was both informative and lyrical, and his vocabulary ("cudgel"; "sluice"; "subtle scourge"; "foreshadowing"; etc.) beyond the ken of most sportswriters. Keep Andy and the rest, and keep up the good work!  
John C. Garrett
Newport Beach
::
Let's get rid of the Dodgers' Mark Walter, Stan Kasten, Andrew Friedman and Magic Johnson, as well as the Lakers' Jeanie Buss, Rob Pelinka, and, again, Magic Johnson, and just replace all of them with Bill Plaschke! Then, the Dodgers can sign Bryce Harper, the Lakers can sign Anthony Davis, and who cares about any of the players because, in Plaschke's world, the teams don't really need any other players. And look at all that money the teams could now spend on whatever they want — maybe even on Plaschke himself! Brilliant!
Michael Kelley
Newbury Park.
::
The Los Angeles Times welcomes expressions of all views. Letters should be brief and become the property of The Times. They may be edited and republished in any format. Each must include a valid mailing address and telephone number. Pseudonyms will not be used.
Mail: Sports Viewpoint
Los Angeles Times
2300 E. Imperial Hwy.
El Segundo, CA 90245
Email:
sports@latimes.com
---
Get the latest on L.A.'s teams in the daily Sports Report newsletter.
You may occasionally receive promotional content from the Los Angeles Times.