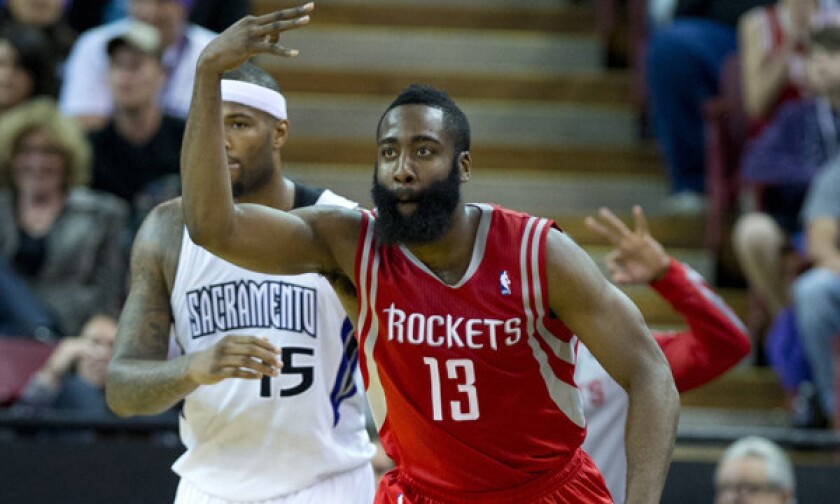 James Harden scored a season-high 43 points before resting for all of the fourth quarter, and the Houston Rockets routed the Sacramento Kings, 129-103, on Tuesday night in Sacramento.
Harden helped Houston go ahead by 25 points in the first quarter, 31 in the second and 33 in the third. He made 11 of 20 shots, 15 of 16 free throws and added eight assists, three steals and two rebounds.
Dwight Howard left briefly after banging his right knee but returned to finish with 20 points and 11 rebounds, and Chandler Parsons had 10 points and eight rebounds for the Rockets, who have won 10 of their last 11 games.
DeMarcus Cousins had 16 points and six rebounds for the Kings before getting ejected for vehemently arguing with an official in the third quarter. He picked up his NBA-leading 14th and 15th technical fouls.
Minnesota 110, at Phoenix 101: Kevin Love had 33 points, 13 rebounds and nine assists for the Timberwolves, who trailed by eight with 7:57 to play. Rookie Shabazz Muhammad had a career-high 20 points for Minnesota.
Portland 100, at Denver 95: Damian Lillard made up for the absence of fellow All-Star LaMarcus Aldridge by scoring 31 points for the Trail Blazers. Lillard scored 12 in the third quarter and made several big shots late in the fourth after the Nuggets had trimmed an 18-point deficit to two.
Chicago 107, at Atlanta 103: Mike Dunleavy scored 22 points, Joakim Noah had 20 points and 12 rebounds, and the Bulls won for the sixth time in seven games. Jeff Teague had 26 points but made two turnovers late in the game for the Hawks, who have lost nine of 10.
Toronto 99, at Cleveland 93: DeMar DeRozan scored 16 of his 33 points in the fourth quarter, and the Raptors made it six wins in seven games. Kyrie Irving scored 25 points and had nine assists for the Cavaliers.
at Washington 115, Orlando 106: John Wall scored 27 points and the Wizards handed the Magic a 16th consecutive road loss, tying a franchise record for a single season. Trevor Ariza added 22 points and hit all five of his three-point shots for Washington.
---