Third-round selections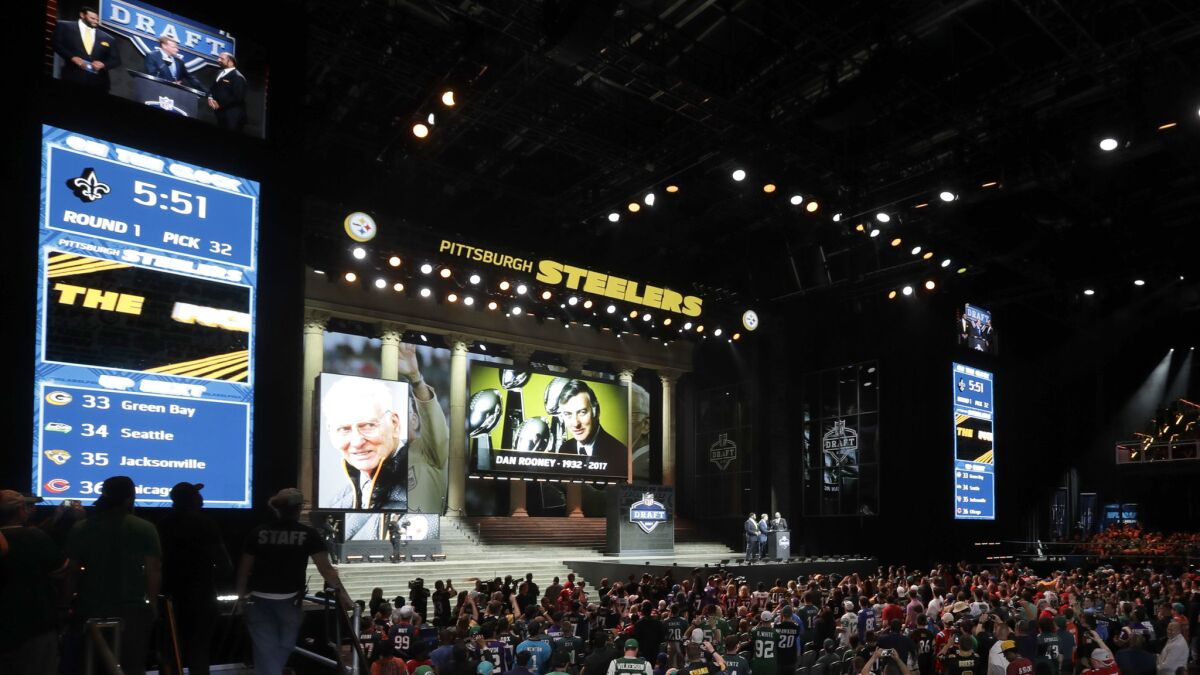 65. Cleveland Browns: Larry Ogunjobi, DT, Charlotte
The 6-3, 305-pounder has the combination of speed and power to be disruptive along the line of scrimmage.
66. San Francisco 49ers: Ahkello Witherspoon, CB, Colorado
He is big (6-3, 200) for a corner but has 4.45 speed in the 40. THe JC transfer who had an impressive senior season.
67. New Orleans Saints (via trade with San Francisco 49ers): Alvin Kamara, RB, Tennessee
His combination of power and speed make the 5-10, 215-pounder a breakaway threat. He arrives with off-the-field concerns.
68. Jacksonville Jaguars, Dawuane Smooth, DE, Illinois
This 6-3, 265-pounder is a bonafide pass rusher who needs to add strength and pounds to play every down.
69. Los Angeles Rams: Cooper Kupp, WR, Eastern Washington
A good route runner with dependable hands, Kupp (6-2, 205) is not particularly fast.
70. New York Jets: Pat Elflein, C, Ohio State
A bit undersized (6-3, 300) for an NFL center, Elflein has intelligence, toughness and the ability to play guard.
71. Los Angeles Chargers: Dan Feeney, OG, Indiana
A 6-4, 305-pounder who is good blocker in run and pass situations because of his balance and technique. Lacks strength and power.
72. Tennessee Titans (via trade with New England Patriots): Taywan Taylor, WR, Western Kentucky
An explosive athlete at 5-11 and 200 pounds, especially when in open space, who can also return kicks.
73. Cincinnati Bengals: Jordan Willis, DE, Kansas State
An athletic 6-4, 255-pounder who has quickness and power.
74. Baltimore Ravens: Chris Wormley, DT, Michigan
His size (6-5, 295 pounds) and athleticism make him a solid interior defender.
75. Atlanta Falcons (via trade with Buffalo Bills): Duke Riley, LB, LSU
Although this 6-0, 230-pounder only started one year, he is athletic and rangy. All he lacks is raw power.
76. New Orleans Saints: Alex Anzalone, OLB, Florida
He is speedy and athletic, but this 6-3, 240-pounder has had multiple injury problems during his college career.
77. Carolina Panthers (via trade with Arizona Cardinals): Daeshon Hall, DE, Texas A&M
He is quick and rangy at 6-6 and 265 pounds, making him a good edge rusher who just needs to work on his technique.
78. Baltimore Ravens: Tim Williams, OLB, Alabama
Despite starting just two games last season, Williams (6-3, 245 pounds) had 31 tackles (16 for loss) and nine sacks.
79. New York Jets (via trade with Minnesota Vikings): ArDarius Stewart, WR, Alabama
Stewart a powerful player despite lack of size (5-11, 200 pounds) who is known as a good route runner.
80. Indianapolis Colts: Tarell Basham, DE, Ohio
This 6-4, 270-pounder is athletic, quick and powerful. He only needs to work on his technique.
81. Washington Redskins: Fabian Moreau, CB, UCLA
Moreau (6-1, 205 pounds) has the size and strength to play at the next level. He suffered a torn pectoral muscle while bench pressing at pro day and will need until August to heal.
82. Denver Broncos: Carlos Henderson, WR, Louisiana Tech
An undersize receiver with injury issues, Henderson (5-11, 200 pounds) has the speed to be a threat in space as well as down the field.
83. New England Patriots (via trade with Tennessee Titans): Derek River, OLB, Youngstown State
The 6-4, 245-pounder displayed his athleticism with a good showing at the combine.
84. Tampa Bay Buccaneers: Chris Godwin, WR, Penn State
A physical presence at 6-1, 210 pounds, Goodwin has breakaway speed and sure hands to make tough catches.
85. New England Patriots (via trade with Detroit Lions): Antonio Garcia, OT, Troy
This 6-6, 300-pounder has the quickness and technique to pass and run block.
86. Minnesota Vikings: Kareem Hunt, RB, Toledo
Hunt (5-11, 215 pounds) is projected as an everydown back because he can run, catch and block. All he lacks is top-end speed.
87. New York Giants: Davis Webb, QB, California
The Texas Tech transfer has the size (6-5, 230 pounds), arm strength and instincts for the NFL but comes with injury problems.
88. Oakland Raiders: Eddie Vanderdoes, DT, UCLA
An interior run stopper, Vanderdoes (6-3, 305 pounds) will need to improve his pass-rushing skills.
89. Houston Texans: D'Onta Foreman, RB, Texas
The 6-3, 230-pounder is known for his power running and top-end speed. He lacks quickness and has had injury problems.
90. Seattle Seahawks: Shaquill Griffin, CB, Central Florida
Although Griffin (6-0, 195 pounds) is extremely athletic, he lacks NFL-type technique.
91. Los Angeles Rams (via a trade with the Buffalo Bills): John Johnson, S, Boston College
Another athletic and rangy defender, Johnson (6-1, 205 pounds) might have to bulk up if he is to be a run stopper.
92. Dallas Cowboys: Jourdan Lewis, CB, Michigan
A powerful player who lends run support despite his size, Lewis (5-11, 190 pounds) has the ability to make plays.
93. Green Bay Packers: Montravius Adams, DT, Auburn
Adams (6-4, 305 pounds) has the size and quickness to be disruptive along the line, especially the A gap.
94. Pittsburgh Steelers: Cam Sutton, CB, Tennessee
Sutton (5-11, 185 pounds) had a tough senior season coming off an injury but has displayed quickness and cover ability.
95. Seattle Seahawks: Delano Hill, S, Michigan
He has the size (6-1, 215 pounds) to play near the line and cover bigger receivers and tight ends as well as the range to play deep.
96. Detroit Lions (via trade with New England Patriots): Kenny Golladay, WR, Northern Illinois
Golladay (6-4, 215 pounds) has the size, hands and speed to develop into a playmaker.
97. Miami Dolphins: Cordrea Tankersley, CB, Clemson
A playmaker because of his size (6-1, 200 pounds), athleticism and speed.
98. Arizona Cardinals (via trade with Carolina Panthers): Chad Williams, WR, Grambling
Williams (6-1, 205 pounds) might lack size but has the speed to develop into a threat.
99. Philadelphia Eagles: Rasul Douglas, CB, West Virginia
Another rangy, physical corner, Douglas (6-2, 210) has the size to defend the run.
100. Tennessee Titans: Jonnu Smith, TE, Florida International
Although Smith (6-3, 245 pounds) lacks prototypical size, he has the speed and hands to be a top target.
101. Denver Broncos: Brendan Langley, CB, Lamar
The Georgia transfer has the athleticism and speed of a playmaker. He can also return kicks.
102. Seattle Seahawks: Nazir Jones, DT, North Carolina
Although his technique is raw, he has the size (6-5, 305 pounds), speed and power to develop into a starter.
103. New Orleans Saints: Trey Hendrickson, DE, Florida Atlantic
The 6-4, 265-pounder dominated at his level of competition because of his speed but will need to improve technique at the next level.
104. San Francisco 49ers (via trade with Kansas City Chiefs): C.J. Beathard, QB, Iowa
Although undersized at 6-3, 220 pounds, Beathard is a tough competitor with the intelligence to play the position.
105. Pittsburgh Steelers: James Conner, RB, Pittsburgh
The 6-2, 230-pounder is a power runner capable of catching passes who lacks top-end speed.
106. Seattle Seahawks: Amara Darboh, WR, Michigan
He might lack top-end speed, but Darboh (6-2, 215 pounds) make catches in traffic because of his strength and athleticism.
107. New York Jets: Kendell Beckwith, ILB, LSU
A physical presence along the line who has potential as a pass rusher, Beckwith (6-2, 240 pounds) is coming off a season-ending knee injury.