Column: The mightiest Ram is owner Stan Kroenke, who is living up to his promises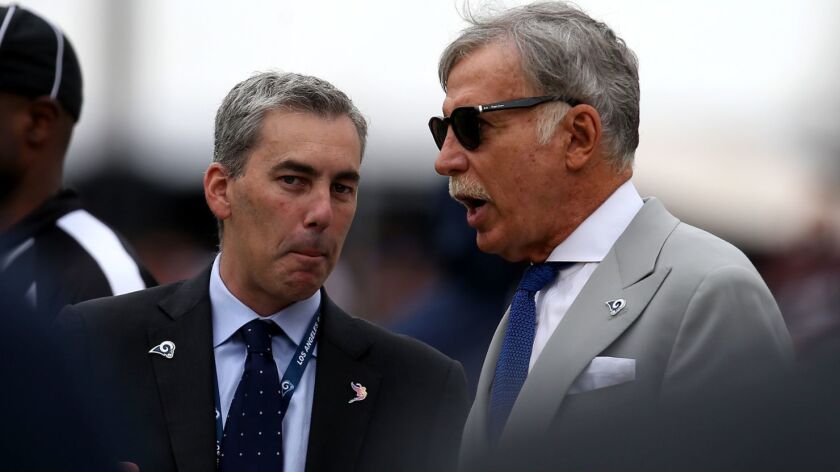 The signing of Aaron Donald to the richest defensive contract in NFL history Friday was a triumph of the Rams' greatest force.
That force is the guy who will pay him.

For the record:
8:50 PM, Aug. 31, 2018An earlier version of this column spelled Rams general manager Les Snead's last name as Sneed in one instance.
In capping off a wallet-purging offseason that has cemented the team's championship hopes, Donald was guaranteed $87 million as part of a $135-million deal that celebrated the Rams' most valuable player.
That MVP is owner Stan Kroenke.
In his three years since moving the Rams back to town, Kroenke has made an impact larger than the giant defensive tackle himself, larger than all the stars he has made rich, as big as any Los Angeles sports business leader since Phil Anschutz stuck a shovel in the ground that Staples Center sits atop. Kroenke has not only been the Rams' biggest force, but a force on the entire local sports landscape, spending, building, growing, committing.
He gets Los Angeles. He understands its fans. He knows what works, and, man, he's been working it.
"I love L.A., it's a unique and wonderful place, and we really wanted to do it right," said Kroenke in a phone interview Friday. "The people truly do appreciate having the Rams back, they view it as their team that came home, and it's been really wonderful to be part of this."
Kroenke declined to talk about his role or take credit for how strongly he's planted the Rams flag here. But his acquisitions have screamed competitiveness. His contracts have shouted stability. He has lived up to his promises.
When he arrived here from St. Louis, he said he would do a lot of things. A skeptical Los Angeles shrugged. The Rams won four games and became the butt of national jokes. But here we are, two seasons in, and those pledges are actually beginning to come true.
Kroenke said he would build a new stadium. He's doing that. It will cost $3 billion, construction was delayed, but the Inglewood palace will be open in two years.
He said he could bring a Super Bowl here. He did that. Inglewood will host Super Bowl LVI in 2022.
He said he would build the Rams into a team that will compete for championships. That is also happening. With Kevin Demoff, the chief operating officer and vice president of football operations, and general manager Les Snead working the controls, they have put together a team favored by some to represent the NFC in the Super Bowl.
"It all starts with Stan, he has the vision," said Snead. "He empowers us. He expects us to bring that vision to fruition. Then he steps back and lets you do your job."
Donald was only the finale of a string of big contracts and acquisitions that filled the summer. Not only do the Rams now have the highest-paid defensive player in history, they also have the highest-paid running back in Todd Gurley. When you throw in the signings of receiver Brandin Cooks and tackle Rob Havenstein, Kroenke agreed to pay $198.7 million in guaranteed contracts that could wind up being a $306-million payout.
Translate the smaller NFL pay scale into Laker dollars and it's like the Rams signed three max players, and, actually, the Lakers have relevance here. Kroenke, who has had a home in Los Angeles for more than 20 years, was a big fan of Dr. Jerry Buss, and it's no coincidence that Kroenke is trying to build a pigskin Showtime.
"I watched Dr. Buss a lot, how he did things, how he always wanted to do it right, and do it well," Kroenke said. "I saw how L.A. is a big show, and if you love this town and love its people, you want to get it right for them."
Besides the big-money contracts, the Rams also acquired three veteran defenders with Pro Bowl resumes — Marcus Peters, Aqib Talib and Ndamukong Suh. They all have checkered pasts, but so far, they all seem to be buying into the positive culture built by kid coach Sean McVay, who was also hired under Kroenke's watch.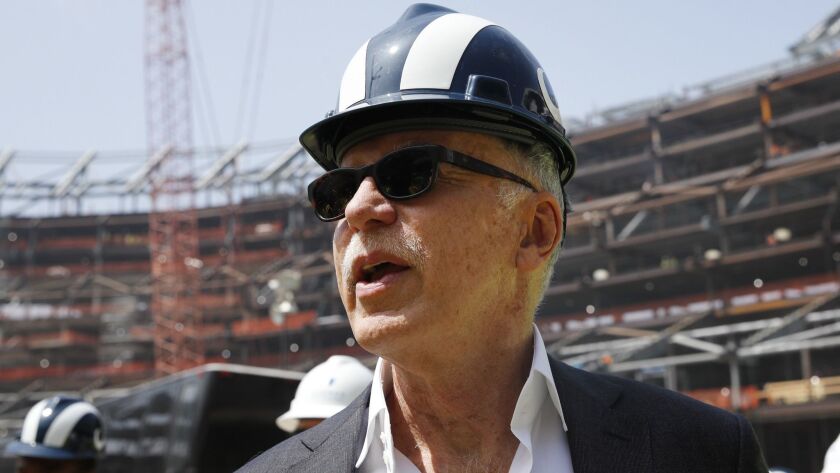 Certainly, these acquisitions build momentum for ticket sales for the new stadium. And the Rams are taking advantage of a relatively low salary being paid quarterback Jared Goff, a situation that will change in a couple of years. But the way this team is being built, the Rams are also fortifying themselves for the future.
"Stan has the intellect to navigate a sophisticated and complex business," said Snead. "We had a blueprint for this offseason, and he had the vision, patience and management style to make it happen."
Kroenke mostly makes it happen from the shadows. He is not the flashy salesman or bold public figure like many NFL owners. He is no Jerry Jones. He is no Bob Kraft. He is, instead, the quiet guy who stands unassumingly in the middle of cluttered postgame locker rooms, dodging flying tape and stepping over pads and acting like he's a guest.
He'll occasionally approach the players to extend his hand and thank them, but always carefully, always respectfully, almost as if he is their broker instead of their boss. His interaction with players is his favorite part of the week, but he doesn't push it, because he never wants it to be about him.
In return, the Rams players embrace him, exuding a warmth he hasn't always felt. This column will not be popular in St. Louis, where folks don't like him because they say he ignored the wishes of the city when he moved the Rams. This column also probably won't be popular with fans of another team he owns, Arsenal of the English Premier League, whose supporters have accused him of not spending what it takes to win.
Kroenke would be judged equally harshly here, but he has thus far been the ideal owner who has directly countered those criticisms. He has embraced the city. He has spent the money. He has walked the walk. When the Rams open their season in Oakland in about a week, thanks to Kroenke, they have no excuses.
He has given them every tool to win. He has given the city every reason to believe.
"We're really blessed in our organization, we have a lot of special people, a lot of special talent," said Kroenke. "Now we just have to do it."
Get more of Bill Plaschke's work and follow him on Twitter @BillPlaschke
---
Get the latest on L.A.'s teams in the daily Sports Report newsletter.
You may occasionally receive promotional content from the Los Angeles Times.