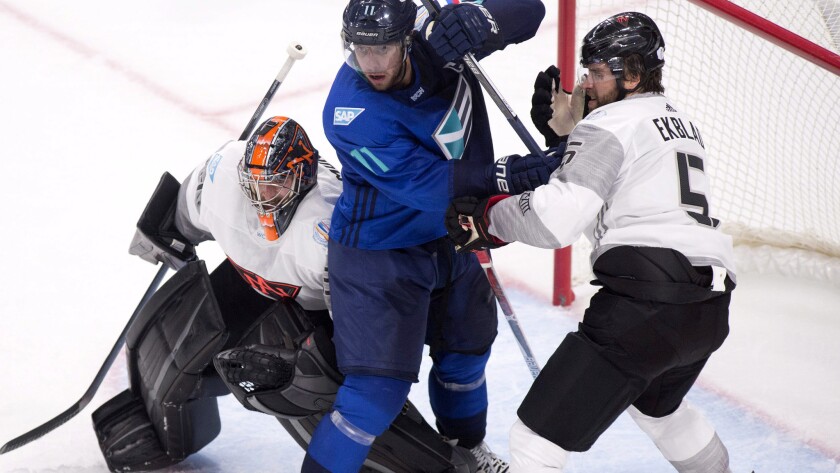 Reporting from Toronto —
In an announcement sure to ignite debate over the risks that NHL teams face when their players participate in international tournaments, the Pittsburgh Penguins said Saturday that goaltender Matt Murray — who was essential to their Stanley Cup championship run last spring — will be out three to six weeks because of a broken hand. Murray sustained the injury while playing for Team North America in the World Cup of Hockey.
Also on Saturday, Calgary and Sweden center Mikael Backlund returned to Calgary for rehabilitation of a concussion he suffered during a preliminary-round World Cup game in Toronto. Previously, Dallas and Canada forward Tyler Seguin suffered a hairline fracture of his heel during a pre-tournament exhibition game, and forward Radek Faksa of Dallas and the Czech Republic began exhibiting concussion-like symptoms after playing Canada in a round-robin game here.
Sweden forward Carl Hagelin, Murray's teammate in Pittsburgh, was surprised by the news of Murray's injury. "He's an unbelievable goalie. We have all the trust we need in him," Hagelin said Saturday after Sweden practiced at Air Canada Center for its Sunday semifinal match-up against Team Europe.
"He's obviously showed throughout his career that he's a top goalie in the NHL. We'll be fine there, but it's always hard to see a guy go down with an injury, especially this early in the year."
While Murray recovers, the Penguins have the luxury of relying on another Stanley Cup-winning goalie: Marc-Andre Fleury. However, league and team executives must cringe when they see players get hurt and become unavailable for the NHL season. Are they angry enough to veto another World Cup or similar tournament? Hagelin hopes not.
"For management, obviously, they're going to start saying, 'Maybe it's not the right thing for the players,'" Hagelin said. "But as a player, you want to go out and play for your country. To represent your country is the biggest thing you can do. This is such a great tournament. I don't think there's any regrets anywhere, but injuries happen, and that's part of the game."
Follow Helene Elliott on Twitter @helenenothelen
---