Steve Ballmer says he's 'all in' when it comes to Clippers' success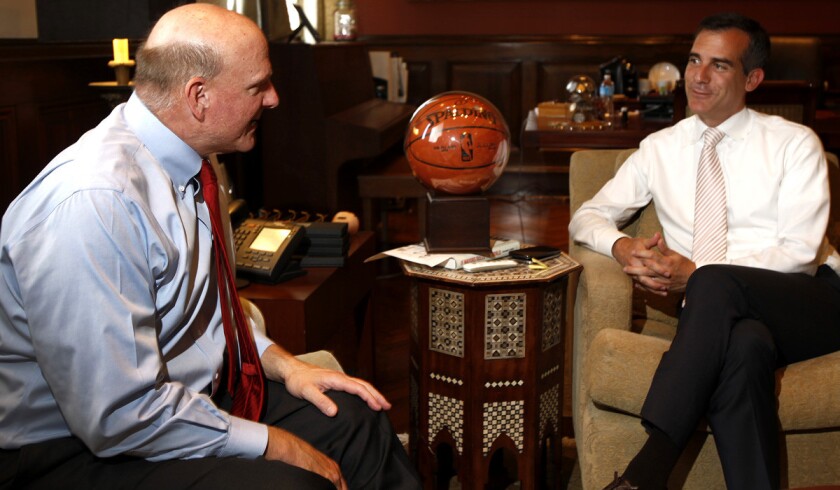 He wasn't quite running and jumping like a cheerleader, as he was known to do when speaking to fellow Microsoft employees, but Steve Ballmer was clearly fired up in his first interview since being named owner-designate of the Los Angeles Clippers.
Speaking at Los Angeles City Hall, before a meeting with Mayor Eric Garcetti just before noon Friday, the 6-foot-5 Ballmer clapped with nearly every word as he told The Times: "I. Want. This. Team. To. Be. Successful." He added, "I'm all in when it comes to trying to be successful on the court. I don't know what that means, but I know I'll support the people who do."
The 58-year-old former chief executive of Microsoft also tried to make it clear that — though he is from Seattle and last year tried to buy an NBA team and move it there — he is also all in for L.A. He noted that his son is on the verge of graduation from USC, that he spoke at a couple of graduation ceremonies at the campus this month and is thinking of teaching a class at the university's Marshall School of Business.
Ballmer went to the Century City offices of Greenberg Glusker, Shelly Sterling's law firm, to sign the term sheet for purchase of the Clippers before midnight Thursday.
By breakfast Friday, he had L.A. friends suggesting neighborhoods where he might buy a second home. He said he intended to find a place "close enough to get to the arena quickly and close enough to golf of some form."
He wanted to assure his friends in Seattle that he would not forsake his home, and multiple philanthropic commitments, in that city. And he pledged support for the NBA placing a team in Seattle. "I'll be the biggest cheerleader for that," he said.
---
Get the latest on L.A.'s teams in the daily Sports Report newsletter.
You may occasionally receive promotional content from the Los Angeles Times.